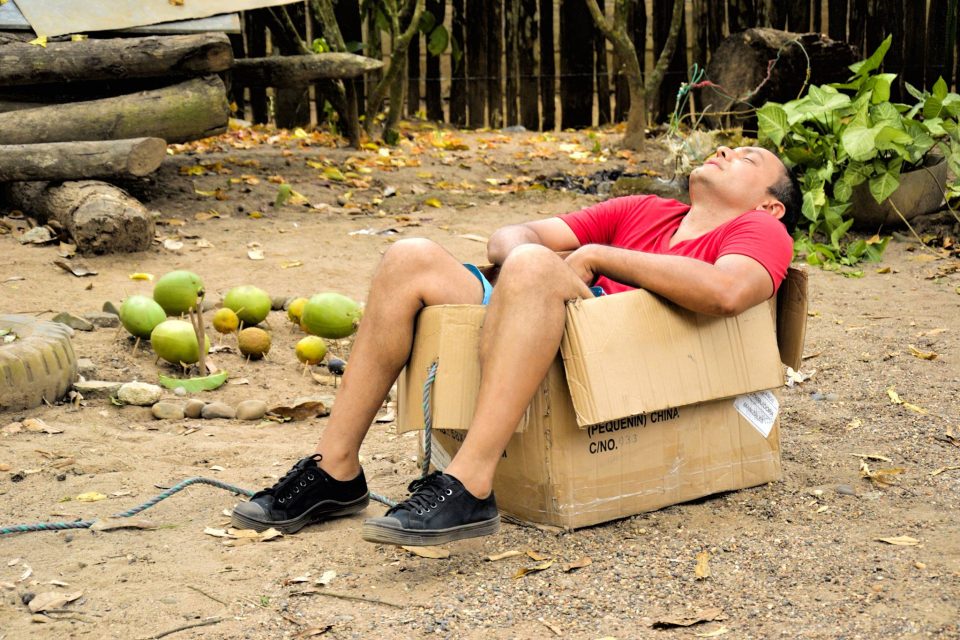 In Huellas, Carlos Vergara takes inspiration from Magical Realism to weave a uniquely Colombian story.
---
In 2012, Colombian actor-turned-filmmaker Carlos Vergara was living by the coast, spending his days searching for a theme for his first movie. He remembers going to bed on February 9 – before which he watched Volker Schlöndorff's The Tin Drum, a 1979 film about a boy with supernatural powers who refuses to grow older. He woke up in disarray on what he thought was the next morning, to a shower of hugs and kisses from his wife. It was February 11, his 39th birthday.
When Vergara asked his wife what had happened the day before, her answer took him aback: he had spent the entire day acting and speaking like a toddler. She had been under the impression that he had been teasing her, or that he was sampling a new character for his film. The two brushed off the ordeal – it was his birthday, after all – but a thought lingered in Vergara's mind: What if he hadn't woken up?
It is out of this personal experience that Huellas, Vergara's first major screenplay, was born. The film follows Pedro, a struggling writer, and his wife Taty. Pedro is struck by a strange mental condition resembling Peter Pan Syndrome, a pop-science mental condition in which adults adopt an infant-like behavior. Unlike Vergara, however, Pedro's condition does not revert immediately. As days go by, Taty grows desperate for a cure and embarks on a mission to find one.
The word 'huellas' means footprints or fingerprints in English. This is strangely apt, since Vergara's fingerprints are all over this film. He has acted for over 20 years in popular movies and television series such as Hombres de Honor and Pasión de Gavilanes, and is not only the film's director – he also takes the starring role as Pedro due to a limited budget (USD$300,000).
In the context of the film, however, the word huellas is best defined as emotional or mental imprints. Each character in the movie is conditioned by past and present relationships, which change over the course of the film. The trailer sells the movie primarily as a love story: "Sometimes losing your mind…is an act of love." But as the plot unfolds, old relationships change and new ones emerge, and the line takes on a completely different meaning.
Huellas is much more than a love story, it is also a reaffirmation of Colombia's multicultural identity. The movie is set in a series of small towns along the Colombian coast in the department of Córdoba. Vergara said that he hoped to set the film within the world of Macondo – the fictional Colombian town at the heart of Gabriel Garcia Márquez's One Hundred Years of Solitude, and away from the violence that has for so long dominated news headlines.
The coastal setting, Pedro's rare condition, and the multiple on-screen yellow butterfly sightings are tributes to the late Colombian author and his brand of magical realism. Vergara does well to create such an atmosphere on such a limited budget but this lies in the development of what is perhaps the most curious theme in Huellas, which also finds footing in this Macondian world: memory.
In the first ten minutes of the film, Pedro's sudden loss of memory draws comparisons to the insomnia that plagued Macondo in One Hundred Years of Solitude, when the town's inhabitants soon began to lose their recollections as a side effect. A more striking parallel, however, exists in modern-day Colombia, where a group of related families were discovered to have inherited a genetic mutation that guarantees early-onset Alzheimer's. Family members that inherit the gene begin losing their memory around 40 or 50.
Carlos Vergara toys with this concept of memory throughout the movie, and touches everything: character development, the movie's presentation and even its soundtrack. For example, the scenes following Pedro's mental breakdown become increasingly fragmented and harshly transitioned as the film progresses, adding to the sense of disconnect between the characters and their memories.
The soundtrack has the opposite effect. Vergara has included popular music such as vallenato, porro, puya and other styles endemic to Córdoba and the Colombian coast in order to depict the musical diversity within the country. But the eclectic sounds that eventually become a central part of the movie's plot imply a sense of identity, rather than disconnect, that clashes with Pedro's loss of memory. For Vergara, the music also serves a purpose outside of the film itself, as a record-keeper of sorts: "[Colombia has] a richness in culture and music that we have marked within this movie."
It is here where Huellas makes its mark in Latin American film. It certainly is not the first film to piggyback off Márquez's style blending daily life with the extraordinary, nor is it the first to be filmed along Córdoba's coast to evoke a Macondian feel. Where it stands out is in its compilation of peculiar experiences and stories that, when put together, help to solidify a cultural narrative that is uniquely Colombian.
3.5/5 stars
Showing in Procinal cinemas from March 30.
---