As plans slowly get under way with their ambitious project to create an entire ecosystem of engineers just north of Bogotá, The Bogotá Post spoke to Jonathan Calmus, CEO of the EDEN project which began its grand operations this year.
"I had this weird idea. I wanted to build a city of engineers." The idea was even weirder when California native Jonathan Calmus first envisaged it; it was originally intended to be an island. Calmus however, had to settle for a plot of land an hour north of Bogotá.
Like many great ambitions, none of this had been intended. Persuaded by a friend to do a grand tour of Latin America, founder and CEO Calmus ended up in Colombia around 18 months ago having worked in startups for over a decade. He built social networking apps, tech that involved growth hacking and streaming, and by the end of it he'd had enough. "I had been doing this stuff for so long that I knew what I didn't like," Calmus said.
Feeling that his true passion was problem-solving and that few of his enterprises were solving problems and were, in some instances, contributing to society's ills, Calmus took it upon himself to set up projects that were as entrepreneurial as they were altruistic: "I'm not saying I don't like money but if I'm going to do that then I'm going to do something that benefits society."
A chance trip to the country when the chaos of Bogotá was driving him mad, led him into the offices of a rural real estate office where the agent insisted that he see a property. The architect Calmus employed was less enthusiastic, warning that the land might not have electricity, signal coverage or water. As it turned out none of these were problems. "At this stage it started feeling serendipitous and we started building plans."
"there are a lot of top-level meta-challenges of our time. We want to encourage people and funnel their focus."
The first plan involved an ex-physics professor that could help "combine physics with product development." The result was Gravitas which aimed to tackle medical negligence. "In the US alone more than 50,000 patients die because doctors make mistakes," Calmus told us, with the aim of reducing deaths caused on the operating table due to avoidable mistakes.
And so EDEN (Engineering, Design and  Entrepreneurship in Nature) was born. The pilot programme was initiated with a team of three engineers at a farmhouse they found near the land where the hope is to find the blueprint to the solutions to these problems before the final structure is completed. "It's like a private incubator because we don't take on external ideas. These are just things that we deem important and put our resources behind it."
The hope is to build this city of engineers not just with local hires but hires from all over the world. Speaking of the task ahead of them, Calmus told us that "there are a lot of top-level meta-challenges of our time. We want to encourage people and funnel their focus. There's only so much problem-solving power the brain has. If you spend that doing 'adtech' then you solve 'adtech'. But if you put that power into giving mobility back to children, or saving the lives of people on hospital beds then we think we can take huge leaps forward."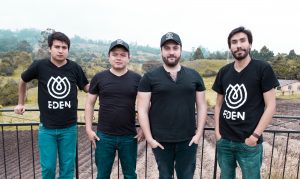 The other two major ideas at EDEN show great promise in aiding the vulnerable as well. The Bogotá Post had previously covered Fabrilabs, a startup aimed at developing prosthetics for children and they too will have a place at the table. "Fabrilab is also working on skin, bone, tissue cells so one day we can have a fully-integrated prosthetic,." Calmus told us. In addition to this, a major Fortune 500 company has commissioned them to work on a drone that can be used for search and rescue operations.
The project is expected to be worth upwards of $10 million and Calmus is hoping that the business model pays off in dividends. As the EDEN project builds slowly, phase by phase, Calmus and his city of engineers will be hoping that their productive output will be more than just monetary.