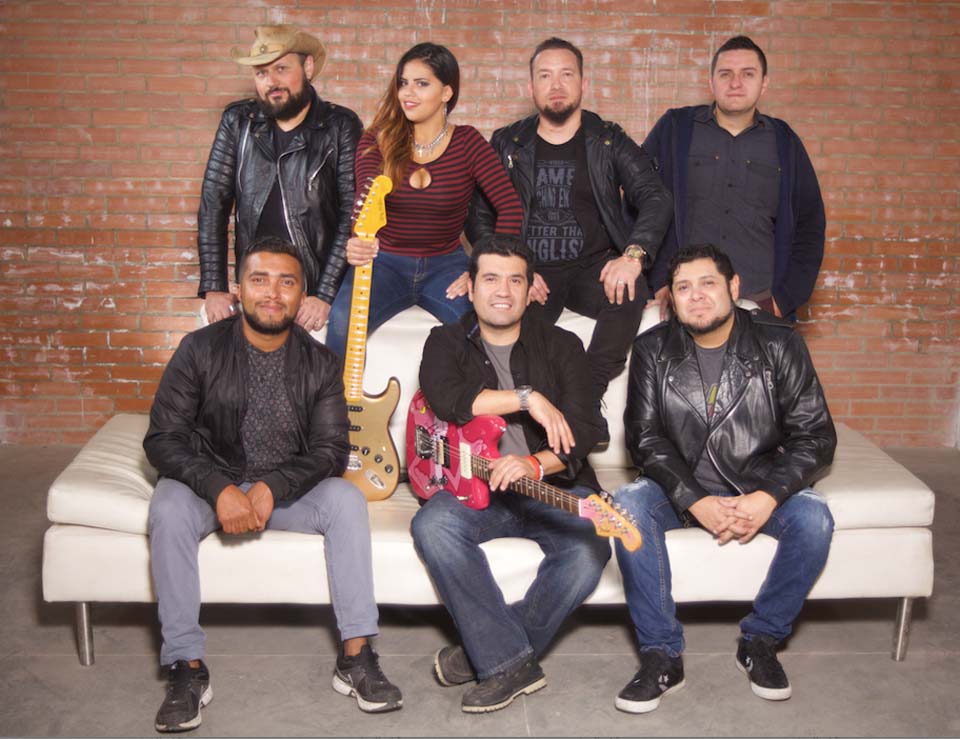 Rafael Bonilla also known as Rafa, has been an industrial engineer, a sound engineer and a guitar player for the last 25 years. Not the most likely contender for Best Rock Song at the 18th Latin Grammy Awards that will be celebrated in Los Angeles tonight.
---
'Días Contados' from the self-titled album, Rafa Bonilla y Los Que Sobran, may seem a surprising Colombian Latin Grammy nominee to some, since the country is better known for other types of music. But as Rafa explains when we speak, there is a strong history of rock here. "Abroad we are known for our Pacific sounds, vallenato and other tropical styles, but there is a community here that is very interested in rock."
Rock music in Colombia goes back as far as the 50s, with strong influences from Mexico, Argentina and Spain. Rafa Bonilla tells me that a lot of the rock bands active in the country today have their roots in the 80s and 90s. However, he says that the way that the music industry works meant that rock – along with hip hop, jazz and others – did not receive the same financial support and publicity as those more famous 'Latin' sounds.
The upside is of course the huge popularity of these types of Colombian music on the international stage.  Groups such as ChocQuibTown, Bomba Estéreo, Velo de Oza, or even Carlos Vives mix rock with tropical and popular music on their songs. "I think this is because Colombian society is characterised for its tropical music feel," says Rafa.
I ask whether we forgot about rock music as reggaeton grew in popularity. The engineer, looking surprisingly non-rock as he's clad in jeans and shirt, says, "We are the best in reggaeton right now, and Maluma and J.Balvin are the biggest examples – like it or not." He continues, "However, Colombia is being noticed, not just for their music, but because of the high production values – and it's a lot cheaper in comparison to other countries." One example is of this is the New York group Highly Suspect who worked with Colombian producers and reached number one on Billboard's mainstream rock chart.
And, reggaeton or not, Colombian rock is going from strength to strength. Groups like 1280 Almas, La Derecha, Estados Alterados, Superlitio continue working in the scene. That's before you get to more recent bands like Diamante Eléctrico.
It's partly as a tribute to those rock heroes of the 80s and 90s that the band also decided to release the album on CD, vinyl and cassette – as Rafa puts it, "Part of the artistic project was the nostalgia of that time."
He explains they felt that having a physical disc as well as the digital was appropriate because music didn't use to be as easily accessible. "People believe – wrongly – music is easy to make and that is not always true. Therefore, we wanted to be coherent and evoke classic sounds using classic formats to guarantee a high sound quality."
And what about the rest of the band – and the album – name, Los Que Sobran? "It has two meanings, as my friend and producer Pyngwi agrees: We are surplus in the Colombian music scene. We don't make tropical rock, electro rock, or anything like that. What we do nobody wanted to hear, we don't fit in. On the other hand, those who participated in making the disc gave their time, extra time to help me." Jorge Holguín aka Pyngwi helped to write and produce 'Días Contados'.
Rafa Bonilla thinks that some people might be uncomfortable with his nomination "because I am an artist who doesn't have wide experience and I can understand there are many people who have been working hard for many years and haven't received yet any recognitions and I got one with an album debut without pursuing it."
The softly spoken nominee says that everything that has happened since the nomination has been as much of a surprise as the nomination itself. "We are the only band nominated that doesn't have a video and it's because we just wanted to make a record with some artists, friends and create something good. I'm not a singer so I followed the examples of Santana and Slash and looked for singers who were a better fit with the song. Obviously, keeping the sense of perspective." For 'Dias Contados', Dann Visbal, a Colombian singer for a different rock band called Dominic band was happy to perform.
While the Grammy nomination may have come as a surprise to Rafa Bonilla, Ryan Hewitt, the engineer in charge of mixing the album, is no stranger to awards and already has one Grammy under his belt. He has worked with Tom Perry, Blink 182, Red Hot Chili Pepper, among others.
We finish the interview with some recommendations from Rafa for rock fans who are new to the city. He suggests buying from, "RP Records in Calle 82. Good place with variety of music and cheaper vinyl", and listening to rock music in Ozy bar, Hard Rock Café and Revolution Bar, recommending Auditorio Lumiere and Armando Records and La Hamburgueseria on Calle 85 for live music.
---
By Diana Lorena González