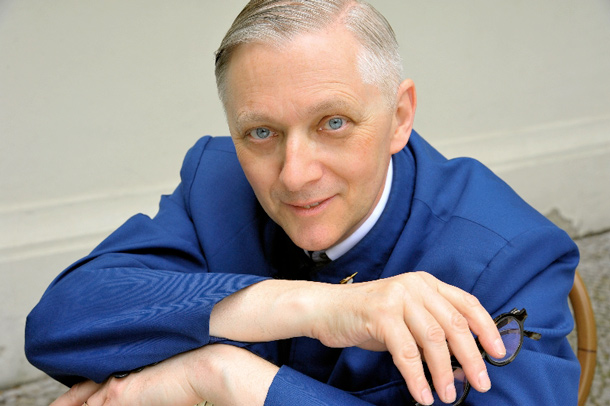 Manchester-born, Berlin-based Mark Reeder takes time out of his Colombia tour to speak to Oli Pritchard
---
Never let it never be said that Bogotá can't do culture.  One of the great joys of this city is the simply vast number of specialist and artistic endeavours that take place within its confines in the mountains.  Typical of this commitment to culture are the multitudes of film festivals. Recently, alternative music legend Mark Reeder was in town to promote a documentary about West Berlin, B-Movie.  In the film, he explains, "I play the red thread, the central point that leads you through those crazy times. It covers a few of the things I got up to", he explains with a wink that makes it clear some of the more exciting things may have been glossed over. In fact, he's being modest, the film very much puts him centre stage as the charismatic narrator and driver.  It's clear that he loves Berlin like a fetishist adores their obsession.
As I stride into the hotel dining room, he jovially pushes a chair out as a greeting to put me immediately at ease. Lugubrious and charming, he looks none of his 57 years, and is surprisingly well-preserved for a man who's been through the worst (best?) of what West Berlin had to offer. He needs little encouragement to waltz back into his memories of the Wall and the insanity of the eighties. I wonder why a young lad in Manchester would want to sack it all off and head out to Berlin, and he explains to me that "I was listening to a lot of punk of course, early stuff, and I was even in a band called Joe Stalin's Red Star Radio. At the same time I got into a lot of West German synthesiser music, a lot of very early electronic stuff, very different to anything else. West Berlin seemed so interesting, not really Bowie – I never saw him as a Berlin musician – but this idea of a little musical island. So I went".
More interested in divulging stories than ingesting his much-needed food, he immediately confesses to some of his past crimes as he tells me, "As a westerner we could go easily enough on a day visa. Of course, we could go officially but only for tourism. Bringing over Die Toten Hosen – unknown at the time – for the first illegal secret gig in East Berlin, that wasn't officially part of the plan. It was in a church – they called it the Blues Mass – and we couldn't bring any equipment, obviously. No-one wanted to lend us gear because it was worth so much, but we eventually got hold of an amp or two and just played everything through them. It was all about the music, not production levels.  Feeling B were there too… halfway through the gig it brought me to tears, what we were doing".  The gig features in the documentary, with a couple of photos "we only found out about much later".  He adds, "The Stasi knew about the gig, there were informers there. But they only told their bosses about it after the concert, you see, so that they could enjoy it like everyone else. Crazy times."
This trance titan has lost none of his enthusiasm for new music, but he's not entirely happy with the direction of the contemporary trance scene. "My idea, back at the start of things, was for something like that feeling of E, you know [no-one at The BP knows anything about E – ed], hypnotic, trance-inducing, hence the name."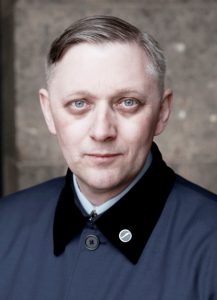 He claims to be the progenitor of trance: "I set up the first trance label, actually the first music label in East Berlin. I called it MFS, which was a play on words with the official name of the Stasi. My little joke. I thought techno was lacking melody, way too hard at that time. You know, melody makes it easier to dance. That meant we always had a lot of girls at our parties, which pissed off some of the other organisers around at the time. They used to say we weren't hard enough, that we weren't true techno. They missed the point – we were doing something that was good for parties."
West Berlin might have captured his heart, but Colombia has left an impression too, as he enthusiastically explains: "I like Bogotá, I like Colombia. This isn't my first time here, no not at all, I've been here six times now".  Picking out recollections like the fishbones from his spiny salmon, he spins a yarn about a trip out into the jungle north of Medellín: "They told us the show would be out there, somewhere in some jungle outside Medellín. So we travelled – it must have been five hours or more – and I was telling them no-one would show. No-one could be out there. We had to stop for hours at one point in the middle of torrential rain. I was sure no-one would come through that just to see us. I was wrong".
Since then he's been back on a number of occasions and loved it every time. The feeling's mutual – he was off the next day to open the Medellín Museum of Modern Art. Never a dull moment in a genius' life, it seems, though he still has time to confirm a few stories about mutual acquaintances and press a (very interesting) CD of remixes designed for 5.1 surround sound into my eager palm. A few steps outside of the hotel and I'm back in cold grey reality, no longer transported to the anarchy of West Berlin. Oh well, at least we have the mountains to admire.
B-Movie
The film itself gives you a flavour of how those times must have flown by in the shadow of the Wall. It's a crazy, quirky fact of our history that nowadays seems to make such little sense.  "Of course", explains Mark, "the Wall gave us license to be creative and do what we wanted. There was this huge immigration of creative people, artists and musicians. Nick Cave asked me once what it was like: I told him he just had to come and experience it for himself. Which he did". It's a cracker of a film, and Mark makes the perfect guide to this strangest of historical anomalies as he introduces us to legends such as Blixa Bargeld, Nina and Die Toten Hosen along his madcap ramble through a demented epoch.
---