We check out a new exhibition that explores development, age and the passage of time
---
Adriana Cuéllar takes on two complex topics in her most recent exhibition: childhood and adulthood.
On May 14 at Salón Comunal, Cuéllar opened Íntimo Es El Terror, a multi-format art presentation that demonstrates the relationship between ages and development among humans and how that specifically pertains to the social plane.
Íntimo Es El Terror consists of a few small sculptures and a variety of paintings, which portray young children and mature women respectively, representing the dichotomy between the intimacy of childhood and the intimacy of adulthood. Such a drastic separation is a way to reflect on the passing of time between these two ages, something that everyone encounters throughout their lives.
Related: ArtBo coming to Bogotá
Bernardo Montoya, an artist and director at Salón Comunal, comments: "Her work experiments with the space and the object. It reflects on the passage of time and… memory through familiar language which arouses interest in those who observe it".
Cuéllar explains that her art shows "the contrast between the two extremes". She goes on to say that she originally created the two artistic forms independently and only later chose to combine the two in order to complete the exhibition. Although originally formed separately, the two actually have a common theme and artistic purpose once put together.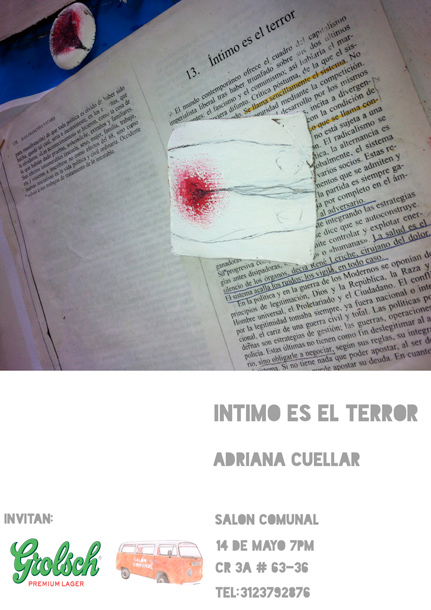 For Cuéllar, this contrast is closely related to her work as an artist, and how she has grown over the years. The separation that Cuéllar portrays follows her own growth in art. Coming into her own skin as an artist has been a process, and as she has grown older, she has developed in her craft.
The sculptures are simple portrayals of children, often with a blanket or cloth covering their faces. Without particular facial structures or identification, they stand conspicuously around the room, like unnamed, unknown beings.
The paintings, in contrast, are much more explicit, representing fully matured women exposing their breasts and genitals. The relationship between the two formats suggests a developmental awareness in a person, as well as a coming-of-age mentality. This could mean physically, mentally or emotionally, both Cuéllar and Montoya suggest.
Cuéllar applies a universal theme to her art in a way that accurately shows the distinction between two ends and creates a compelling and thought-provoking exhibition.
Íntimo Es El Terror is exhibiting at Salón Comunal, Carrera 3a #63-36, Monday-Friday from 10am to 6pm.
---
By Anna Weldon