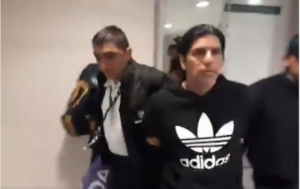 An Israeli man has been deported from Colombia after allegedly running a hostel that provided drugs and prostitutes to travellers. 
Asi Moosh, 43, was expelled from the country after being summoned to a migration office in the Caribbean coastal town of Santa Marta. 
According to El Heraldo, Moosh, a father-of-three, ran a notorious hostel – nicknamed 'the bunker' – in the seaside resort of Taganga. Backpackers would flock to the complex to partake in illicit activities, according to local news reports. The hostel was nicknamed 'Little Israel' due to the nationality of the people it attracted, and was notorious among locals as a tourist trap. 

Soon after his arrest on November 24, Moosh was deported by authorities. They said he presented a risk to "public safety and social tranquility", the country's migration office said in a statement. 
It added that Moosh would be not be able to return to the country for 10 years. El Heraldo added that, according to officials, Moosh was involved in human trafficking as well. 
Taganga, in Santa Marta, northern Colombia, has been popular with backpackers since the early 2000s. The fishing village has since developed a reputation for debauchery, with foreigners flocking to the town for sex and drug tourism.