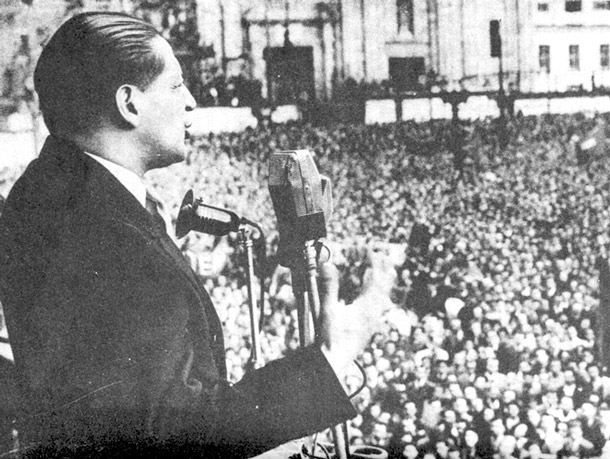 In context: Jorge Eliécer Gaitán
Historian Arnovy Fajardo Barragán talks to us about the significance of April 9 and Jorge Eliécer Gaitán
Bogotá Post: What is the importance of Gaitán nowadays?
Arnovy Fajardo: In my opinion, right now the importance of Jorge Eliécer Gaitán is more symbolic than political or ideological. It is meaningful that April 9, the date of his assassination, was chosen as the day to pay tribute to him and to all the victims of the various forms of violence that Colombia has suffered over more than 50 years. It should be remembered that his murder happened amidst a very tense political climate, one that he himself was able to condemn in the renowned 'March of Silence' two months before his death, and in which he delivered his memorable 'Prayer for Peace' speech.
However, there is no political party or movement that completely brings together his ideas, beyond certain stock phrases and cliches. The Liberal Party has claimed him as theirs, and various leftist groups have tried to take him in and use him according to their own political or ideological interests. But in truth, I think no one today has thoroughly studied his political aims.
BP: What did Gaitán stand for and what is his legacy?
AF: Gaitán has always been seen as a popular leader – he is the leader par excellence in Colombia. That is the legacy that has transcended. He has been remembered as a leader who gave a voice to people who previously did not have one, because of manipulation by the oligarchs who simply silenced them with violence.
This puts Gaitán on a par with Jaime Garzón, Luis Carlos Galán, and the leaders of the Patriotic Union, Jaime Pardo Leal and Bernardo Jaramillo Ossa. What these characters have in common is a solid intellectual education, a strong critical attitude towards the problems that have plagued the country and a charismatic personality that allowed them to reach ordinary people.
Nevertheless, his ideals were more complex. Researchers, such as Daniel Pécaut, Herbert W. Braun and John Green, to name a few, that have analyzed his speeches, point out that Gaitán oscillated between moderate democratic positions and a populist discourse that was detached from traditional political parties. Despite his influence he could not create a mass movement and for this reason he fell in 1948.
Despite this ambivalence, Gaitán's ideals were focused on reconciliation between the "two Colombias," which he spoke about in a famous speech in 1946. "The national country," made up of peasants, workers and small plot holders: a poor country, poorly educated and hungry, which needs the dignity of better social conditions, but also has the duty to cultivate its own virtues.
The other country of which he spoke was the "political country," that of a ruling political and economic class which acted only in defence and preservation of its own interests. Gaitán condemned the actions of that "political country," also called an "oligarchy," pointing out that it was not exclusively liberal or exclusively conservative. Gaitán proposed that a ruling class should be based on merit, and be conscious of people's needs, so that it ruled for the benefit of everyone.
BP: What do you think Gaitán means for this country?
AF: To tell the truth, I don't know how to answer this question. The meaning of Gaitán, beyond the image as a popular leader who tragically fell to the bullets of the oligarchy's dark forces, to summarize what people think about his murder, has faded.
Even his portrait on the 1,000 peso note, the lowest denomination, is being left behind. It is a pity that the only image and the only meaning left from Gaitán is that of one more victim of the violence in the country.
In this way, his role is being deleted and ignored. As an intellectual, he was one of the first to carefully study the emergence of socialist ideas in Colombia; as a criminal lawyer, the same day of his death, he had his last triumph as a defence lawyer; as a statesman, he held various public positions. I fear that the same thing could happen to Gaitán as to Don Antonio Nariño, an Independence hero. Who remembers him apart from the occasional historian? It would be a shame if Gaitán meets the same fate and is forgotten.
BP: If Gaitán were alive today, what do you think he would say about the current political climate and the peace process?
AF: I think he would be concerned to see oligarchs playing with people's interests in such important areas as work, health and education, which for him were key. I think it would also bother him to see a political class up to their necks in corruption. As for the peace process, I think that he would be concerned about the people who are using [the peace talks] as a vehicle for their own interests. He used to say that hunger had no political color, and I'm sure that he would say that peace doesn't have it either, and therefore could not be reduced to just an agreement between two sectors sitting and negotiating.
---
Arnovy Fajardo Barragán is a historian at the Universidad Nacional, and a professor of History at the Universidad Externado and the Corporación Unificada de Educación Superior.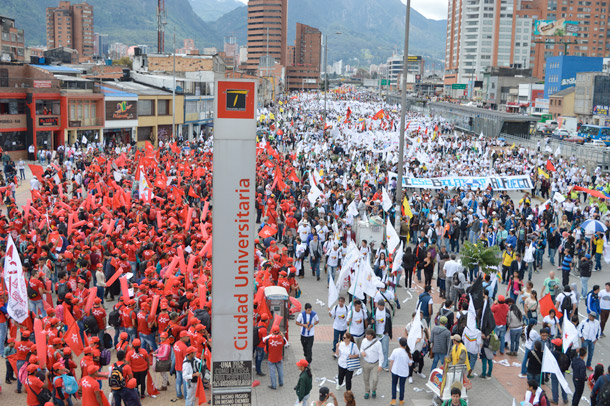 Tens of thousands take to the streets of Bogota and other cities to show solidarity with conflict victims and support the peace process, while artists and historians work on building a 'culture of peace'
---
On April 9, 1948, Bogota went up in flames shortly after the murder of populist presidential candidate Jorge Eliécer Gaitán, unleashing a fury of rioting that would become known as the Bogotazo. On a sunny day 67 years later, the streets were filled with tens of thousands of people marching for peace.
President Juan Manuel Santos and Bogota Mayor Gustavo Petro kicked off the day's ceremonies by lighting a torch called 'The Call for Peace' outside the Centro de Memoria, Paz y Reconciliacion building, before the march began.
President Santos said: "Today we are commemorating the victims of this senseless war in which we have been engaged for 50 years or more, and finally are seeing the possibility of peace".
Non-profits get nod for work in poor communities
As part of the 'World Arts and Culture Summit for Peace', the Goethe Institute and the Bogota Department of Sports and Recreation awarded a number of prizes to non-profits that help vulnerable communities through art and culture.
Twelve organisations were presented with awards at an event which took place on Saturday, April 11 at the Virgilio Barco library. The gathering aimed at recognising these groups for the work they did in 2014.
The first-place award went to the organisers of the alternative film festival known as Ojo al Sanchocho – which has been taking place in Ciudad Bolivar since 2008, a press release stated. The group offers young people the chance to learn about audiovisual equipment.
Second-place went to a group called Arquitectura Expandida, which empowers communities to transform their physical and cultural spaces with their own hands.
The first-place winners have already travelled to Germany and France to promote their work and share their experiences there.
By Luisa León
For his part, Mayor Petro addressed the crowds, saying that peace wasn't simply about peace accords with the guerrillas. "The significance of setting off from the Centro Memoria was that that's where the bones from the Bogotazo were interred in the mass tombs."
He continued: "Peace isn't just signing an agreement in Havana. Peace in Colombia signifies an end to segregation and elitism, it signifies social justice for all."
But peace has to be fought for. The weapon of choice of the city government's was the 'World Summit of Arts and Culture for Peace' (Cumbre Mundial de Arte y Cultura para la Paz) which included the Marcha Por La Paz and the Partido Por La Paz.
In the six-day event, beginning on April 6, some 300 Colombian and foreign artists, writers, journalists, and historians took part in forums, discussions, and music and dance performances across the city.
Theirs was perhaps as difficult a task as that of the FARC and government negotiators in Havana: how best to integrate the idea of peace in a culture and a people ravaged by the horrors of war for so long.
According to renowned historian and philosopher Diana Uribe, "to imagine a country in peace instead of endless, senseless violence isn't easy, but it's necessary if peace is to be achieved."
"[The peace march] is a movement about dreaming of a new country. The notion of living in peace is hard for us to imagine. Imagining a new country is very important in order to reach it," she told The Bogota Post along the parade route.
Though the day focused on the dream of peace and respect for conflict victims, April 9 will forever be a sobering reminder of the country's blood-soaked past. It's the day that in 1948 the presidential candidate Jorge Gaitán was gunned down as he left his office in downtown Bogota to go for lunch.
"[Gaitán's] candidacy signified the inclusion of many more people in the political arena, not just traditional elites. And when he died, the dream [of inclusion] died for a long time," Diana Uribe said of his murder, adding: "It's up to us to keep the dream alive."
The atmosphere was as much that of a carnival as that of remembrance. Brightly dressed street performers and drummers set the cadence of some 30,000 hopeful Colombians who are cautiously optimistic for a brighter future.
Following the swarms of people along the march route were a couple of dozen or so people who carried what looked like a pile of bones on a stretcher with the Colombian flag, guarded by a squad of peasants and old women with photos of their dead or missing children.
The scene was street theatre, of course, put on by high school students from Bogota's Kennedy district. It brought home the idea that Colombia's too-many conflict victims are not just the dead and disappeared, but also the shattered loved ones they left in their wake.
The sea of white t-shirts and white flags was dotted with many a fluttering red flag, joined by the rainbow colours of the LGBT community, as well as banners and signs from a large contingent of victims' rights groups, NGOs and a number of indigenous organisations. Colombia's more mainstream centre-left political parties, including the Progressives, Polo Democratico, Partido Verde, and the Union Patriotica were all out in full force.
Jesus Loñero Chucho, an indigenous man clad in feathered headdress who lives in an impoverished municipality in Arauca, said he came to Bogota to highlight the government's indifference to his people's plight.
"We're here in Bogota because we are invisible in our homes, we have very little there, insufficient housing, no running water," he said of the 30 or so indigenous people he marched with last week.
Prominent political figures like former presidential candidate Clara Lopez, ex-Bogota mayor Antanas Mockus and ex-senator Piedad Córdoba were also present, with conspicuously little in the way of personal security.
"I am here today primarily to remember the victims of the conflict," Mockus told The Bogota Post as he marched with a group of supporters.
"This is a very important step, there is a need for atonement, a need for empathy. You see everyone is peaceful and calm here today," he added.

When the marchers finally reached their destination inside Parque Simón Bolívar, a huge free concert was waiting for them. It featured many acts, including Panamanian singer Ruben Blades, who took to the stage dressed all in black – not as a tribute to Johnny Cash – but to remember all those who have died in Colombia's internal conflict.
---