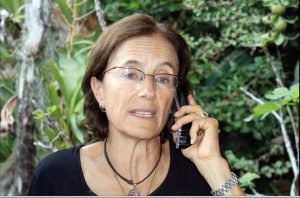 ELN releases hostages, but abductions raise questions about the start of formal negotiations
---
Three journalists, captured by the ELN at the end of May, have now been released. Salud Hernández-Mora, a reporter for El Mundo and El Tiempo who has duel Colombian and Spanish nationality, spent six days in captivity after being abducted near the town of El Tarra on May 21.
There are mixed reports about her reasons for going to the Catatumbo region, which lies near the border with Venezuela. Some said she was investigating the eradication of coca plants, others that she was covering protests about the disappearance of two young people.
Two days later, Carlos Melo and Diego D'Pablos, from RCN Television, who went to cover the Spaniard's disappearance, were also captured.
The kidnappings come just two months after the government and ELN announced that they would begin formal peace negotiations, after two years of preliminary talks.
In an interview with EFE after her release, Hernández-Mora was dismissive about the idea of possible peace discussions: "I keep thinking that when it comes to the ELN, the only things you'd have to negotiate are legal benefits for the leadership, collective demobilization of the troops." She continued, "The country should forget about negotiating with them because I don't think they have anything to offer."
The issue of kidnapping has long been an impediment to the two sides formally sitting down at the table, as the government have consistently said there will be no negotiation while the ELN still holds hostages.
President Santos reiterated this message: "As I said when the negotiating agenda with the ELN was made public, and I repeat now with more reason, we will not sit down at the negotiating table until the ELN has released all their hostages and has permanently renounced this crime against humanity."
ELN leaders ordered the journalists' release, but said that their trip to the area had been "unwise". A statement on their website said,  "We are emphatic in pointing out that these actions were not premeditated or planned, but casualties, typical of the conflict in the country. We also reaffirm that we are respectful of freedom of expression and it is not in our interests to impede the work of journalists."
---
By Julian Kirchner