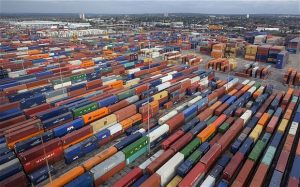 Siddharth Mohan looks at the evolution of ever-increasing trade links between Latin America and Asia
---
Separated by the largest water mass on the planet, and connected by only a few direct flights, Latin America and Asia are perhaps not the most obvious of business allies.
Yet amid growing uncertainty in the world economy, these two regions must find a way to form strong inter-continental trade pacts in order to shield themselves from the worst effects of troubles elsewhere – as they did in the aftermath of the 2008 financial crisis.
As the famous French philosopher Montesquieu said, "Trade is the best cure for prejudice. It is an almost general rule that, wherever there is good citizenship, there is trade, and that, wherever there is trade, there is good citizenship."
Latin America and Asia's trade links potentially stretch back to way before Montesquieu's words. Take the Polynesian chicken, which existed in South America prior to the arrival of the Europeans in the 16th century and was most likely transported there by the Polynesians.
If you've ever tucked into a delicious Peruvian ceviche and the orange vegetable that usually accompanies it, you'll understand why these Polynesians took that sweet potato and the squash-like bottle gourd back home.
The American sweet potato, ipomoea batatas, is now a staple food in places like Peru, where it is known as camote. This name comes from the Sanskrit word kumari. Today, the sweet potato also forms an integral part of all Asian cuisines, from Japan all the way to India. Indonesia, Vietnam and India are now the largest producers of sweet potato globally.
Such gastronomical details bring to light the way that trade has flourished between the two continents for centuries – to the extent of influencing each culture. And in recent years the two regions have again drawn closer together. Asia has become Latin America's second largest trading partner during the last decade.
This puts Asia right behind the US and substantially ahead of the European Union, something unprecedented in the history of their relationship.
Furthermore, Latin America and the Caribbean have regained importance among Asia's trading partners after a period of declining relevance in the 1980s and 1990s (see chart below).
The major turning point came in the early 2000s with the economic emergence of China and, to a lesser extent, India. The insatiable demand of these economies for raw materials resulted in an increase in Asia's share of Latin America's trade to an unexpected 21% in 2010. In short, Asia needs natural resources to grow, and Latin America can grow faster by selling those resources to Asia.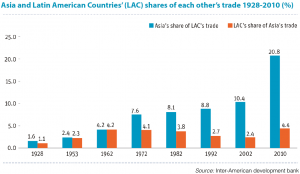 Unfortunately, recent developments may start to work against this dynamic. Firstly, China has seen several political allies in Latin America either voted out of government, as in the case of Argentina's Cristina Fernández, or in economic strife – as is the case of the left-leaning governments of Venezuela, Ecuador and Brazil.
Moreover, while China remains one of the fastest-growing economies in the world, its GDP expansion has gradually slowed during the past five years and is now well below the double digit growth figures that the country boasted at the turn of the decade. This, and China's transition from a manufacturing-based to consumption-led economy, has contributed to lower demand for commodities – and, consequently, contributed to an economic slowdown in Latin America.
But there are reasons to believe China's approximation to Latin America can continue. For a start, the Asian giant's interest in Latin America is not restricted to left-wing allies. Chinese prime minister Li Keqiang visited the right-wing government of Colombia in 2015 and discussed the possibility of starting talks regarding a free trade agreement between the two countries as part of a South American tour aimed at increasing trade and investment.
Furthermore, as emerging markets outperformed developed economies during the second half of the first decade of this century, certain Asian and Latin American economies began to take their cooperation to a more formal level.
A Goldman Sachs economist coined the term BRIC – Brazil, Russia, India and China – in 2001 as a way of grouping the four future economic powerhouses. The governments of these countries took the initiative and have met each year since 2009, with South Africa joining in 2010 to turn the BRIC into BRICS.
At the 2014 meeting in Brazil, the five nations set up the BRICS Development Bank, later renamed the New Development Bank, with USD$100 billion of capital to rival other multilateral organisations.
Wherever we are in the commodities cycle, these countries are all growing in economic power and it makes sense for them to continue to work more closely together.
Firstly, many Latin American and Asian economies face similar policy challenges. Secondly, as investment and trade flows between Asia and Latin America expand, the fates of the regions' economies are becoming increasingly intertwined, most likely in ways that are not entirely clear at the present time.
Free trade agreements have been signed by countries such as Peru and Chile with regional leaders China and Japan. They were joined by Mexico in signing the Trans-Pacific Partnership trade agreement in February this year.
But the potential for a strong Pacific trade relationship is far from being reached. Such initiatives still have plenty of scope to increase connections between Latin American countries and smaller Asian economies such as Taiwan, Hong Kong, the Republic of Korea and Singapore.
As Latin America and Asia gain economic significance and influence across the globe, it is clear that there are pressing reasons for increased mutual cooperation between the two regions.
---
By Siddharth Mohan