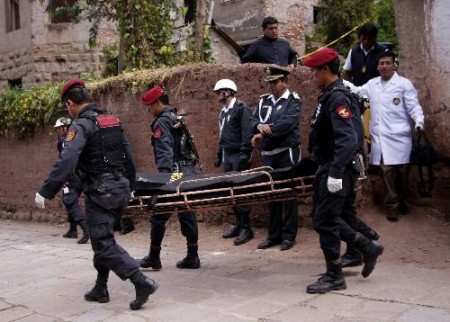 Ley seca fails to stop drunken disputes and fistfights as nine people die in Bogota's streets
---
On Saturday evening, just five hours after team Colombia won its opening World Cup match against Greece, 'ley seca' or the dry law took effect, banning the sale of alcohol anywhere in the country.
But this did little to prevent drunken and deadly quarrels in the streets of Bogota. Nine people were killed in the mayhem on what should have been a joyous occasion on Saturday night.
According to Bogota Mayor Gustavo Petro, another 15 people were wounded, and extra police had to be called in to attend to more than 3,000 fist fights and other disputes.
Ley seca, which bans the sale of alcohol for a limited period, is common practice in Colombia in the run-up to elections and other events such as labour strikes.
But the gaping loophole in the law is that it only prohibits the sale – and not the consumption – of alcohol, and people who wish to drink during that period flock to the nearest shop or supermarket to stock up on their drink of choice.
This can lead to the opposite of the law's intent; ley seca can actually exacerbate the problem and lead to an increase in public drunkenness.
Government spokesperson Milton Rengifo issued a statement a few days before the enforcement of the law, saying that the government had tried to strike a balance between getting people to stop drinking at a reasonable hour and the interests of businesses and vendors, who were hoping to see a rise sales because of the World Cup.
Police were planning to meet on Monday to come up with a security plan for Colombia's next World Cup match, against Ivory Coast, on Thursday June 19. It is expected that more stringent measures will be put in place to keep public order.
But stemming the tide of exuberant fans who want to show support for their national team with a street party is a tall order.
On Saturday, Colombians wasted no time taking to social media to criticise the unpopular dry law.
One person wrote on Twitter: "Ley Seca in Colombia today… you know that's not going to happen."
Another wrote, "Excuse me Santos and Zuluaga, but as Colombia has scored 3 goals, I don't believe much in the Ley Seca today."
---