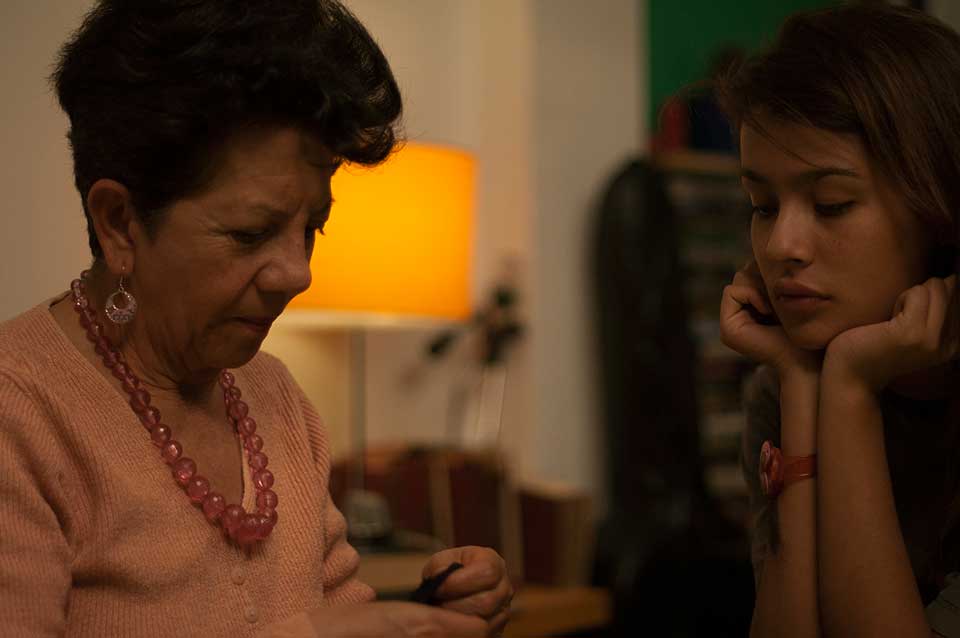 In Mañana a esta hora, Colombian filmmaker Lina Rodríguez skilfully draws a picture of life as a series of small daily battles against the wearisome routine of the big city.
---
Mañana a esta hora is her second feature film after Señoritas (2014), a semi-autobiographical story about what it is like for a young woman to grow up in the social context of modern Bogotá.
Rodríguez again uses her deep knowledge of Bogotá's domestic realities and social codes to depict the life of the affectionate teenager Adelaida 'Ade' (Laura Osma). Like most girls her age, Ade can be a real handful for her troubled parents. Lena (Maruia Shelton) and Francisco (Francisco Zaulda), a forty-something couple with liberal ideals, struggle to establish some kind of authority without betraying their belief in personal autonomy.
The plot doesn't follow a classical structure, but it doesn't resort to the mind-blowing tricks of recent puzzle films either. Instead, Rodríguez carefully constructs a subtle net of relationships between the characters. The net is based on shared feelings of warmth and care as well as bitter frustrations that can cut like broken glass in the middle of an argument. This is more palpable in the mute sequences where we can see the internal turmoil of the protagonists reflected on their faces.
The dialogue actually becomes a breathing space between strained and prolonged silences and, like in real life, it becomes random and almost mundane. The characters can be talking about ice cream, sex toys, failed relationships or the belief in a superior being, it doesn't matter. The real meaning doesn't come from the dialogue, it is contained in the noises that break the silence: a door closing or a distant sob.
Each scene in the movie is built in a way that resembles the composition principles used by master Japanese director Yasujirô Ozu in movies like Late Spring (1949) and Tokyo Story (1953). The camera is placed at a low height and is almost always static, except for the moments when it follows a conversation between a group of characters. Also, faithful to Ozu's style, door frames, trees and other elements are frequently used to crop the image and focus on the characters. And when the camera moves, for example, to follow Francisco riding a bike, the composition structure of the shot is maintained. There is even a visual sequence of clouds moving over trees that could perfectly belong in Abbas Kiarostami's Five – Dedicated to Ozu (2003).
Rodríguez delivers a vivid portrait of what could be considered a conventional, yet non-traditional family in present-day Bogotá. However, youngsters and parents in any city could relate to the struggles and tensions we observe. The movie also reminds us that in life, unlike fiction, those events that can change things forever usually happen in the blink of an eye, with no hint or warning. Plus, there are often no chances to tie up loose ends or make amends to the people we have loved and somehow hurt.
Mañana a esta hora opens on August 3 in theatres throughout the city including Cine Tonalá, Cinema Paraíso, Cinemanía and the Alliance Française (centre).
4/5 stars
---
By Carlos H. Guzmán