Mariana Duque-Mariño is the highest-ranked Colombian female tennis player in the WTA world ranking at 134. The 25-year-old from Bogota had hoped to be ranked higher by now after her storming breakthrough. The Bogota Post visited her while she was preparing for the Claro Open Colsanitas WTA tournament in her very own Bogota
---
Name: Mariana Duque-Mariño
Age: 25
Nationality: Colombian
"I started playing because my dad would take me to the club and I really enjoyed it, it went very fast to be honest. At age 16 I won my first tournaments on the second professional level. In 2007 I made it to the final of the girls' tournament of Roland Garros, it was quite a surprise that I came that far because all my rackets were stolen the day before I started. I got some rackets before my game that felt strange to me, because the ones I used couldn't be found in Europe."
Duque-Mariño was dazzling in her early career: "When I was 18 I was already in the top 100 and two years later I completed one of my dreams – I won the tournament here in Bogota. As a kid I had always looked up to and cheered for Catalina Castaño, as well as Fabiola Zuluaga, who is a five-time winner of the WTA tournament in Bogota. Then, at 20 years old, I was the one standing with the trophy in my hands."
But unfortunately, the sun didn't keep shining for Duque-Mariño for much longer. "I think it went very well, but the expectations were really high and I put so much pressure on myself that I couldn't handle it. When I won the tournament I felt that I had made it, so I didn't train as much anymore and didn't invest so much anymore and that cost me my good ranking. I am learning with the years, but I had to learn it the hard way. Now I am just trying to improve bit by bit and not set my goals too high and get back into the top 100."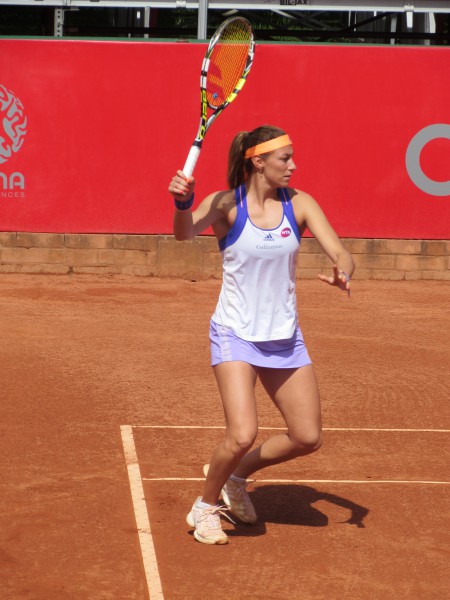 Regarding playing in her home city, she has mixed feelings. "Playing in Bogota for me is always a bit difficult, because the people always expect you to win. But despite the pressure I love it here and often play well. Because I am not in Bogota more than three months per year it gets more difficult to get used to the altitude each time, but it is my city so I do still have that advantage".
In her ninth main draw showing at the Claro Open Colsanitas WTA tournament in Bogota, Duque-Mariño is looking to improve on her quarter-final showing from last year – at only 25 years of age, that could mark her way back to the top.
Mariana Duque-Mariño is playing this week in the Claro Open Colsanitas WTA Tour event in Bogota at the Club campestre el Rancho, Cll 194 # 45 – 20.
---
By Freek Huigen