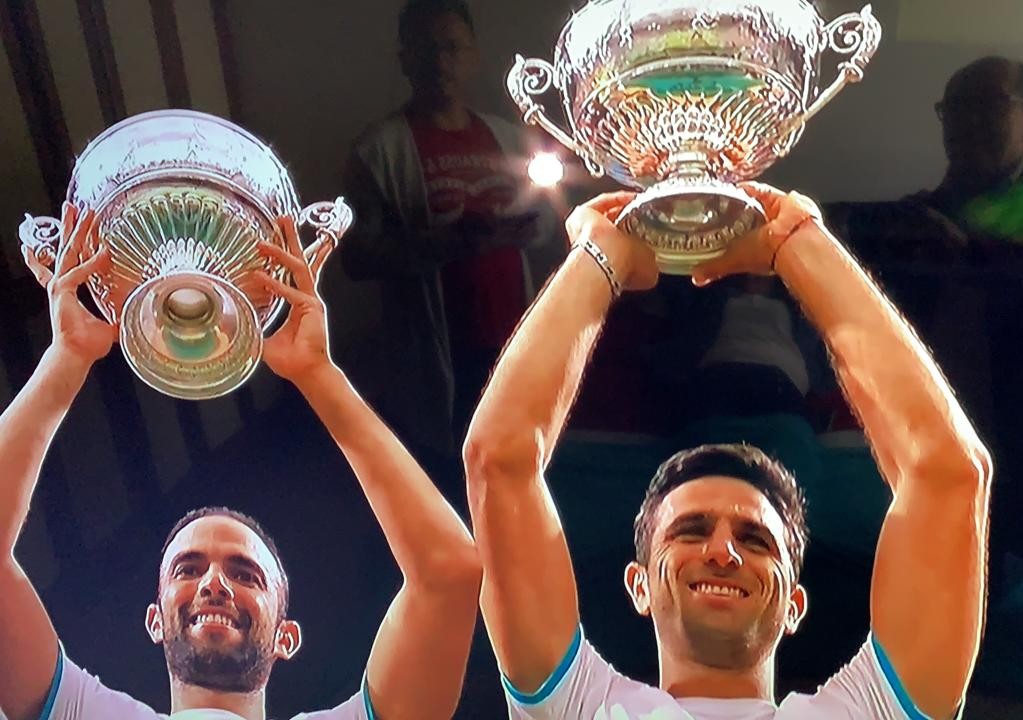 Juan Sebastián Cabal and Robert Farah win Wimbledon doubles final and take first ever Grand Slam victory. In the final they beat French duo Nicolás Mahut and Edouard Roger-Vasselin in a marathon five-setter of almost five hours with 6-7, 7-6, 7-6, 6-7, 6-3
---
Two perfect weeks for the Colombian duo climaxed reached a climax this Saturday at their first ever Wimbledon final. The second-seeded Colombians faced a tough challenge on the holy grass in London, competing against four-time Grand Slam doubles champion, Mahut and 2014 Roland Garros doubles title winner, Roger-Vasselin
It the first Grand Slam title that the caleños Cabal and Farah had played together – previously their best result had been reaching the Australian Open doubles final last year, though Cabal had already won the 2017 Australian Open in the mixed doubles with Abigail Spears.
The final almost came to an early finish at 6-5, when Mahut took a ball straight in the eye. A powerful smash from Cabal took an unfortunate bounce and the Frenchman couldn't get out of the way.
After a 10-minute medical time-out Mahut was fit enough to play on and it was the Colombians who seemed most affected by the pause. Mahut and Roger-Vasselin won the first-set tie-break 7-5. The momentum was with the French, but they couldn't convert on a setpoint at 6-5. The caleños went into the following tie-break 3-0 behind, but took the service break back. They went on to take the second set tie-break 7-5.
Related: Juan Sebastián Cabal, grand slam champion in mixed doubles
In the tight third set, there was barely anything between the two teams, but Cabal and Farah took the third set tie-break with a lucky set point net ball. In the fourth set, Mahut and Roger-Vasselin won the first service break of the game, but the Colombians immediately won the break back so another tie-break was the decision maker. The French held onto an early service break to bring the match to a deciding fifth set.
The fifth set was more open and an early break was directly countered by the French to make it 3-3. Farah won his service game with ease, and – partly because of two balls that hit Mahut on his body – they won the decisive break, 5-3. Serving for the Championship they had to come back from 0-30, but after four hours and 55 minutes, Robert Farah hit the winning point with a volley.
The victory takes Colombians to number one on the ATP doubles world ranking.
On the road to the final the Colombian duo went past three unseeded teams, before ousting fifth seeded team Jean-Julien Rojer from the Netherlands and Horia Tecau from Romania in a four hour and 35 minute five-set quarterfinal cracker. In the semifinals they had the better of number three seeds Raven Klaassen from South Africa and Michael Venus from New Zealand in the semifinals with a 3-1 set score.
The men's singles final will be played tomorrow at 8am Colombian time between Novak Djokovic and Roger Federer.