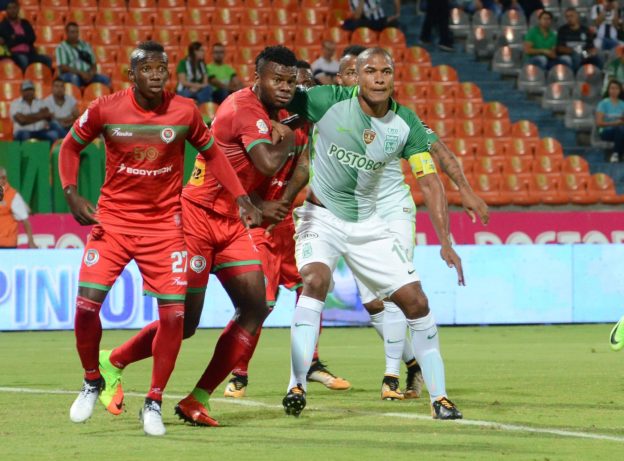 Independiente Santa Fe finally saw their winning luck fade away. Los cardenales were already playing poorly and took some cheeky victories before, but defeats from lower table teams Atlético Bucaramanga and Rionegro Águilas mean they gave away their clear lead.
The lack of a quality striker cost them as Wilson Morelo has been injured almost all season, along with Humberto Osorio Botello and the very talented Damir Ceter. Before Morelo was injured, former Everton striker Denis Stracqualursi was granted a transfer back to his home country Argentina, so Santa Fe is dependent on wingers, midfielders and youngsters to occupy the number nine position.
Atlético Nacional took over Santa Fe's status at winning without playing well in the Liga Águila. Without convincing, los verdolagas are back on top. The fans are still heavily criticising the lack of game plan manager Juan Manuel Lillo's side exposes, but Dayro Moreno, the best striker in the Colombian league, helped them through the difficult time on several occasions.
Junior de Barranquilla is back to winning ways as well and can take over the lead with games in hand. 'Chateo' the affectionate name the crowd have adopted for the absolute stars Yimmy Chará and Teófilo Gutiérrez, are on form again and keep Junior in their winning ways.
For Junior the biggest problem is the busy schedule, los tiburones are still playing the Colombian cup and Copa Sudamericana and it will be hard to keep up with all three tournaments having little depth in their squad.
It appears that Bogotá will have three representatives in the top eight this season as both Millonarios and Equidad have recorded good results in their last games. Equidad striker Carmelo Valencia is still at the top of his career. After some successful years in China, he joined his former team Equidad and hasn't forgotten how to score in Colombia. Valencia shares the league top goalscorer title with Chará and Moreno, so they haven't been short on goals.
Related: Santa Fe dominates Liga Águila table
At the bottom is Tigres, the fourth team from Bogotá. They aren't going to catch up 14 points with only six games to play,
but above them it gets tighter and tighter. Jaguares and América de Cali are both on winning ways and almost caught up with Cortuluá. América's New manager Jorge 'Polilla' da Silva was off to a flying start with seven points in his first three games, but they are still sitting in a relegation spot because Jaguares recorded a perfect score in those three games.
Cortuluá is in real trouble again as their form has slumped. Four defeats in a row puts them back in relegation trouble. Atlético Bucaramanga and even Deportivo Pasto – who both seemed safe some weeks ago – have to look to the teams below them again as they see the relegation candidates catching up with huge leaps.
The coming weeks will have plenty of excitement in the Liga Águila as the top eight, as well as the relegation places, will be decided.
---