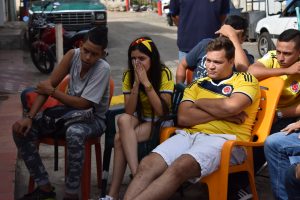 Anyone can miss a penalty. So it would be churlish to blame all of Colombia's woes on Carlos Bacca and Mateus Uribe, both of whom failed to score to allow England a date with Sweden this Saturday. Where did it all go wrong for La Selección? Here are six reasons why Colombia aren't in the quarter-finals.
James Rodriguez's sacrificial calf
The news that James Rodriguez would not be available led Colombia to let out a collective shriek before the game against England. The kid that lit up Brazil 2014 with six goals and had now settled into the role of elder statesman and playmaker wasn't even fit enough to come on as a super sub and many in Colombia immediately resorted to prayer.
Given how little there was between the teams in the end, it's arguable whether the team's most recognisable superstar was even necessary for Colombia to win. Yet in the early stages of regular time, when Colombia seemed uncertain how best to feed the ball upstate to Falcao and co., Rodriguez's absence was sorely felt.  As constant camera shots panned to a reflective James, the country will also likely keep wondering how this tournament might have turned out if his calf had been good enough for him to play.
Quinterito's big boots to fill
Colombia had many debutants around which to form potent future attacks for La Selección. Come 2022, Johan Mojica, Dávinson Sánchez, Mateus Uribe, Wilmar Barrios and Yerry Mina– who scored half of Colombia's goals in the World Cup–will be the nucleus around which Colombia can grow.
In the absence of James, the game against England posed many new questions and many looked to Juan Fernando Quintero for the answer. In his second World Cup, Quintero was referred to as "Quinterito" by the Colombian commentator with an endearment that suggested that the future of the family farm depended on him.
In the game against England, Quinterito sold the farm. Unable to build pressure nor feed the ball towards scoring opportunities for either Falcao or Cuadrado, Quintero didn't hold on to the ball a whole lot either. England followed the same blueprint mapped out by Senegal of making him go towards his defenders to receive all passes and try to force him outside as he is more comfortable working from the middle. In the absence of more attacking players like Muriel and Uribe, Quintero seemed cast out to sea. Subbed out in the 88th minute, this was the tournament that could have been his in the same way that the 2014 edition belonged to James Rodriguez.
Despite this, Quintero was still one of Colombia's best overall players. The 25-year-old paisa from San Javier may have had a harsh lesson on the nature of World Cup football in his second outing. Come 2022 in Qatar, here's hoping he has learned it.
Related: Colombia bows out of World Cup in penalty shootout with England
Geiger counter
It's a common enough trait for sports fans to blame the referee when their team loses. But it's less common when both teams agree completely, as Colombia and England did on the poor performance by American referee Mark Geiger. Some of the calls on the field were so abhorrent that even the Americans felt the need to weigh in. "Watching the world be introduced to Mark Geiger is like sending my grown illiterate son to a college he didn't get into." American Will Parchman tweeted.
Everything from Barrios' affectionate "head-butt" on Henderson–who valiantly and theatrically aped Neymar–to the umpteen yellow cards doled out, Geiger's mistakes began to tally up to the frustration of most.  The Colombians probably got the better deal from his errors with not having Barrios sent off but may also have had a case on Sanchez's yellow card that led to the penalty. Either way, in a game of intense animosity, Mark Geiger managed to unite everyone in their collective ridicule of him.
Extra time winner
In the first two knockout games, both teams seemed to be playing for penalties with Russia and Croatia both coming out of the games victorious. Colombia however fought hard in extra time and had the best chances in extra time in the 30 minutes and many feel that they failed to capitalise on the amazing momentum they had after Yerry Mina headed in his whistle-beating goal. By taking the game to penalties they reduced their chances to a 50/50 toss of the coin.
Related: Colombia vs England As It Happened: Colombia stumbles in penalty shootout against England
Pekerman's defensive gamble
Many have decided again to go for Carlos Sanchez Moreno after incurring a yellow card in the box and gifting England the lead courtesy of a penalty by Harry Kane. Yet perhaps one of the most decisive moments came prior to the game when Colombian coach José Pékerman choose an overly defensive field in favour of the beautiful playmaking football that we saw against Poland. Choosing Lerma ended up in lost possession in the early stages when England were the ones with all the attacking ideas. Leaving the hard work for later was a general theme for why Colombia fell to England and playing like a shadow of their 2014-selves was a loss for football fans all over.
England were actually…good?
Before they decided to gift tall Yerry Mina a free header, England were playing with far greater impetus than was expected of them. For the first 90 minutes, in a team with no star-wattage, they grouped together by playing modern attacking football and genuinely looked like winning the game outright. Yes, England. In a knockout game.
Following the ecstasy of Dier's winning goal past David Ospina, their superstitions had been cast aside and the secular nation that gave us Newton and Darwin realised that curses aren't actually things and, therefore, not a thing they had to lift. Well played old chums. We wish you the best against Sweden on Saturday!