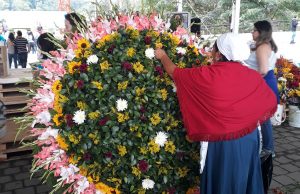 Colour, scent, music, parties, flowers: it could only be Feria de las Flores.
Medellín is in the midst of its biggest event of the year with a multitude of happenings in the city of eternal spring to celebrate everything paisa. This year marks the 61st edition of the annual event with a selection of both big and small expositions spread over 400 events and 10 days.
The festival has certainly come a long way since its humble beginnings in 1957. The first edition lasted five days with a flower exposition in the Metropolitan Cathedral. However, it did include the hallmark street procession where silleteros, porters who used to carry people during colonial times, hauled flowers instead of humans through the city streets.
This symbolic act against slavery is seen as one of the festival's main events, with the desfile through the city streets growing from 40 silleteros in its first year to an expected 500 this year.
The festival, which runs from August 3 to August 12, will focus on the theme "Medellín Blooms" for this year.
Paisas and visitors alike have already enjoyed many high-quality events as the festival nears the halfway mark. Reggaeton fans got a glimpse of some of the best in the business at the Super Concert on Saturday which included the likes of J Balvin and Marc Anthony. Meanwhile trova paisa has been a popular inclusion at many of the street events: a song between two competitive characters with sung, rhymed and improvised verses.
Some of this year's most important events include the Desfile de Autos Clasicos on Saturday, Desfile de Silleteros on Sunday, as well as the week-long Exposition of Orchids at the Jardín Botánico.
With all the noise and activities it is important to remember the reason for the season: flowers. Their economic importance for the Colombian economy should be noted as it has grown into an annual billion-dollar industry, with the United States importing about 70 percent of its cut flowers from Colombia.
For more information on the festival, visit the official website. See the full programme here.