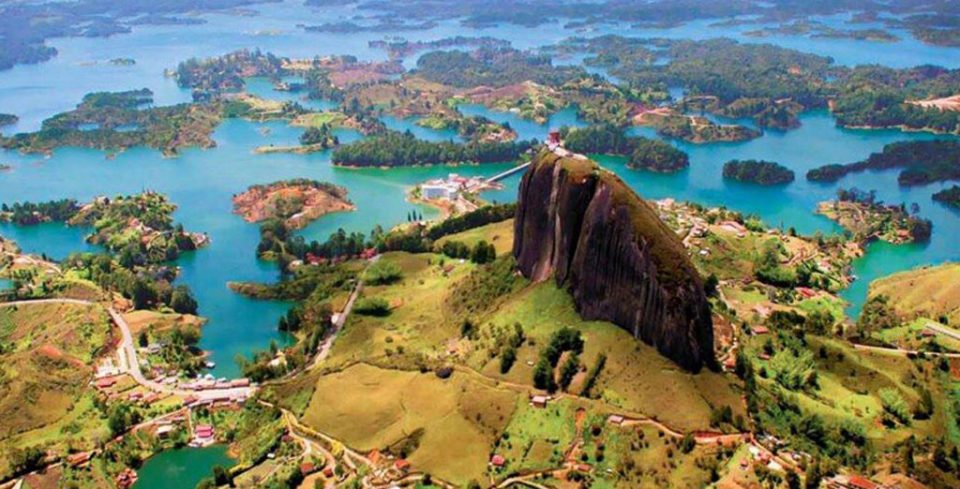 With so many options for travel around Colombia, we take an in-depth look at Antioquia, one of the country's most interesting departments, to give you a few ideas for your travels.
---
Yes, you could go to the coast, visit San Andrés, hit the Amazon or check out Mompox's famed Easter celebrations. And why not? As we know all too well, Colombia is a land of endless travel possibilities, with hundreds of different trips that would all be equally appealing, interesting or unique. So we thought we'd narrow down your search a little bit by offering you some tips for what to do in just one of the country's regions, Antioquia. Trust us, there's much more to enjoy than the City of Eternal Spring.
Amagá
About 40 kilometres from Medellín, Amagá is a town that in and of itself has little to offer. But the small Eco Hostel Medellín, located just outside of town, definitely makes this a place worth visiting. The hostel is actually a farm specialising in permaculture, an agricultural system that redefines the concept of sustainability. Upon entering, you're greeted by a now-slightly-cliched sign reading "No, we don't have Wifi. Talk to each other." The hostel can help you arrange cycling or hiking along the impressive nearby viaducto, as well as bungee jumping or horseback riding. Visitors are also invited to work on the farm, join in all-vegetarian communal meals, and enjoy the birds and vegetation surrounding the farm, spectacularly set in the lush mountains of western Antioquia. Very hippie, but worth stopping by for a couple of days of relaxation, reconnecting with nature, and recalibrating your mind, body, and soul.
Río Claro
Although we already touched upon this private nature reserve in our round-up of the top destinations for 2016, it's certainly worth another mention. Set on a beautiful river inside a lush rainforest about three hours east of Medellín, with steep cliffs rising gracefully from the valley floor, this is nature in all its glory. Wildlife abounds, with a stunning array of bird species, and there are plenty of caves and beaches to discover. Though slightly pricey, the reserve organises a variety of adventure activities, including caving, kayaking and rafting, snorkeling, and a canopy zipline, in addition to a number of hikes through the rainforest. There are a number of different accommodation options in this rugged park, which provides an excellent environment to escape and get back to basics.
Santa Elena
Arriving at the Rionegro airport, one can either take the route along Las Palmas to Medellín, or the alternative, a somewhat longer road which passes by the tiny town of Santa Elena. In fact, it's less of a town than a rural settlement of numerous large and isolated fincas. 'So what?' you might be asking. Well, what differentiates this place from any other farming village in Colombia is its impressive reputation for flower growing and, more specifically, its integral role in Medellín's Feria de las Flores. This is where the intricate and complex displays are created – all the silleteros (the people who carry the displays during the parades) are from families in Santa Elena. The fields are awash with vibrant colours, and all the varieties of flowers you could shake a stick at. Many of the families arrange fascinating tours of their fincas, during which they explain the whole process of creating the displays – some of which take up to a month to design and use as many as 100 varieties of flowers.
Santa Fe de Antioquia
Situated about an hour and a half to the north of Medellín, Santa Fe de Antioquia is a necessary stop for anyone getting to know the region. Formerly the capital of Antioquia, before being supplanted by Medellín in 1826, Santa Fe maintains an air of importance despite its small size. Wandering the streets of the town, you'll find a colonial centre in an impressive state of preservation. The narrow, stone-paved streets will lead you to miniature plazas dotting different neighbourhoods, each with its own tiny church. Unlike other towns popular with tourists in the region, there's not actually a lot to do in Santa Fe, which is perhaps a good thing. It's an excellent place to relax in the sunshine, take life easy and soak up some culture. Meandering the streets while admiring the well-kept architecture and quaint streetscapes will make for a welcome change after the hustle and bustle of Medellín or tourist-filled Guatapé.
– Chris Erb
El Carmen de Viboral
While those from Ráquira or Caldas might vehemently disagree, the unassuming little town of El Carmen de Viboral can justifiably claim to be the heart of Colombia's ceramics industry. Believe me, it's more interesting than it sounds. But before we even get onto the crockery, the town distinguishes itself with a modern, incongruous church which was rebuilt after a 1962 earthquake. Its sharp edges, white facade and large glass panels are not quite in keeping with the quaint colonial feel of the rest of the main square. Yet the undoubted highlight of El Carmen is the Calle de la Cerámica, a colourful and unique street which came into being a little over a decade ago. The facades are plastered with mosaics and plates with traditional designs, while ceramics line the streets. In keeping with Colombia's tradition of random celebrations, the town also hosts a yearly Festival de la Loza.
Jardín
Tucked away in the coffee-producing mountains of southern Antioquia, Jardín is an atmospheric little town where visitors can spend the day horse-riding or hiking to several stunning waterfalls and caves. There's also bird-watching in the nearby ProAves Yellow-eared Parrot Reserve, or at the Andean Cock-of-the-Rock display site at the edge of town. What's more, you can follow this up by spending a balmy Antioquia evening in perhaps the liveliest little town square in Colombia. Jardín really comes alive after dark, when (in a slightly unusual move for a small Colombian town) the plaza is filled with colourful little chairs and tables, and the locals and tourists gather to enjoy a fresh coffee or cold beer, whilst the town's young men take it in turns to parade on their horses around the cobbled streets in their cowboy hats and ponchos. Jardín's residents are understandably proud of their town: make sure to pay a visit to the Museo Clara Rojas Peláez on the main square – the eccentric and passionate curator is worth the price of admission alone!
– Chris Bell
Guatapé
Possibly the most famous Antioquia day-trip, the vibrant town of Guatapé, with its enviable lakeside location, brightly-coloured zocalos, and proximity to the iconic Piedra del Peñol, should be high on the list of anyone planning to travel in Colombia. A climb up the 740 steps of the rock, with its 360 degree views of the magnificent artificial lakes of Guatapé, is understandably a popular draw, but Guatapé has so much more to offer the active traveller. Rent out a kayak and paddle around the waterways surrounding the town, hike along one of the many trails out into the countryside, or hire a mountain bike and head down 1,000 metres to nearby San Rafael, with its endemic monkeys and hidden waterfalls – Guatapé offers plenty of adventures to pack into a three-day weekend. If you're a more sedate type of traveller, just cough up COP$12,000 and relax on one of the 'booze cruise' boats on the lake, taking in the panoramic vistas of the famous rock with a Pilsen in hand.
– Chris Bell
And the beaches…
Antioquia is a massive department, and people often forget the fact that it has a small stretch of the Caribbean to its name, with plenty of worthwhile places to visit. Base yourself in Necoclí, one of Colombia's oldest towns and home to the Fiestas del Coco. There's not so much in the town itself, but there are plenty of beautiful beaches nearby as well as a refreshingly-tourist-free mud volcano just outside town. The beaches stretching from San Juan de Urabá to Arboletes also offer picturesque, quintessential Caribbean sands and clear waters for a few days of much needed relaxation.
---