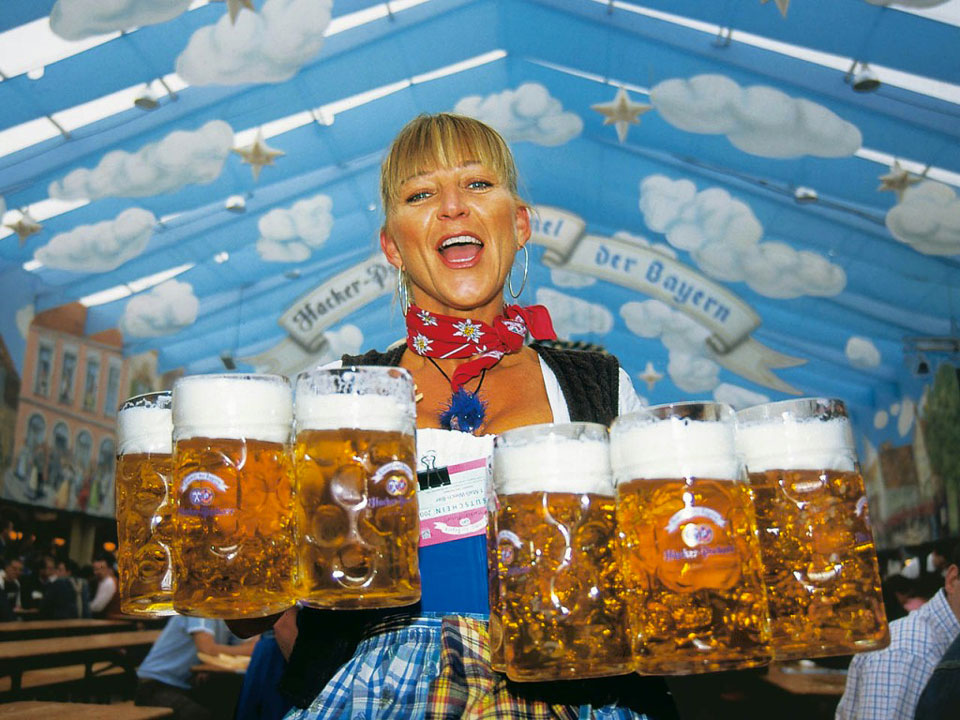 With Oktoberfest nearly upon us, Juliana Gómez finds out where to have some beer-fuelled fun in Bogotá.
---
One of the most famous festivals anywhere in the world (possibly because it largely revolves around beer), Oktoberfest was founded in 1810 in Bavaria. Usually celebrated between mid to late September to the first week of October, the festival in Germany boasts attendances of more than six million people from around the world and is renowned for fun, beer and food.
In 2013 it was reported that 7.7 million litres of beer were served in Germany alone during the festival and its popularity means that, much like St. Patrick's Day, it has been adopted by cities the world over. And Bogotá has never been one to miss out on a party. While celebrations here are a mere shadow of those in Germany, it's still worth dusting off your lederhosen and dirndls to celebrate with a beer in one hand and a pretzel in the other. Here's where to go to be a German for a day this year. Prost!
Club Colombia's Oktoberfest
When: September 30
Where: Club Nimajay Bavaria, Autopista Norte with calle 234
Cost: $73,000 – $112,000
Club Colombia, fittingly produced by Bavaria, was quick to hop on the Oktoberfest boat. For more than five years they've been organising a huge party in honour of the festival. It doesn't look like you'll be revelling in traditional German customs and music at this party but you will get to dance your heart out to artists like Shaggy, ChocQuibTown, La 33, MNKYBSNSS, El Freaky, Astrolabio and Nina Rodríguez. There's sure to be a lot of beer as well as an art market, food stands, picnic areas and interactive zones.
III Colombian Artisanal Brewers Festival
When: September 17
Where: Campo de polo – Hacienda San Rafael, Carrera 57 #132
Cost: $35,000
The third edition of Colombia's burgeoning microbrewers festival is guaranteed to please those looking to celebrate the spirit of beer this Oktoberfest. With hundreds of different preparations and a wide range of styles, this isn't the place for those looking to enjoy a plain ol' Poker. Over 45 local and national breweries will be present putting their best beers forward in order to win the prize for best brew of the competition.
Cámara Colombo-Alemana's Oktoberfest
When: October 8 and 9
Where: Campus 170 – Universidad ECCI, Avenida Calle 170 #49b-96
Cost: $13,000
The Cámara Colombo-Alemana is an organisation that aims to facilitate business between Colombia and Germany. As you might expect, they regularly celebrate Oktoberfest in Bogotá, but with a very different vibe to Club Colombia's mega party. If you're looking for something more authentic, this might be more up your alley. There'll be music, dancing and the traditional tents with long tables where you can drink beer with friends, new and old. This event is also more family friendly, so take your kids along to soak in some German culture.
Oktoberfest: Armando Records
When: October 8
Where: Armando Music Hall, Calle 85 #14-46
Cost: $25,000
For the sixth consecutive year, this venue will host their own version of the German beer festival. Armando Records bring their own take to this annual event, with beer and food from both Europe and Germany, games and 13 hours of music. Don your lederhosen and join the 3,000 people expected to attend. The organisers promise free beers to those who dress up.
Edelweiss Cajicá Oktoberfest Celebrations
When: September 17 – Mid October
Where: Km 1 via Cajicá – Zipaquirá
Cost: Free
Enjoy an authentic experience at this German-owned restaurant, which brews its own beer, following the traditional German Reinheitsgebot Purity law. There will be bonfires, Oktoberfest beers, traditional German and Colombian dances as well as contests and a generally festive atmosphere. An event suited for the whole family, Edelweiss recommends making the trip on Saturday or Sunday afternoons.
---
By Juliana Gómez