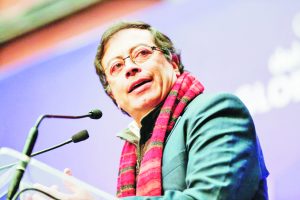 The National Electoral Council (CNE in Spanish) has denied Gustavo Petro's Colombia Humana movement the formal recognition it needs to be a political party.
This legal status is only granted to candidates who have been elected into Congress and, secondly, candidates that receive 3% of the total vote, CNE Magistrate Felipe Garcia explained as to the reasons why the body ruled 6-2 against Colombia Humana.
Gustavo Petro contested in this year presidential elections, where the leftist candidate received the support of eight million voters (41% of the total) in the second round.
El @CNE_COLOMBIA decidio en votación de hoy (6-2), negar personeria juridica de @ColombiaHumana_ .

— Armando Novoa García (@consejeronovoa) 28 August 2018
Petro became a senator after losing to Iván Duque, a standard protocol following the presidential election whereby the losing candidate doesn't have to run a further election to enter Congress.  Being a member of the opposition party includes major benefits like state funding and other rights conferred on them by the estatuto de la oposición; a constitutional reform that allows opposition parties certain rights including equal access to the press and official information.
In addition to losing state funding the Colombia Humana movement won't be allowed to nominate candidates for the regional elections next year, losing the chance to consolidate local leaders and broaden their popular support.
Last March, Petro organized a coalition called Lista de la Decencia (not for the legislative election) with other center-left movements achieving 3.4% of the vote.  Unfortunately, many of the movements which formed the coalition didn't support Petro for his presidential campaign.
After the CNE decision went public, Gustavo Petro announced that he would appeal the decision after the new CNE magistrates have been installed. "[Colombiana Humana] is the only movement that with eight million votes and representation in the Senate does not have legal status. I came second in a vote for the presidency but they deny me the right to be the opposition," Senator Petro tweeted.
Soy el único senador que no puede generar a su movimiento personería jurídica, es el único movimiento que con ocho millones de votos y representación en el senado no tiene personería jurídica

Soy el segundo en votación a la presidencia pero me niegan el derecho a se oposición

— Gustavo Petro (@petrogustavo) 29 August 2018
Until now, both Polo Democrático Alternativo and Partido Verde, both of which supported Petro in the second round, have announced their intention of becoming opposition parties and are, as a result, beneficiaries of opposition party rights.
With reporting by Illimani Patiño and Arjun Harindranath