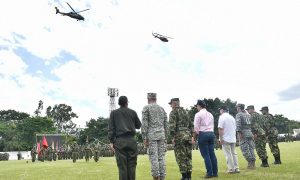 On Sunday, Colombian President Iván Duque has doubled the number of foot soldiers deployed in the region of Catatumbo to fight crime and drug trafficking. President Duque held a ceremony in the Hermides Padilla Stadium in the municipality of Ocaña, in Norte de Santander, to announce the activation of the task force–named Rapid Deployment Force. No. 3–which will increase the number of active soldiers by 5,000.
President Duque's announcement comes six months after a surge of fighting between the National Liberation Army (ELN) and the Popular Liberation Army (EPL) has plagued the region, prompting the Colombian government under former President Juan Manuel Santos, to declare a humanitarian emergency.
"Here we come to surrender our strengths, our spirits, our desires, so that the Catatumbo is freed once and for all from violence, kidnapping, extortion, homicide," President Duque emphasized.
After the peace treaty of 2016 was signed, the FARC (Fuerzas Armadas Revolucionarias de Colombia) has had a limited presence in the region. However, the guerilla groups ELN and EPL have ramped up violent attempts to wrest control of the region's cocoa-growing lands, which had previously been in the hands of the FARC.
The President also took the opportunity to reaffirm the importance of collaboration with forces such as the Attorney General, Nestor Humberto Martinez, members of the FUDRA (Forces of Rapid Deployment), and members of the local and regional authorities.
"Today, this Rapid Deployment Force joins the work of the armed forces and the work of the Prosecutor's Office, so that we defeat violence and impose in this region the Constitution and the Law as it forces us to defend life, honor and the property of all Colombians," he said.
President Duque also committed to implementing a social strategy that will concentrate investments in agriculture and promoting small to medium-sized rural business.
#Ocaña La presencia de la Fuerza Pública en esta tierra va de la mano con el anhelo de equidad de nuestro Gobierno. Que lleguen la seguridad, la inversión social, las obras, la agricultura por contrato, la educación, la salud y las oportunidades para los más vulnerables. pic.twitter.com/wogjVbl5FJ

— Iván Duque (@IvanDuque) 28 October 2018
 In closing, President Duque made a rallying cry that echoes the tough-on-crime sentiment that he campaigned on; a view that he also shares with US President Donald Trump. Recently, President Donald Trump deployed over five thousand troops to the border of Mexico to meet a caravan of Central American migrants travelling toward the region.