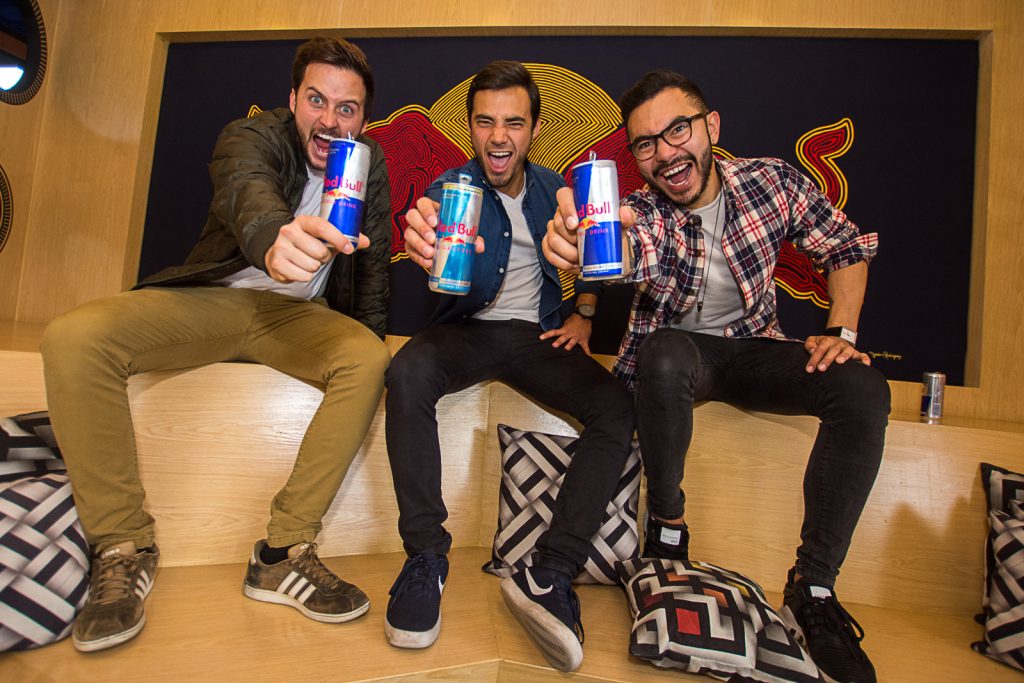 Red Bull have whittled down dozens of contenders to select the three madmen who will represent Colombia in their 'Can you make it?' challenge.
---
As the start of the Red Bull 'Can you make it?' campaign draws closer, the details have been released of the three Colombians who will travel across Europe for five days, armed only with 24 cans of Red Bull and an unlimited data plan. They'll be up against 200 other competitors from 60 countries, all vying to have the best experience, capture every minute on social media, and win a mysterious "incredible prize."
On April 10, these intrepid adventurers started at one of five locations in Europe: Madrid, Budapest, Manchester, Stockholm or Rome. From there, they must reach Amsterdam and the finish line within a week. They'll gain points for challenges and social media activities along the way and if they're lucky they might even win a few more cans to barter with.
So, without further ado, here are the three madcap students upon whom Colombia's hopes rest: Cesar, Diego and Mateo. All three are students at Universidad de Los Andes; César studies Design, Diego is a student of Mechanical Engineering and high-achiever Mateo studies Industrial Engineering, Business and Management and is learning Portuguese.
Hopefully the methodical thinking that helps make a good engineer will also help these three figure out a path through Europe. That said, they are going to need charm and spontaneity too.
Luckily, each of the three brings their own skills to the table: César is passionate about photography, which will prove a useful hobby in a challenge that requires an exciting social media presence. He describes himself as "clueless", but thankfully Diego –whose favourite band is the Beatles –has a talent for organising and is considered the "father-figure" of the group, so there's someone to look out for him. Mateo's skill at languages might just save them a night or two in the cold; you can't trade Bull for beds if no-one can understand you.
Teamwork will be essential if these three are going to make it even a mile, but it's obvious they are firm friends. Not only does the intrepid trio have to get to Amsterdam, they also have to visit six checkpoints along the way and complete a challenge at each one. Though they promise to test body and mind, with Red Bull's reputation for high-energy and extreme sports, these are unlikely to be sudoku puzzles or scavenger hunts. Which is a worry for César. While he comes across as daring, César is actually afraid of heights and worries that the task might involve jumping off high buildings.
Related: 'Can you make it?' challenge explained
In a gesture of solidarity, the team have made a pact to get matching tattoos if they have to skydive – it turns out that Red Bull maybe does give you wings after all.
However it might not all be plain sailing, as the tight schedule and lack of money is sure to cause pressure. Diego admits he's most likely to cause an argument because he likes everything organised, controlled and has trouble being flexible – a judgement that Mateo certainly agrees with, calling Diego "psycho-rigid." César however points the finger of potential problems towards Mateo, who apparently likes to "travel comfortably." Luxury might be hard to find when your only currency is a few cans of Red Bull and it will certainly be very hard to plan ahead, so both lads are going to have to suck it up – perhaps a little Red Bull will make it easier to swallow – and rise to the challenge.
Are they scared of what might happen? Hardly. Mateo declares, "I have no fears, only worries," and Diego's largest concern is that they might go hungry. It is going to take brass, brains and a bit of luck to make this journey and also keep the hunger pangs at bay.
César says, "We won't rest until we've done every challenge," a motto that Mateo agrees with: "We're not going to say 'no' to anything." And how do they expect this experience to be?  "Emotional", says César; "Unforgettable" says Mateo; with Diego adding, "It'll be an odyssey."
---
Follow Cesar, Diego and Mateo at the Can you make it challenge