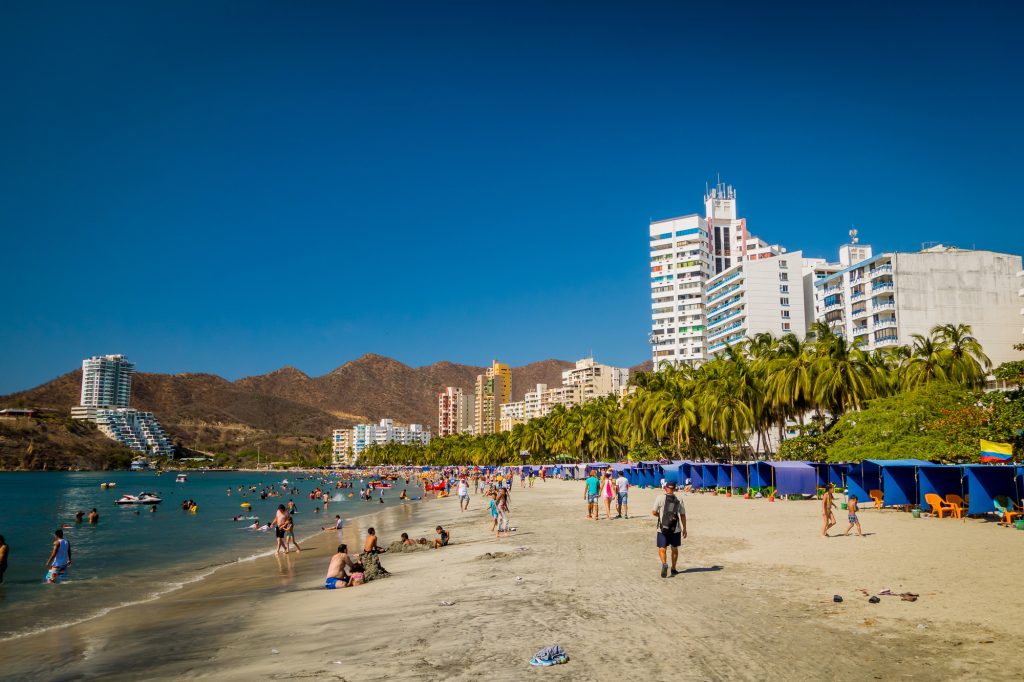 Santa Marta, the bustling port city nestled between the Caribbean and the Sierra Nevada mountains, is slowly luring expats to set up their offices alongside the beach.
But the small coastal city, Colombia's first European-founded settlement, has stiff competition in the country. Medellín, which was rated 2012's 'most innovative city' in a global competition organized by the Urban Land Institute, is top of the list for digital nomads, with Colombia's sprawling capital Bogotá and steamy salsa hub Cali following closely behind.
Meet French digital nomads Morgane Ponton and Nicolas Le Flohec, who have their own blog and are travelling the world with their laptops in tow. A web designer and a developer, Ponton and Le Flohec have worked in both Medellín and Santa Marta, and contrary to reviews, prefer the heat and authenticity of Santa Marta.

"We love the fact that it's real life outside," Ponton told The Bogota Post, comparing it with the upmarket digital nomad neighborhood of El Poblado in Medellín. "Everybody is really kind, you can see a lot of different things and the beach is just five minutes away. We're divers, so we can dive, we can go to the mountains, there are so many different activities."
Taganga, just 15 minutes in a taxi from Santa Marta, is one of the world's cheapest places to get a PADI diving qualification. Minca, a small town tucked away in the Sierra Nevada mountain range is 45 minutes away, and the beautiful beaches of Tayrona National Park, just half-an-hour.
Santa Marta has a population of around 500,000 residents and is easy to travel around on foot—there is a promenade that follows along the coast. The average temperature is around 30°C (86°F), which means that early mornings and evenings are bustling as locals exercise, socialize and get their chores done before the full heat of the day.
Unlike more established digital nomad hubs such as Medellín, Santa Marta does not yet have the variety of coworking spaces or meetups that make the city of eternal spring so popular. But there are disrupters, namely Flamingo Coworking, which opened up this year. The coworking space is an Instagram-friendly, pink-and-green establishment that boasts air-conditioned desks, meeting rooms and a fan-cooled garden with bean bags, sofas and palm trees.

"The feel is very different [to other coworking spaces]," said Ponton. "It's very hot, very colorful, really quiet. It's surprising, because it's very beautiful but empty!"
Flamingo only opened in January this year, and is working hard to build up a solid base of visitors and digital nomads. Philippine Borderie, Flamingo's marketing manager, explained that currently the space hosts 30% remote workers and 70% tourists.
On a recent visit in June, Ponton and Le Flohec were the only regulars in the garden office. The designated desks and hot desk rooms, despite their promise of air conditioning, remained unused, but Borderie explained that June was low season for the Caribbean coast.
Twice a week, the coworking space holds entrepreneurship events that welcome both expats and Colombians, which Borderie said was a great opportunity to compare good practices.
"It's really interesting because you have different points of view, different ways to do business, and different ways of thinking," Borderie explained. "We're trying hard to work with Colombians because they have so many ideas."
Just six months after opening, Flamingo is developing a name for itself within coworking and entrepreneurship circles, both in Santa Marta and internationally. Le Flohec explained that digital nomad Facebook groups and Slack channels were often asking questions about remote working in the Carribbean city.
"I think it will grow," Le Flohec said confidently. "It's just the beginning, so at the moment it's not so great, but Santa Marta has all the things necessary to become a really big place for digital nomads."
"People are curious about this place," added Ponton. "It just needs time."