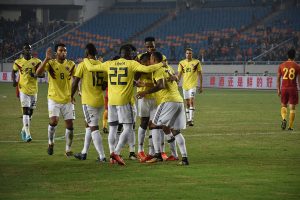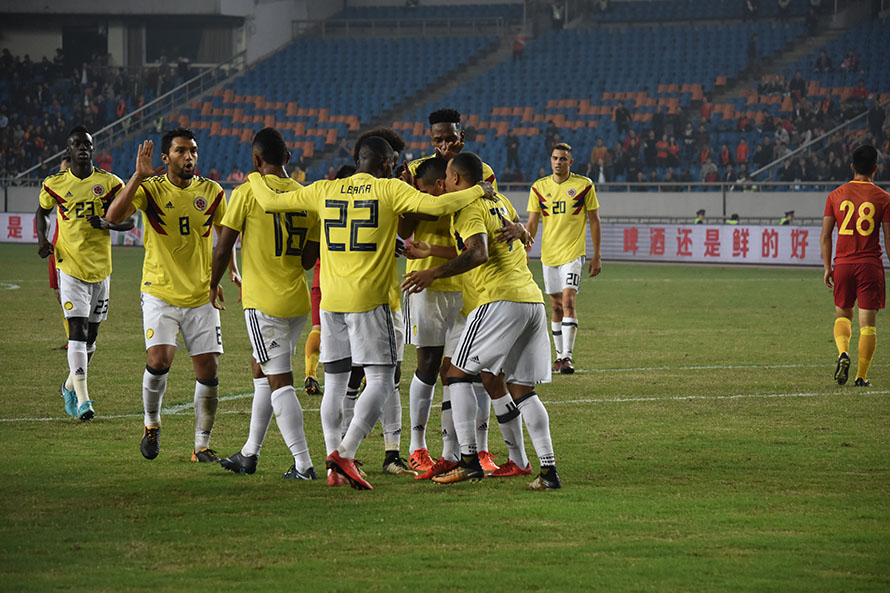 A month out from the opening game of World Cup 2018, the Colombian national football team have revealed their shortlist of 35 players, from which 23 will be chosen to travel to Russia.
Most of the players on the shortlist registered little surprise as familiar names like James Rodriguez, Falcao, David Ospina, Yery Mina and Cristian Zapata are all likely to be crucial when the action starts on June 14.
The main talking point from the shortlist however is the inclusion of 22-year-old Iván Mauricio Arboleda.
Arboleda hails from the Pacific coastal city of Tumaco in the province of Nariño, a region still rebuilding from decades of internal conflict. The goalkeeper, known in Argentina as La Araña (The Spider) for his elasticity and agility, plied his trade in Argentina's domestic league for the club Banfield. Speaking to FutbolRed earlier this year he said that "I came to Banfield at the age of 17 because I saw that James [Rodriguez] became stronger here and that's why it did not take him so long to arrive and shine in Europe. It was not easy to adapt, but having arrived at a young age has helped me to mature."
Arboleda is the fourth goalkeeper on the shortlist and will need to be on his toes to impress the selectors as Selección Colombia will only end up choosing three goalkeepers to fly to Russia. David Ospina, the goalkeeper for Arsenal and first-choice for the national team is likely to start for Colombia's first game against Japan on June 17. The experienced José Fernando Cuadrado, who was a mentor of Arboleda, is more likely to play Ospina's understudy in Russia, leaving La Araña from Nariño the opportunity to compete with Camilo Vargas of Deportivo Cali for the last goalie spot in the final squad of 23.
The full shortlist of 35 players (and their current clubs) grouped by playing position are:
Goalkeepers
1. David Ospina – Arsenal (Inglaterra)
2. Camilo Vargas – Deportivo Cali (Colombia)
3. Iván Arboleda (Banfield)
4. José Fernando Cuadrado – Once Caldas (Colombia)
Defenders
5. Cristian Zapata – AC Milan (Italia)
6. Dávinson Sánchez – Tottenham Hotspur (Inglaterra)
7. Santiago Arias – PSV Eindhoven (Holanda)
8. Frank Fabra – Boca Juniors (Argentina)
9. Johan Mojica – Girona (España)
10. Yerry Mina – Barcelona (España)
11. William Tesillo – Santa Fe (Colombia)
12. Bernardo Espinosa – Girona (España)
13. Stefan Medina – Monterrey (México)
14. Farid Díaz (Olimpia)
15. Óscar Murillo – Pachuca (México)
Midfielders
16. Carlos Sánchez – Espanyol (España)
17. Jefferson Lerma – Levante (España)
18. José Izquierdo – Brighton Hove & Albion (Inglaterra)
19. James Rodríguez – Bayern Múnich (Alemania)
20. Giovanni Moreno – Shanghái Shenhua (China)
21. Abel Aguilar – Deportivo Cali (Colombia)
22. Mateus Uribe – América (México)
23. Yimmi Chará – Junior (Colombia)
24. Juan Fernando Quintero – River Plate (Argentina)
25. Edwin Cardona (Boca Juniors)
26. Juan Guillermo Cuadrado (Juventus)
27. Gustavo Cuellar (Flamengo)
28. Sebastián Pérez (Boca Juniors)
29. Wílmar Barrios – Boca Juniors (Argentina)
Strikers
30. Duván Zapata – Sampdoria (Italia)
31. Miguel Borja – Palmeiras (Brasil)
32. Carlos Bacca – Villarreal (España)
33. Luis Fernando Muriel – Sevilla (España)
34. Teófilo Gutiérrez (Junior)
35. Falcao – Mónaco (Francia)