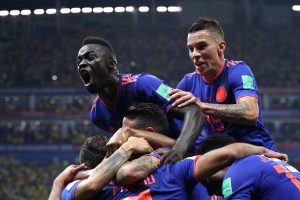 It is theoretically possible for the Colombian national team to advance to the knockout rounds with a draw against Senegal this morning. If Japan were to lose heavily against Poland, then a draw might scrape Los Cafeteros into the next round of 16.
Jose Pékerman will have none of this type of thinking. The Argentine coach said at a news conference after their 3-0 thrashing of Poland that the team will need to improve and that they "will move forward with faith." Nothing short of a victory will be on the team's minds as they face Senegal and Pekerman knows best that Colombia's World Cup chances rest on winning crunch games like this. "Senegal arrived in good form, and that's been demonstrated in the last two games. I think the game will be very intense, very competitive," the Colombian coach said.
Senegal impressed with an early win against Poland but their lapses in defence gifted a resurgent Japan a draw in their second group stage match. The Lions of Teranga will ensure, by way of Liverpool winger Sadio Mané and Torino forward Mbaye Niang, that this morning's game won't be their last roar.
The Bogotá Post's Michael Krumholtz breaks down Senegal's team and their chances of getting to the next round.
But Colombia come into the game with all the momentum, having refound their mojo in the game against Poland. Both James Rodriguez and and Juan Fernando Quintero are causing all sorts of headaches for opposition defence and Senegal are likely to be wary of the form that both the players are in.
In addition to this, star-striker Radamel Falcao's relief at finally having the proverbial monkey off his back in scoring his first-ever World Cup goal will allow him to play with greater freedom up front. Colombia's captain and highest goal-scorer will want to ensure this isn't Colombia's last game in what might be his final tournament.  A win would pit Colombia against Belgium or offer a mouth-watering encounter with England.
The game will also see the return of  Carlos Sánchez Moreno, who saw his tournament get off to a nightmare start when sent off for a red card in the first three minutes of Colombia's first group game against Japan last Tuesday. Colombia's la roca will now return after he has been at the centre of intense criticism, including death threats that were levelled at the defender through Twitter.
In 2014 Colombia had already qualified for the knockout rounds after having beaten Greece and Ivory Coast. They don't have that luxury this time round but, given the depth of talent they have, they'll be expected to make good on their exceptional promise. 2014 was also the only time these two sides met in an international friendly. That game ended in a draw. The same result will be the last thing on Colombia's minds.
Colombia play Senegal today at 9am Colombian time.