Miguel Ángel Superman López wins stage 18 in Vuelta á España to Altos del Gamoniteiro and stays third in general classification.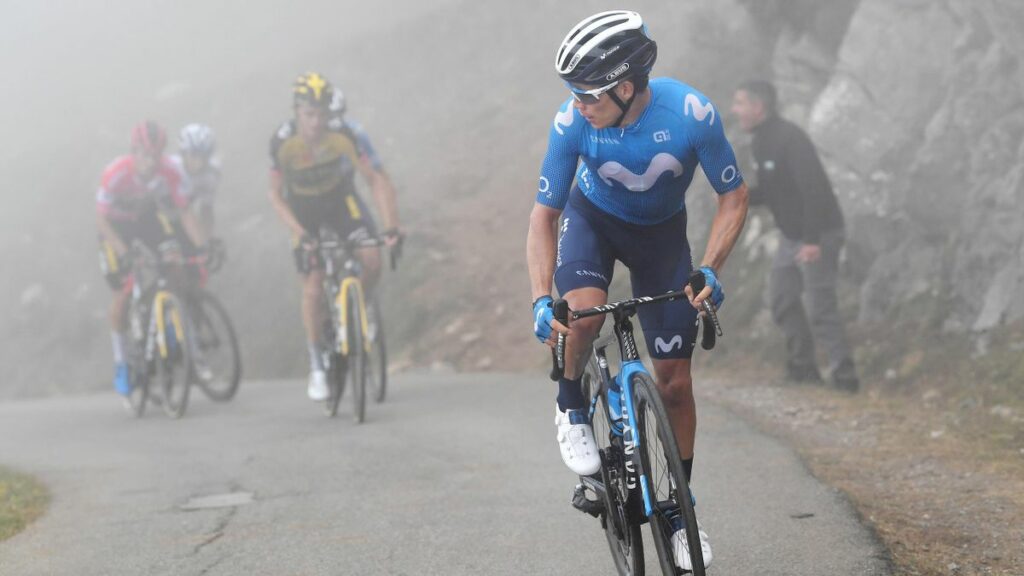 Superman López has set his sight on a podium spot in this Vuelta á España and made his intentions clear in the fog on the Gamoniteiro, a 14 kilometre long climb in the Asturias region. The 27-year-old escarabajo jumped from the group of favourites with 5 kilometres to go, overtook David de la Cruz, who was ahead of the group and managed to stay ahead of race leader Primoz Roglic, who finished on 14 seconds, but is still more than three minutes ahead of the Colombian cyclist from Team Movistar.
López's teammate Enric Más finished third and keeps his place as first follower of the Slovenian's red jersey. However, Superman López tightened his grip on a podium spot as he managed to take a minute from Jack Haig, currently fourth in the competition. With the individual time trial still to come in the final stage, the Colombian, not a recognised time trialist, is looking to extend his lead in the mountains to have a cushion for the race against the clock.
López's Vuelta has been good so far, in the early stages he struggled to stay with the favourites a couple of times, but from the second week he showed that he is a strong podium candidate.
Egan Bernal stays fifth
Egan Bernal kept quiet today and finished 22 seconds behind López on fourth position. Yesterday the Giro d'Italia winner was in a long breakaway to the gruelling Lagos de Covadonga. The 23-year-old Colombian escaped from the group of favourites early, but saw Roglic join him and leave him behind on the final climb. Today, Bernal didn't go on a long escape, he stayed with the group of favourites most of the day and finished the stage just outside the top 3.
In the GC, Bernal is now fifth, only 7 seconds behind Haig and a minute ahead of his teammate Adam Yates. The peloton will follow with a mostly flat stage, where the sprinters could get another chance, before the mountainous stage 20 and time trial in the final stage will decide the race.