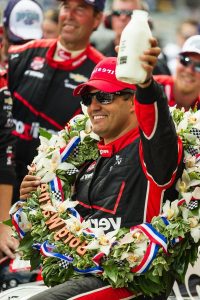 Exactly 15 years after Juan Pablo Montoya won the Indy 500, he takes the biggest trophy in the Verizon IndyCar series again
---
The 39 year old driver from Team Penske started on the grid in Indianapolis at number 15. A touch with Simona de Silvestro obliged Montoya to enter the pit lane and come back out at last place. But as this happened in the first 11 laps of the race, it was far from over for Montoya.
With some fine racing and taking full advantage of the safety car situations, the Bogota-born driver fought his way up to a three-way fight in the last fifteen laps of the 200 lap-long race. Montoya's Australian team mate and series title holder Will Power and 2008 winner Scott Dixon, also from Australia, took the lead in those 15 laps only to lose it again soon after. In lap 197 the Colombian became the final leader of the race, holding it to the finish line just ahead of Power and Charlie Kimball.
In his first Indy 500 Countryman Gabby Chaves finished as best rookie in 16th spot, ahead of Carlos Muñoz in 20th. Fourth Colombian Sebastian Saavedra did not finish after a crash in lap 175.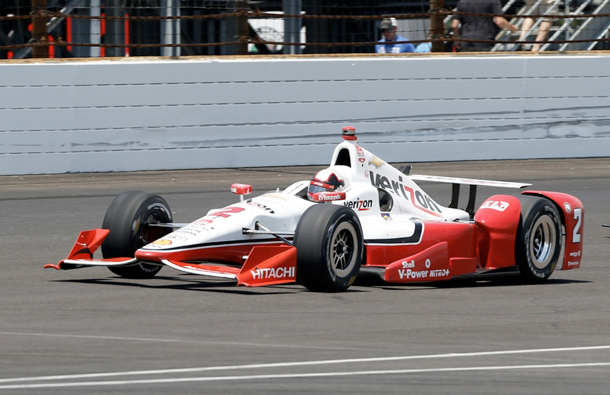 Montoya was euphoric after he had taken the victory wreath and drank the traditional victory cup of milk as part of his trophy.
Related: Montoya throwes away IndyCar series title in final race
"This is what racing in IndyCar is about. It was awesome racing all the way down to the wire," he expressed in the post-race press conference. "These guys, Team Penske, did an amazing job. I had the feeling that I had a really good car but the fight in the end was really, really hard."
With his victory, Montoya extends his lead over Will Power in the IndyCar series ranking to 25 points. The IndyCar circuit will now move on to Detroit for the Chevrolet Dual in Detroit race, where Montoya will aim for another victory.
---
By Freek Huigen