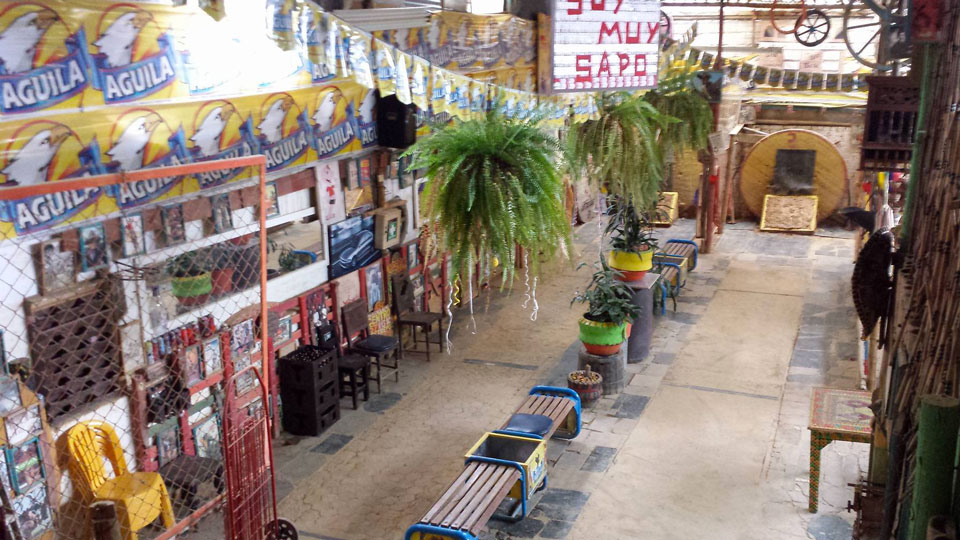 There is something intrinsically Colombian about the explosive sport of tejo. Ángela Forero-Aponte goes beyond the gunpowder and alcohol to understand more about this unique activity with roots that go back to pre-colonial times.
---
Some people find it difficult to get their heads around the idea of a sport that involves hurling heavy metal discs at explosive targets while consuming large quantities of alcohol. But tejo, also known as turmequé, continues to be extremely popular and is certainly more exciting than other pub sports like darts or bowling.
According to some historians, the game originated in the town of Turmequé in Boyacá, where the most skilled members of the tribe would throw discs that were made of real gold called zepguagoscua, tejo or tunjuelo.
In pre-Columbian times, tejo was used to resolve differences. For instance, folklore tells of Chief Pedro Naizaque who lived with seven women. When the Catholic church said he could only live with one, the chief summoned his women to a tejo game, which is said to have lasted for days. He finally married the winner, María Lucero.
Some centuries later, famous political leaders like Jorge Eliécer Gaitán played tejo during political campaign meetings at the Villamil field in Bogotá.
The professional game
Tejo was officially established as a sport in 2000 through Act 613. The national federation, Federación Colombiana de Tejo, had been formed many years before that, and is a great resource for finding out more about the sport.
We caught up with the secretary general and former president of the federation, José Vicente Castro. I start by asking him what he would say to those who consider it just a game and not a 'real sport'. He is quick to explain that it is a sport because it requires physical training and technique, and that competition is involved. He stresses, "Games do not necessarily involve competition."
Castro tells us that tejo is played in other countries too: Venezuela, the Amazon region of Peru, the Tabatinga region of Brazil as well as Ecuador.
And for die-hard enthusiasts, he advised reading a book entitled A lo que da el tejo, an investigation of the world of tejo by Eufrasio Bernal Duffo, president of the Geographical Society of Colombia. One interesting aspect revealed in the book is that tejo was not only practised by Colombian indigenous groups, but also by other South American natives.
Does the federation give lessons in tejo? Yes, but while the Bogotá league does have an  instructor, the lessons actually take place in a field in Cota. This is because unfortunately, the only fields in Bogotá are all privately-owned.
Castro finished our discussion by reflecting that in many other countries around the world, people are passionate about their national sport – especially the United States. "We should learn to love tejo because it is our national sport," he says.
He adds, "We need to work on a campaign in universities and schools so that Colombians learn how to play their national sport, start practising it and loving it."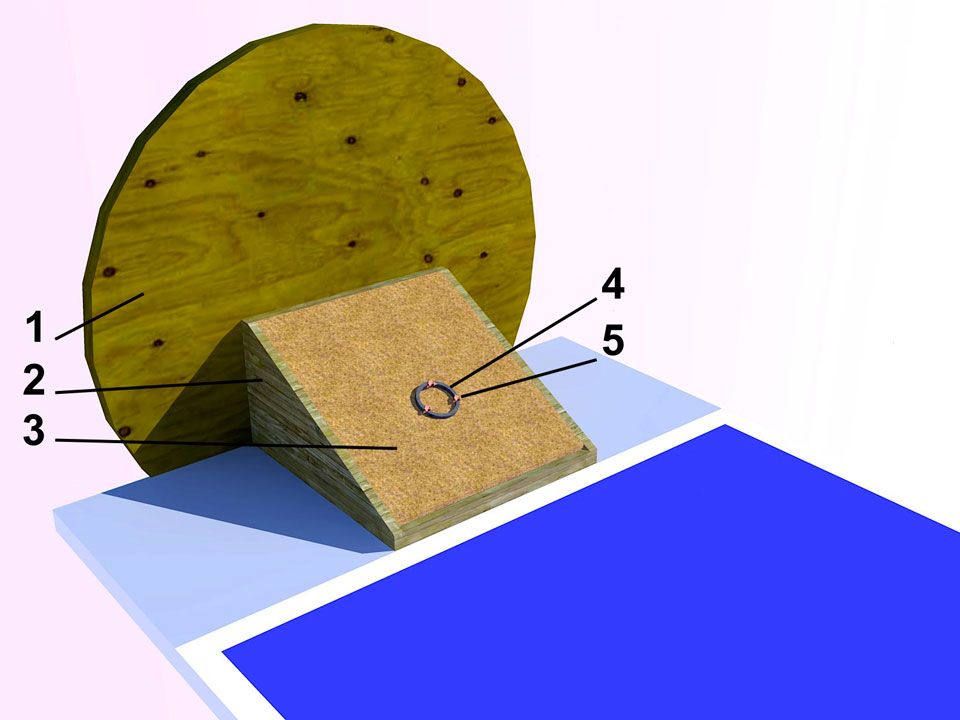 The game
Tejo consists of throwing a metal puck (tejo) along an alley (cancha) that is 19.5 metres long and trying to hit a target at the other end. The tejos can vary in weight and the target is in the centre of a one metre square board covered with clay and set at a 45° angle.
The target is a strong metal pipe called the bocín, which is set in the clay and has small triangle-shaped pouches containing gunpowder (mechas) placed along the rim.
Players score points for getting their tejo inside (or close to) the target, and for exploding the mechas pouches.
Scoring
Mano (Hand): If nobody explodes a mecha or gets their tejo inside the target, one point goes to the player whose tejo is closest to the bocín rim at the end of the round.
Mecha (Hit): Three points to every player who explodes a mecha.
Embocinada (Bullseye): Six points to any player whose tejo lands inside the target.
Moñona (Strike): Nine points to any player whose tejo both lands inside the target and explodes a mecha.
Variations
Sacarruín – players have to leave the game the minute they score nine points.
Encanastados (crated) – as if it weren't hard enough to hit a small target from almost 20 metres away, in this version of the game, players have to throw their tejo while standing on a crate (petaco or canasto) of beer.
Where to play
While the federation was unable to give specific recommendations on where to play, a bit of asking around yielded a pretty good list. As with many things, taxi drivers are often the best sources of information since they know the city inside out. I found a particularly knowledgeable one who happened to be from Boyacá – the cradle of this fine sport – and is a regular player.
I visited all five places listed below. They had different atmospheres and styles, but all were good fun. One thing is for sure: with the hundreds of areas to play in the capital you can definitely find one close to home. There's no specific district per se, although many people recommended La Estrada (off Avenida Rojas towards Carrera 68 near Las Ferias). Toberín and 20 de julio are also good places to look for campos de tejo.
Most will ask you to pay for half – or sometimes a whole – petaco. Prices range from COP$47,000 to COP$66,000 per crate depending on what brand of beer you drink and where you are in the city. Almost every place will have picadas and snacks like empanadas, blood sausages and other types of meat. Most are open all year round from Monday to Sunday from 11am to 11pm.
La Oficina
Highlights: Rana / Easy parking / Neighbourhood favourite
Address: Calle 69b #70C-81
Zone: La Estrada
Closest Transmilenio stop: Ferias
Los Búcaros
Highlights: Popular stop for Bogotá tours / Offers 'typical' Colombian experience
Address: Calle 20 #8-74
Zone: Downtown
Closest Transmilenio stop: Las Aguas (It's a bit of a stroll!)
El Sanjuanero
Highlights: Very traditional environment that holds tournaments (players are not allowed to drink beer on tournament day) / Ask nicely and they might sell you a tejo that you can take with you as a souvenir
Address: Carrera 39 #17A-23
Zone: Zona Industrial
Closest Transmilenio stop: Zona Industrial
Club de Tejo La 76
Highlights: Your chance to meet a man who has been tejo champion for ten years running and will tell you everything you need to know
Address: Carrera 24 #76-56
Zone: San Felipe
Closest Transmilenio stop: Polo
Club Cosa Rica
Highlights: The picturesque decor in this club has made it the backdrop for scenes from Narcos, Metástasis, and La vida de Pambelé. Rana / Bolirana / Family friendly / Fantasy tejo demonstrations
Address: Calle 163 #16-49
Zone: Toberín
Closest Transmilenio stop: Cardioinfantil
---