Cider has arrived in Colombia, providing an appley alternative to beer and guaro. We have a chat with the pioneers who are behind the rise of cider in Colombia.
---
Alcoholic, light, refreshing, made from fermented apples: what's not to like about cider? Like wine, it has a sweet and fruity flavour and is naturally gluten-free. Like beer, the ABV (alcohol by volume) percent is typically around 5%. However, cider is in a world of its own.
In the past decade, the cider industry has been booming worldwide. Cider made its way to Colombia about three years ago and has been enjoying a growing popularity in the country ever since. In Colombia, Great British Ciders and Golden Lion Cider are the two principal cider providers. Great British Ciders imports two ciders from Great Britain, while Golden Lion Cider brews its own cider in Colombia.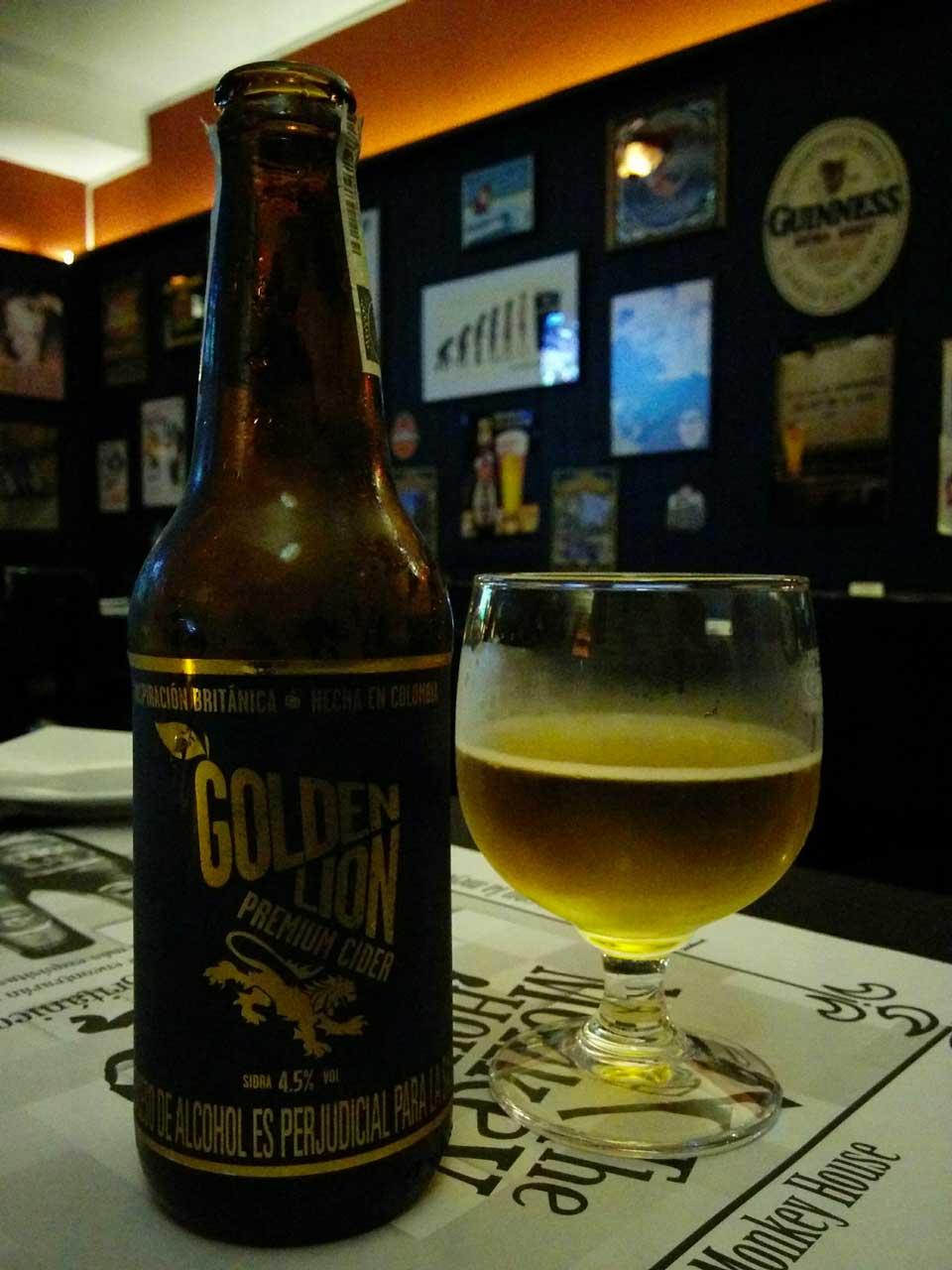 When Golden Lion Cider launched in 2016, The Irish Pub sold the entire stock for the month – over 500 bottles – in just four hours. One of Golden Lion Cider's founders, Dan Hill, explained that "selling cider in Colombia is as much about education as it is pushing your product. Great British Ciders have done a great job in educating people that cider isn't Cariñoso Manzana (a local apple-flavoured wine), and that it belongs in a separate category."
Great British Ciders was the first company to bring cider to Colombia in 2014. Founders, Emma Laing and Julian Gutierrez, told us: "Between 90% and 95% of people who try our cider for the first time immediately like it and would recommend it to a friend." Laing continued, "by the end of the first year we were selling an average of 1,700 units a month, by year two we reached 3,500 units a month." Of the two ciders, Laing describes Aspall as having a "dry, lip-smacking character" whereas Stowford has a "broad appeal with a crisp and fruity flavour."
Golden Lion Cider – started by Jairo Andres Venegas and Dan Hill – is the first and only company to make cider legally in Colombia. Hill describes their product as an "easy-to-drink, modern-style British cider. [It] is very refreshing as we have made it in the style of a lager to appeal to the local taste buds. It's well carbonated and has a strong finish of apples."
Related: Colombian cider to hit the shelves in Bogota's bars
The beverage is made from a blend of six different varieties of apples from Argentina and Chile, whose flavours range from very bitter to very sweet, resulting in a balanced flavour.
According to Hill, Golden Lion Cider has seen an average growth of 10-25% each month. "We are about to begin selling in kegs in the Irish Pub, so cider will be available on draught for the first time in Colombia. Following trends, this should give our sales another massive boost, so we will begin to expand the draft cider into a number of places that have already shown interest."
Both companies are continuing to expand their markets. In addition to Bogotá, Great British Ciders can now be found in Medellín, Cartagena, Barranquilla, the Eje Cafetero and Boyacá.
They started selling in Cali about five months ago and have begun the process of making it available in Huila, Tolima, Santander and Valledupar.
As of late June, Golden Lion Cider can be found in over 30 Bogotá Beer Company locations throughout Colombia, including Cali, Barranquilla, Medellín, Santa Marta, and Rodadero. It will become available in Pereira, Medellín, and Cartagena by the end of August.
Related: Craft beer and ciders in the Monkey House
Due to Golden Lion Cider's growth, they are looking to build a new cidery with more capacity, which they plan to have up and running by the end of the year. As Hill states, "We currently have capacity for 2,000 bottles per week but are looking to at least triple that. We are also working on some new flavours, so that should bring new consumers to our brand. Long term I think that every craft beverage company looks at the BBC and what they have accomplished and we all aspire to follow in their footsteps."
Those interested in tasting the cider in Colombia can find them at a variety of venues in Bogotá, including Gastronomy Market, The Irish Pub, Bogotá Beer Company, The Monkey House and other pubs, bars and specialty supermarkets throughout the city.
---
Meagan Maher