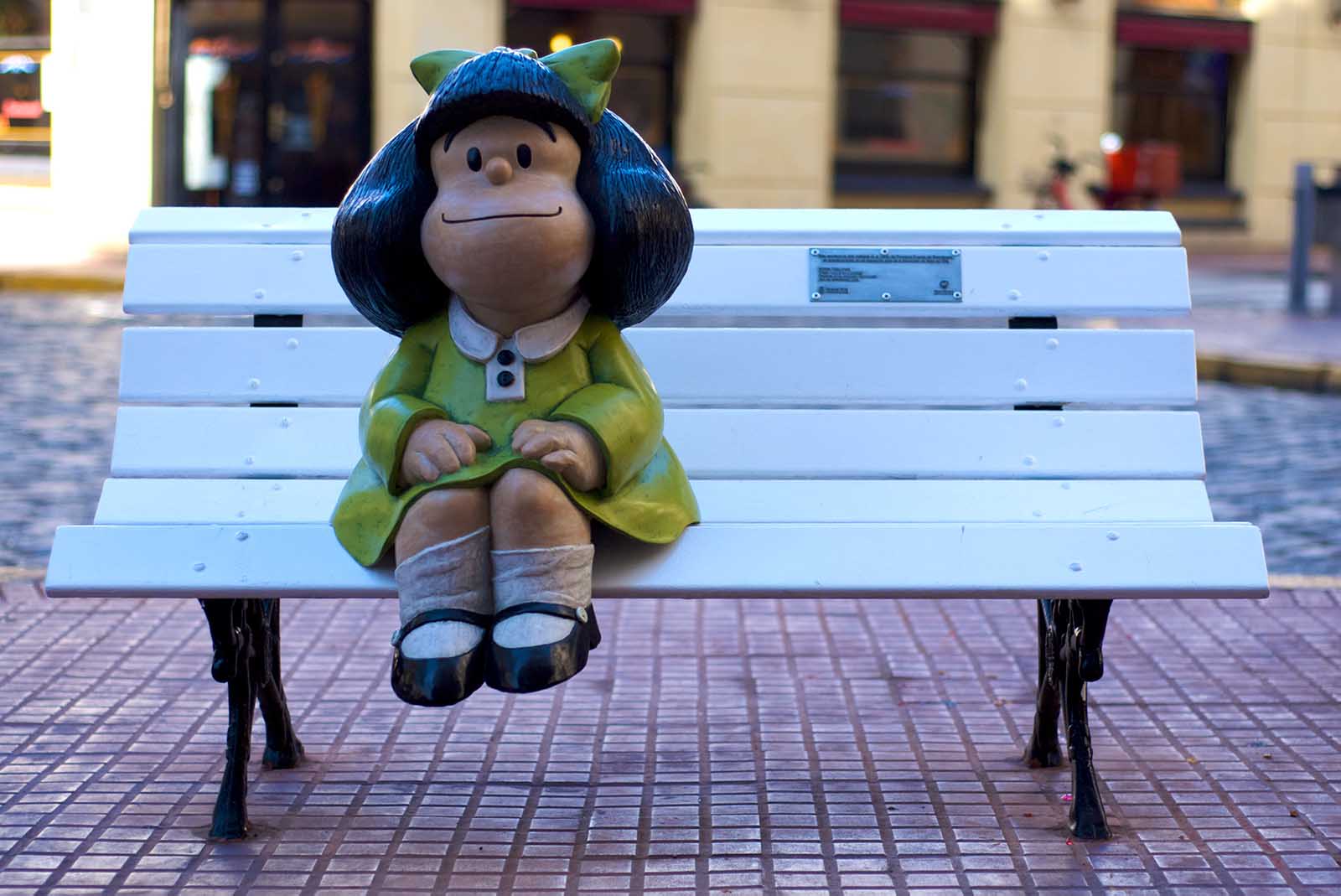 As guest of honour at FILBo, Argentina have brought over 90 speakers to take part in 70 events, among them authors, illustrators, playwrights, journalists – even scientists and chefs. We highlight the significance of Mafalda, the little girl with big ideas from Argentina.
---
When you think of social commentary and political satire, a comic strip featuring a six-year old girl may not be what first pops into your head. Yet, the outspoken curly-haired character, first published fifty years ago, is still relevant today.
As her creator, Quino (real name Joaquín Salvador Lavado), said, "Sometimes I ask myself, how is it possible that I've drawn things so long ago that continue happening today?"
Related: Get the best out of FILBo 2018
She first appeared in Primera Plana magazine on September 29, 1964 and moved around a lot in her nine years in print, appearing in both El Mundo from 1965 to 1967 and Siete Días Illustrados from 1968 until her last publication on June 25, 1973.
Named after a character in the 1962 film Dar la Cara, Mafalda was originally penned as part of an advertising campaign to promote a manufacturing company's 'Mansfield' line of products. However, the newspaper Clarín immediately noticed the less than subtle product placement, and Primera Plana only agreed to publish the strip on the condition that all the advertising was removed.
Along with her friends and family, Mafalda criticised many subjects including dictatorship, communism and nuclear war. Her age and simple way of expressing often profound things offered an endearing way to question society and voice potentially sensitive political ideas.
Related: Read all our FILBo 2018 coverage coming up during the event
She voiced feelings that many of her readers had, but didn't articulate in everyday life. Clearly a feminist, her views often differed from other cartoons, such as her housewifely mother, and Susanita whose only aspiration is to be a mother and wife. Many of Mafalda's friends represent contrasting members of society, with the young girl's critical thoughts offering an insight into Quino's opinion of them.
Mafalda continues to be incredibly popular, and her cartoons have been translated into over 30 languages. She's featured in books, animated shorts and even a feature-length film.
To this day, her statue, which can be found in Paseo de la Historieta in Buenos Aires, is rarely seen without a queue of people waiting to take a picture with her. As recently as 2014 a life-sized statue of Mafalda was erected in Spain, and she even has a street named after her in Gatineau, Québec. None of this is too surprising. Mafalda is the voice of a continent: many of the problems that Latin America faces, she faces too. She forms part of the cultural glue that holds the continent together despite individual differences, she voices unspoken feelings and tackles big issues. Yet despite all the fame, she is still a little girl with big ideas, who really hates soup.
---
Aisha Wheatley