As Colombian legend Totó La Momposina reaches a musical landmark, Alejandra Chipatecua takes a look over her career and influence
---
Totó la Momposina, one of Colombian folk music's most influential artists, celebrates a whopping 50 years in the music industry and a life dedicated to the spirited job of reviving and spreading Afro-Colombian sounds to the world.
Born to a family of dancers and musicians that goes back four generations, Sonia Bazanta Vides has become the most faithful exponent of Colombian Caribbean folklore, taking her gaitas, drums and bare feet to every corner of the world and getting more than a few people dancing.
Her sound, as she defines it, is built upon her mixed race roots. With indigenous and African origins, her music centres around percussion, while her powerful and distinctive voice tells stories of Talaigua, the small village near Mompox where she grew up (hence her moniker 'La Momposina').
Her musical career started in the 1950s, when she performed at local parties along with family members. But it was not until the late 1960s that she found professional success, forming her own band that toured Europe and Latin America in the 1970s. In 1982 she accompanied Gabriel García Márquez to Stockholm to perform at his Nobel prize ceremony.
Later, while living in France, she was discovered by British artist Peter Gabriel, whose record label New World Records released one of her most successful albums, La candela viva.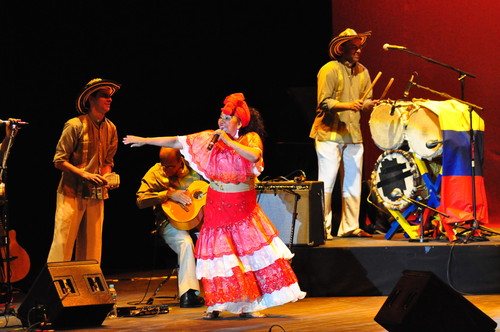 Since then, Totó la Momposina has graced stages as far afield as Japan, Canada, England, Switzerland, Finland, Spain and many more. She has also represented traditional Colombian music in some of the biggest world music festivals across the globe.
Her talent, hard work and dedication have made her a deserving winner of numerous awards, including a Latin Grammy in 2013, not to mention her plethora of nominations.
ALBUMS
Cantadora (1983)
Colombia – Totó La Momposina y Sus Tambores (1989)
La Candela Viva (1993)
Carmelina (1995)
Pacantó (2000)
La Bodega (2010)
El Asunto (2014)

TOP 5 SONGS
Margarita
El pescador
La candela viva
Curura
Aguacero de Mayo

BONUS TRACK
La Mezcla by Michel Cleis
Totó's music has had a massive impact on the international industry, with artists such as Timbaland and Michel Kleis sampling her songs, not to mention the obvious influence she has had on the likes of Manu Chao and Banda Magda.
In much the same way, she has been a constant inspiration to various Colombian singers and groups who also seek to revive the country's musical traditions, including Sidestepper, Bomba Estéreo, Chocbquibtown and Systema Solar.
Although Totó was born and raised dancing and singing, she has also had plenty of formal training, starting at the Universidad Nacional. She then spent a year at the Sorbonne in Paris, studying the history of dance, before stints in Havana and Santiago de Cuba.
Thanks largely to Totó la Momposina, Colombian cumbia – without doubt one of the country's most representative and danceable rhythms – has made it onto the higher rungs of musical history. Throughout her 50-year career, the Queen of Folklore has spread the sounds of Afro-Colombian communities throughout the world and it doesn't look likely she'll stop any time soon.
---