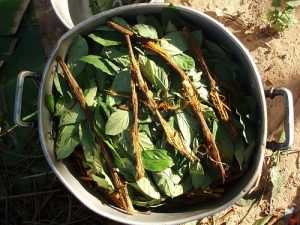 The death of a British teenager from an yagé ceremony gone wrong has prompted a health warning in the United Kingdom.
Henry Miller, 19 of Bristol, died in rural Colombia after taking part in a ceremony with the tribal medicine in 2014. The teenager's health quickly deteriorated after he also reportedly consumed scopolamine during the ceremony. The teenager's body was later found by a road outside Mocoa in the Putumayo area of Colombia.
Police said two men attempted to transport Miller to hospital once he became ill but he died on the way and they left him at the roadside, the BBC reported.
The Avon Coroner, in the United Kingdom, announced a verdict of accidental death by intoxification on Wednesday. Coroner Maria Voisin said she will be making a report to the Foreign Office to encourage extra guidance to those travelling to countries like Colombia where the drug is prevalent.
Ayahuasca: Coroner warns against tribal rituals involving hallucinogenic drug after teenager's death in Colombia: Henry Miller dumped on roadside by shaman's son after being poisoned by psychoactive drink https://t.co/CAATioh2CF

— Cannock Chase Radio FM (@CannockRadio) August 30, 2018
"We know there are a lot of students and young people travelling in that part of the world and I will be making a report," she said. "I will be phrasing it in such a way to encourage some standard message warning about this ceremony."
A statement from Miller's family also sought to highlight the potential dangers of yagé to backpackers and travellers. "Young travellers should be made aware of the small but real dangers of this practice," it read.
Yagé, which is also known as ayahuasca, contains the powerful hallucinogen dimethyltryptamine (DMT).
Fellow traveller Christopher Deardon said Millerdrank a small cup of herbs to facilitate the effects of the ayahuasca.
"None of us knew what this was. Then we all drank our cups. I threw up after about 15 minutes and when I came back Henry seemed to be feeling the effects straight away," he said.
The Colombian tribe behind the ceremony held their own trial following Miller's death, the inquest heard. That trial found there had been no intention to harm Miller, but the shaman and his family were forced to undergo punishment by stinging nettles due to his death under their care.
Friends and family described Miller as a happy, healthy and curious young man. The inquest heard from a medical report that Miller had no pre-existing medical conditions.