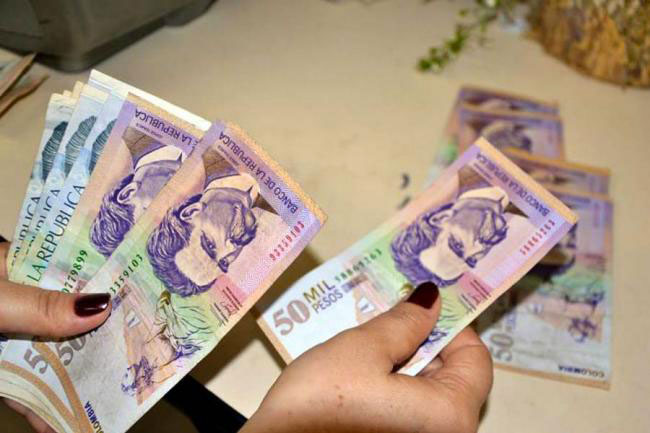 Unions say that the rise in minimum wage – less than 50,000 pesos per month – does not meet the rise in the costs of living caused by inflation and tax reforms, as Diana Mejía finds out.
---
On January 1, the minimum wage in Colombia increased by 7% from the 2016 rate, which in real terms is COP$48,262.
The minimum wage is used as benchmark from which many things, such as salaries, are calculated. A number of fees and fines are worked out in direct proportion to the figure.
The 2.2 million Colombians who live on the minimum wage, in other words ten percent of the country's economically active population, will see their total monthly earnings increase to COP$737,717. In addition, the transportation subsidy for those who earn less than two minimum salaries has also been raised to COP$83,140 a month.
The annual change will also impact workers earning more than the minimum wage, as many companies use the minimum salary as a means to calculate salary increases for their employees. For most public sector employees, their salaries are set as multiples of the minimum wage. For private sector workers, it is not legally obligatory to increase salaries that lie above the minimum, but many companies choose to do so.
In addition, the adjustment applies to basic expenses including many statutory fines, car insurance (SOAT), EPS consultation fees and pension contributions. These increase hand-in-hand according to the minimum salary, as well as enrolment fees for schools and universities.
Labour unions and social groups have expressed frustration with the figure because they say it does not cover the rise in the cost of living. Many people have already had to tighten their belts, as administration and rental fees increased by between five and six percent after the New Year.
As with last year, the salary increase was decided unilaterally by the government after trilateral negotiations between corporations, professional associations and unions failed. The latter had lobbied for a 14% increase, while corporations started off at 6.5%, a COP$51,000 difference per month. While unions eventually agreed to 8%, it wasn't enough to reach an agreement before the end of the negotiating period.
While Labour Minister Clara López described the negotiations as positive, topics such as the tax reform, post-conflict issues and inflation proved too problematic to overcome. López commented, "Had we reached an agreement, the percentage would undoubtedly have been higher."
Keeping up with inflation
There are concerns that the 2017 salary increase will see the same fate as last year's equally controversial 7% rise. Then, the runaway inflation in prices, notably food, had cancelled out any income gain by half way through the year. Inflation reached its worst point in July reaching nearly 9% due to transportation strikes.
Julio Roberto Gómez, President of the General Labour Confederation argues that the minimum salary should have risen by 11% to reach COP$765,294, or five percentage points above inflation.
The government has a constitutional mandate to keep the increase above the annual rate of inflation. Minister López assured the public they have done this, referring to the Banco de la República figures that estimate inflation will be between 3.5% and 4.5% for 2017.  "A 7% increase is one and a half points above the projected inflation," she said, adding that the implemented salary increase will amount to a "real improvement in workers' purchasing power."
However, the Banco de la República admits that inflation could go up as high as 6%, especially if factors such as last year's camionero strikes and the El Niño-fueled weather calamities happen again. Managing to keep inflation under control will be a critical component in ensuring that the salary increase allows Colombians to live comfortably through 2017.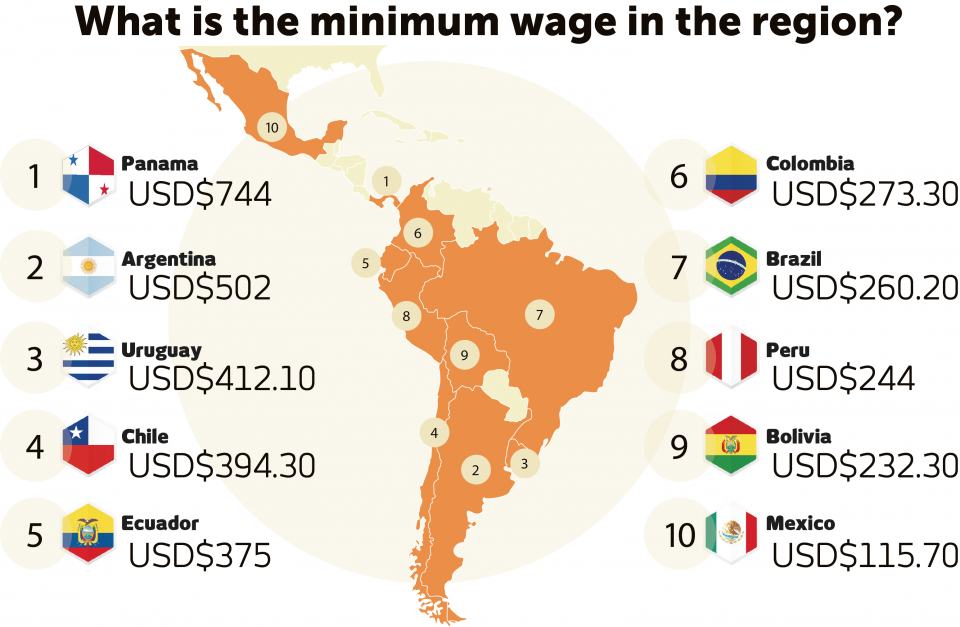 Tax increases
Another factor that will hit people's wallets are the contentious tax reforms scheduled to begin implementation on February 2. The reform aims to collect an additional COP$6.2 trillion in 2017, with the figure rising to COP$22 trillion by 2022. The money raised will be used to stabilise the country's debt in relation to its gross domestic product, allowing the country to maintain its BBB credit rating – which it needs if it is to maintain foreign investment.
For consumers, the VAT jump on most regular goods from 16% to 19% VAT is likely to leave them strapped for cash. Household products from tuna to pasta, and cleaning supplies including hand-soap, toilet paper and toothbrushes will all be subject to the new tax. Other commodities that will be taxed at an even higher rate include alcohol, petrol and cigarettes.
Julio César Botero, international business professor at the Universidad de La Salle, explains that while the tax reform will have a negative short-term effect on Colombians' wallets, it may also generate long-term relief for the country's books.
Fifth lowest in the region
Economic newspaper, La Republica, analysed minimum salaries across the region, taking into account increases in each country. Their study puts Colombia at the fifth lowest and reveals that at USD$273.30, Colombia has surpassed regional heavyweight Brazil, where workers are earning USD$260.20. However, it still trails far behind countries with more developed economies such as Chile, or Panama by up to USD$500.
Not enough to survive
Even without taking inflation or tax into account, many argue that the minimum salary is simply not high enough to cover the basic cost of living, especially in a city like Bogotá where some costs rival many European cities. People earning the minimum salary have had to find ways to cope, which often include finding a second job.
The Central Unitaria De Trabajadores expressed their frustration with the salary increase, and called for strike action.
In a statement they said, "We reject the negligible 7% as well as the tax reform and the hike in petrol prices; issues that will seriously impact the purchasing power of all Colombian workers." The union continued: "We only have general mobilisation as a fundamental task for 2017, as a way of protesting the economic neoliberalism that identifies the government of Juan Manuel Santos."
---