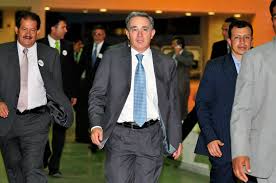 A week after Álvaro Uribe unofficially resigned from Congress on Twitter, the former president has now used the same social media platform to retract his resignation. Despite originally stating that his duties as Senator would be impeded by the ongoing Supreme Court investigations into allegations of "bribery and procedural fraud", in an about turn Uribe has now said that he revokes a resignation that he had formally offered Senate President Ernesto Macias when the latter visited  his home in Rionegro on Friday.
"I have asked Senator Ernesto Macías," Senator Uribe tweeted yesterday morning, "to withhold without considering my resignation letter. Out of honor, it was never in my mind that the Supreme Court would cease to hear the case for which I was summoned to."
The surprise decision to resign originally came after the Colombian Supreme Court summoned the leader of the Centro Democrático Party last week to answer to charges of witness tampering in a case that had originally been brought against Senator Iván Cepeda. Cepeda had made claims that he had the testimony of witnesses indicating links between paramilitary group Bloque Metro and Senator Uribe's family.
Meanwhile, the Supreme Court had originally set September 3 as the date of the hearing though they have yet to confirm the judges that will preside over the questioning. Following a challenge by Uribe, the Supreme Court will now suspend the process until they can settle on the appropriate magistrates that can take the case further. It is unclear now whether the September 3rd deadline will be met in determining the composition of the court.
En virtud de la recusación de la defensa del senador @AlvaroUribeVel a los tres magistrados de la Sala de Instrucción II, por disposición legal y mientras se tramita dicho incidente, la @CorteSupremaJ suspendió la actuación que adelanta contra él y el representante @ALVAROHPRADA.

— Corte Suprema de Jus (@CorteSupremaJ) 30 July 2018
The continuous twists and turns within the Colombian Congress come less than a week before President-elect Iván Duque, a political protegé of Uribe's, swears in as President of Colombia. Duque has yet to comment on Uribe's decision to revoke his resignation.