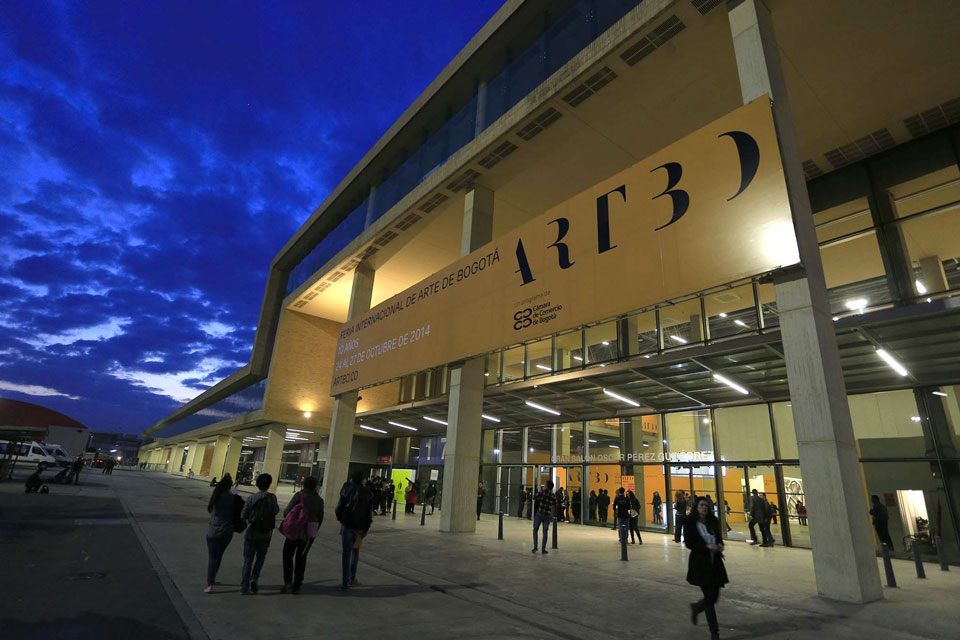 As 74 galleries from 28 cities around the world gather for ARTBO, Milagros Oliveros explores some of the highlights of the city's main art fair.
---
The past few years have seen the month of October has consolidated itself as the time for bogotanos to enjoy art in all its forms, with those involved in the scene eagerly awaiting its arrival. A group of art fairs have been created over the last decade or so, offering locals and visitors a new means of looking at art.
This phenomenon started 12 years ago with ARTBO, the first large-scale international art fair in Colombia. It quickly became the perfect platform for local artists to make themselves known on the international circuit, as well as for artists and galleries from across the world to get a foothold in the country.
Throughout its 12 editions, ARTBO has established itself as the dynamic and undeniable axis of the national art scene. The event's unique model transcends simple commerce, providing a space for cultural exchange, training, participation in and promotion of visual arts. It is arguably Latin America's top art fair and is the meeting point de rigueur for the region's art market.
This year ARTBO will host 74 galleries from 28 cities, including Paris, Zurich, Madrid, Havana, São Paulo, Buenos Aires and New York. The 13,000 metre space in Corferias will gather more than 3,000 works of art in multiple formats, ranging from painting and sculpture to photography, installation and performances.
For four days, thousands of attendees will have the opportunity to enjoy a variety of works from nearly 500 artists, get up close and personal with national and international galleries and outstanding artists, curators and experts, experience new forms of artistic expression and be part of diverse workshops.
Among the highlights of the event is the presence of Brazilian galleries Fortes Vilaca, Vermelho, Luisa Strina and Raquel Arnaud, and the participation of two of the most influential young curators around – Jens Hoffmann, deputy director of The Jewish Museum in New York and artistic director of FRONT International, a Cleveland-wide series of exhibitions, and Pablo León de la Barra, curator of Guggenheim Latin America.
There will also be local representation, with Colombian curators María Belén Saéz, director of the art museum of the Universidad Nacional, and Fernando Escobar, artist and researcher.
The Artecámara section also gives a space to 24 promising young artists, as well as artists who received awards last year: José Alejandro Restrepo (Oma Award 2015), who will be in the Sitio section, and Sandra Rengifo (Prodigy Award 2015), who will have an exhibition in Chapinero.
What started as an initiative to promote visual arts in Colombia has rapidly become an unmissable date in the worldwide art circuit's calendar. The number of attendees attests to this – in 2004 ARTBO boasted 12,000 visitors and in 2015 the figure rose to 35,000. This year the event is expected to exceed that number.
Undoubtedly, ARTBO – which runs from October 27 to 30 – has become the platform of choice for the dissemination and commercialisation of the arts in Colombia and a key event for those in the art world, transforming the city into a regional epicentre for art.
Perhaps as a result of ARTBO's unparalleled success, an artistic explosion has taken place in Bogotá, resulting in the creation of several adjacent fairs that contribute to the cultural growth of the city. Art Chicó, Odeón, Barcú and Feria del Millón (see across) are some of the events that make October the month of cultural festivals for Bogotá, allowing citizens to observe, learn, participate in and create numerous artistic impressions for all tastes and budgets.
---
By Milagros Oliveros