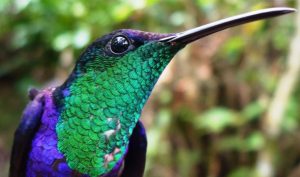 With more bird species than any country in the world, Colombia is a birdwatching paradise. Chris Bell takes a look at some of the best places to go to catch a glimpse of some spectacular feathered friends
---
There are many things that spring to people's minds when they think of Colombia – some positive, some negative, some fair and some unfair. What non-birders may not know is that the country is deservedly world famous for its remarkable diversity of birds. Birdwatching is big business these days and Colombia, after organising its first-ever Bird Fair in Cali earlier this year, is poised to make the most of its remarkable bird diversity. The country occupies less than 1% of the world's total land surface, yet it boasts a staggering 18% of all known bird species on earth.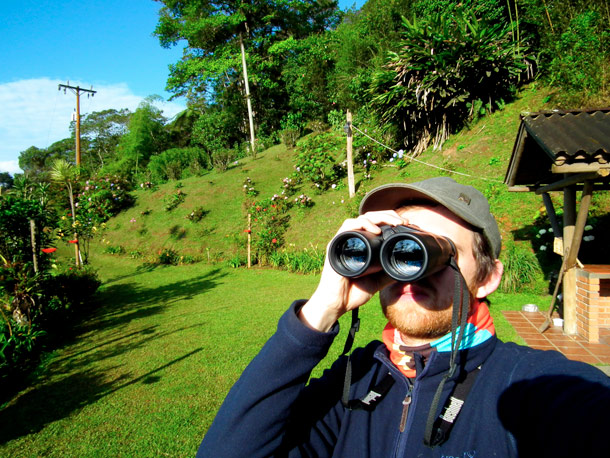 In 2013, Colombia became the first country on earth to register more than 1,900 bird species, and as the more isolated regions of the country open up to scientists and birders it won't be long until it hits the 2,000 mark. These are quite astounding statistics, which not only prove the remarkable biodiversity of the country, but also completely justify Colombia's reputation as one of the best places in the world to watch birds.
You don't need to be an expert or a full-on birding enthusiast to enjoy Colombia's wealth of species –  there are numerous fantastic places to visit, from the coastal mountains of the Caribbean to the deep Amazon jungles of the south. Many of them are catered to by excellent lodges and protected by ProAves, a Colombian NGO dedicated to the conservation of birds and their habitats.  Here are some of the best of them, so you can get out there for yourself, explore the country, and appreciate the true treasures that are Colombia's birds: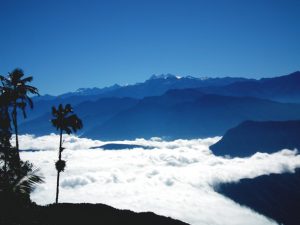 El Dorado Reserve and the San Lorenzo Ridge, Magdalena
High in the Sierra Nevada de Santa Marta, surrounded by panoramic views of the sparkling Caribbean Sea and Colombia's highest mountains, the snow-capped Pico Colon and Bolivar, sits the ProAves El Dorado Bird Reserve and the San Lorenzo Ridge. This is a mecca for birders worldwide because of its remarkable number of endemic species. The Sierra Nevada might be a small area, but it holds the highest concentration of native birds in the world, and at least 20 are regularly seen here, including the beautiful Santa Marta Parakeet and the elusive Santa Marta Antpitta. El Dorado has a well-appointed lodge and a number of excellent bilingual guides; a day visit from Minca is possible (with a very early start) for those on a tighter budget.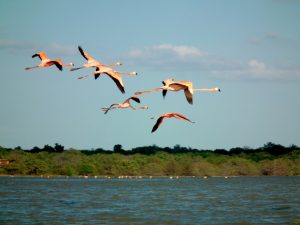 Los Flamencos, La Guajira
Staying up on the Caribbean coast, the road to the most northerly point of South America is home to the small town of Camarones, which protects the Los Flamencos National Park, home to, you guessed it, a colony of American Flamingos, as well as a wealth of other beautiful aquatic and desert species. The striking Vermillion Cardinal and the almost impossibly elusive Tocuyo Sparrow call the surrounding scrubland home. A trip by canoe to the flamingos will also yield Scarlet Ibis, Reddish Egret and Wood Stork, and many migratory North American species between November and April.
Cerro Montezuma, Chocó
This birding lodge, located in the stunning Tatama National Park, is the ying to El Dorado's yang: if the previous reserve is the well-known, popular hot-spot for great birding, then Montezuma is the hidden jewel on the lips of birders worldwide. Located in Colombia's Western Cordillera but, crucially, within the Chocó bioregion, visitors to Montezuma can expect to notch up hundreds of ticks within just a couple of days birding. Home to several much sought after endemics, such as the iconic Black-and-gold and Gold-ringed Tanagers and the Chocó Tapaculo and Warbler, Montezuma is off the beaten track, but all the more rewarding for it.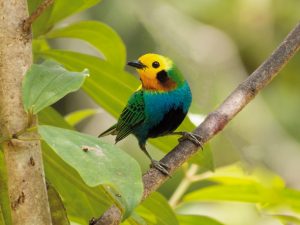 Finca Alejandria, Km. 18, Cali, Valle del Cauca
If the previous site is a huge, forested national park, protecting a wealth of habitat, and hundreds of species, this next birding spot is comparatively modest; but what it lacks in size, it makes up for in diversity. 18km down the road over the mountains from Cali to the Pacific coast, a small road branches off into the forest, leading to this secluded little finca. The owners, Raúl and Elsa, have set up hummingbird and banana feeders and have succeeded in attracting a wealth of stunning Pacific jungle bird species. However, the real reason to visit this place can be summed up in just two words: Multicoloured Tanager. This otherwise almost impossible to see endemic has chosen to become a regular visitor to the banana feeders and is basically guaranteed: a once-in-a-lifetime tick!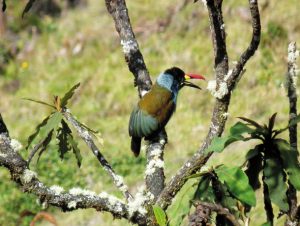 Termales del Ruiz, Los Nevados National Park, Caldas
Like Finca Alejandria, this is a very small place (just a hotel and thermal baths in the mountains of Los Nevados National Park) that has become iconic due to the birds that visit its feeders. Its enviable location on the frontier of paramo and Andean cloud-forest means that Termales' hummingbird feeders attract ten regular species, including the endemic Buffy Helmetcrest. Other possible sightings include the second largest hummingbird in the world, and the Sword-billed Hummingbird: the only bird in the world whose bill is longer than its body! Throw in the stunning male Rainbow-bearded Thornbill, and regular visits from mountain toucans, and Termales is a very special birding site to visit for the day.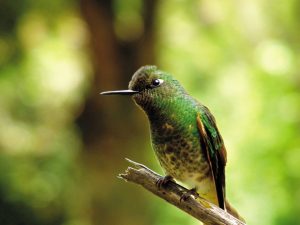 Rio Blanco Reserve, near Manizales
On your visit to Caldas to explore the hummingbirds of Termales, make time for a day at Rio Blanco Reserve, just half an hour outside Manizales. Run by Aguas de Manizales, and with somewhat random opening hours, Rio Blanco is nonetheless worth the difficulties in visiting for one reason: Antpittas. These shy, ground-dwelling species are plentiful in Colombia, but notoriously difficult (nay impossible) to see in most places however, in Rio Blanco the five resident species of Antpitta have learned to visit live-worm feeding stations, making special views of these timid birds virtually guaranteed. This makes Rio Blanco a must-visit reserve for the serious lister.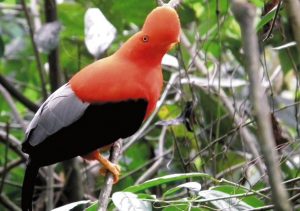 Jardin, Antioquia
This delightful little pueblo, about four hours south of Medellin, is an increasingly popular tourist destination, but it's a wonderful place for birding as well. Just outside of the town is the real reason for visiting Jardin: an easily accessible Andean Cock-of-the-Rock lek (a lek is a communal courtship site) where at dusk and dawn large groups of these strange, bright red birds come to display for females. This species can be almost impossible to see outside of a lekking site, and Jardin is perhaps the easiest place in South America to observe them. Additionally, the mountains around the town are home to the ProAves Yellow-eared Parrot Reserve, which shelters a strong population of 300 or so of these recently rediscovered, macaw-like endemic parrots.
Around Bogotá
Some of you may be reading this and thinking: "I like birds, but I'm not travelling two days up a Pacific coast mountain to look for them!" Never fear, there are plenty of excellent birding spots just hours from Colombia's capital, and even within the city itself. The reeds and ponds of La Florida Park, near the airport, can yield the endemic Bogotá Rail and Apolinar's Wren, and the Botanical Gardens are excellent for spotting migratory species between November and April. A bit further afield, the Jardin Encantado hummingbird garden in San Francisco offers sightings of the Ruby Topaz, the Gorgeted Woodstar and the Andean Emerald, whilst paramos like Chingaza and Sumapaz are home to a number of unique hummingbird and raptor species, including the Andean Condor, Colombia's national bird.
Photos: Chris Bell except where stated.
---
Chris Bell is the editor of an award winning Colombia travel blog and has travelled extensively through Colombia, having visited 22 of the country's 32 departments. He is already planning his visits to the other 10.