Photographer Chantelle du Plessis heads out to the plains to find a land of stunning nature. Here she shares her photo diary
---
Publicity campaigns often show vast landscapes with an abundance of capybara huddled near expansive lagoons, but sadly my first few visits to los Llanos were met with disappointment when I realised the closest I was going to get to a capybara was the minced version I had on the plate in front of me. That's why, when I was given the opportunity to participate in a week-long workshop in Casanare with National Geographic photographer Joao Marcos Rosa, organised by Fundación Cunaguaro, I jumped at the opportunity.
The department is possibly Colombia's best kept secret and I have no doubt that once it's uncovered, the Brazilian Pantanal will have steep competition. If you're after something wild and wonderful, it certainly trumps a warm weekend escape to Villavicencio.
El Lagunazo reserve has been designated an Important Bird Area (IBA) for it's high concentration of Orinoco geese. In fact, it is believed to have the highest population of this near threatened species than anywhere else on the planet.
In addition, the Altagracia reserves are home to pumas, jaguars, capybara, giant anteaters, giant otters, deer, caimans, howler monkeys and close to 150 other bird species.
The best time of the year for viewing wildlife is during the dry season, which typically lasts from December to April. During the rainy season, the plains can flood up to a metre, pushing the animals back and meaning that the majority of areas are only accessible by boat.
In the late afternoon, barefoot cattle ranchers saddle up for the round-up, herding dozens of cattle into their pens. Today los Llanos are home to fields of rice, corn, sorghum and cotton, but it is famous for cattle ranching because before the introduction of industrial farming technology, frequent flooding made much of the land unfit for agriculture.
When the hunter becomes the hunted: Los Llanos is one of those places that makes you feel alive. It's a place where senses are heightened and one wrong move could mean the difference between life and death. One morning while we were out exploring the grassy plains I stepped in the wrong place at the wrong time, and a two metre-long snake, referred to as a 'hunter' by locals, lashed out at me from a pile of dry branches.
Trembling, I found myself cussing like a sailor uncontrollably for a minute before I started following it around to try and get a picture. I later found out it wasn't deadly, only extremely aggressive.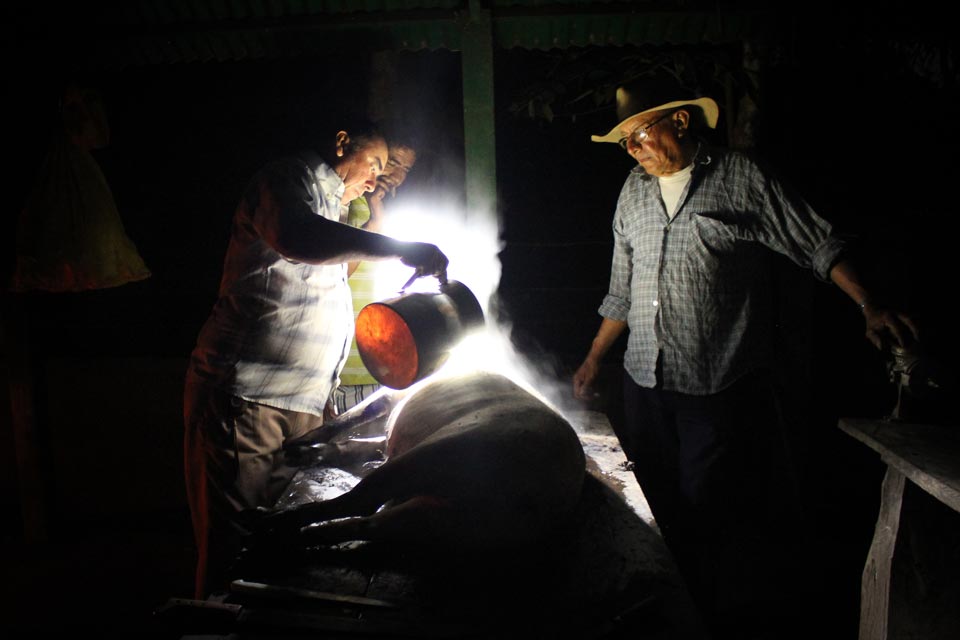 Another morning, I awoke from my tent to find the llaneros scalding the hairs off a freshly slaughtered pig – our food for the rest of the week. Tearing up the land and consuming the seeds of protected morichales palms, feral pigs are everywhere and considered to be an environmental pest. Each time one is killed for food, the skull is hung up on display – something I like to refer to as the llanero's trophy cabinet.
In los Llanos, the magic doesn't stop after the sun goes down. In fact, the mystery and intrigue only seems to grow stronger. There's something surreal about sitting around a bonfire in the black of night, listening to the sound of your host improvising a song to live joropo rhythms. Not to mention, clear night skies that put Van Gogh's Starry Night to shame. When the music dies down and the flames have calmed to burning embers, the silence is broken by tales of ghosts and legends of los Llanos (of which there are plenty). After falling asleep, it's not uncommon to be woken by the sound of a tigrillo going after the chickens.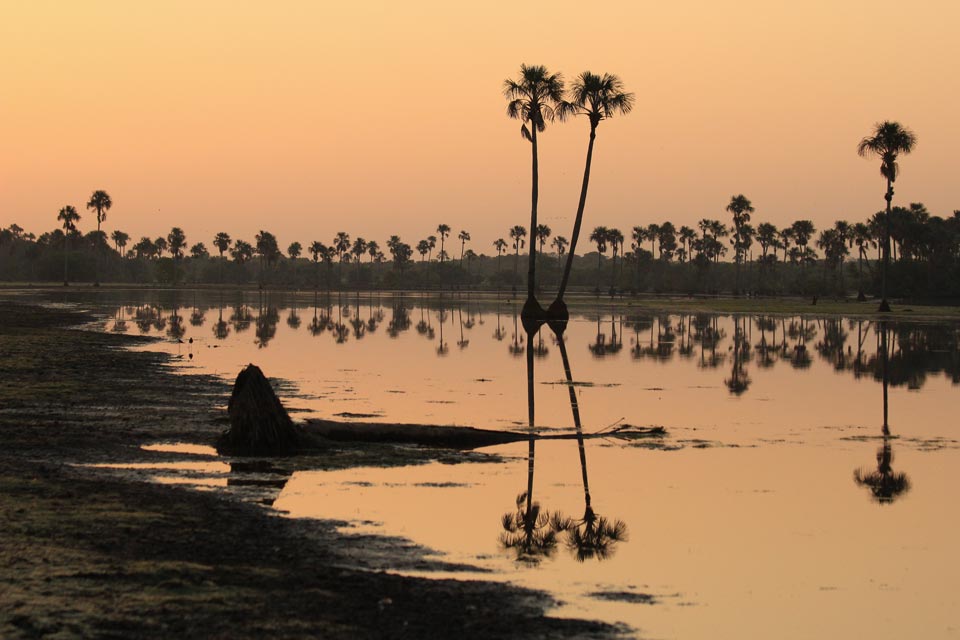 My experiences in los Llanos will stay with me forever. Never before had a ten hour car ride been so interesting. Every time I looked out of the window there was something magical staring back at me, whether it be dozens of caiman laying in a hollowed out trench, a falcon resting on a fence post or a giant anteater making its way across the grassy plains. Being in los Llanos reminded me of being back home in Africa. It's a place where nature abounds, each rising and setting sun bathes you in a sea of gold and the monotony of the plains is broken by the thought that, at any second, something might surprise you.
---
By Chantelle du Plessis