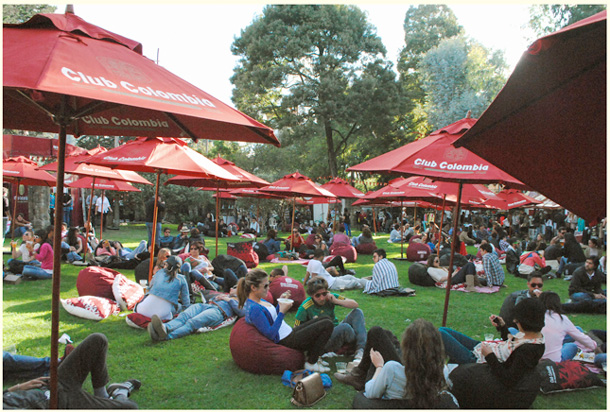 BAM, July 13-17, various venues
The Bogota Audiovisual Market brings together filmmakers, producers, distributors, agents and television stations to promote the Colombian film industry.
The talks will take place at Gimnasio Moderno (tickets available through primerafila.com.co), while screenings will be held at Cine Colombia Avenida Chile.
IndieBO, July 16-26, various venues
A film festival showcasing some of the best in national and international independent cinema. Films will be shown across the city, in Andino, Avenida Chile, Cine Tonala, Cinema Paraíso and Cinemania. This is the second edition of the festival, with last year's version attracting more than 5,000 visitors.
Visit indiebo.co or facebook.com/indiebo for full details.
Feria Buro, July 23-26, Parque 93
With the aim of giving a platform for lesser-known labels to gain wider national and international recognition, Parque 93 will be converted into an outdoor design fair as part of Parque 93's 20-year celebrations.
Zona Picnic Club Colombia, July 25 & 26, Parque Museo El Chicó
Get out and enjoy the (hopefully) good weather in style, with plenty of beer, music and a whole host of different food offerings. A great way to spend a sunny day in the capital.
Entrance costs $15,000 and includes a beer.
Alta Fidelidad, July 28 – August 2, various venues
Bogota's film festival, entirely dedicated to documentary films about music. This is the third edition of the event, which will include more than 60 films, covering a wide variety of genres, artists and musical tendencies. It will also include a number of talks, discussions, premieres and concerts.
Films will be shown at Cinemateca Distrital, Cine Tonala, Universidad Central and A Seis Manos.
Expovino, July 29 – August 1, Corferias
The tenth edition of Bogota's wine expo, with food, wine and 40 conferences from some of the world's wine connoisseurs. This year's invited country is Argentina, which boasts a number of renowned wine-producing regions, including Mendoza, Cafayate, San Juan and Patagonia.