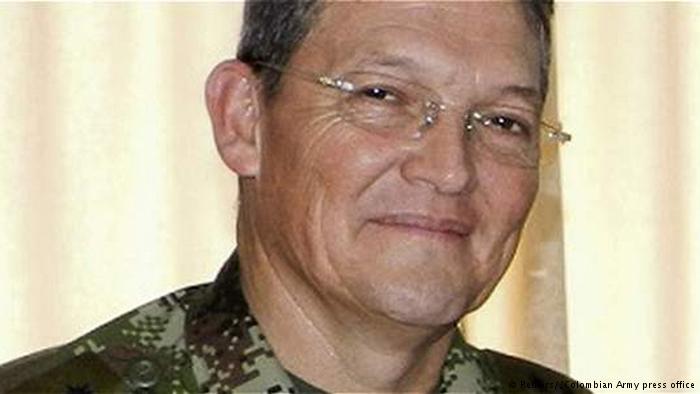 The disappearance of General Alzate sparked the suspension of Colombia's Peace Talks. We take a look who the General is, and how he fell into the hands of the FARC.
---
Ruben Dario Alzate Mora, 55, is a Brigadier General who, up until his capture by the leftist FARC guerrillas, was in command of the 'Titan' Joint Task Force, an army unit in charge of counter-terrorism operations in Choco and Antioquia departments.
The Valle de Cauca native was promoted to his current rank of Brigadier General – the fourth highest rank in the Colombian Army – in December 2011. His capture on the Pacific coastal department of Choco on November 16 represents the highest-ranking military official ever to be taken by the guerrillas in 50-plus years of bloody conflict.
Just hours after General Alzate's disappearance was reported, President Juan Manuel Santos announced the suspension of the 2-year-old peace talks with the FARC, calling his seizure "totally unacceptable." But it took the FARC negotiators in Havana, Cuba, almost two days to confirm that its forces in Colombia were indeed holding the high-ranking officer.
Around the same time, local and international media reported that not a single shot had been fired when General Alzate was picked up by the FARC's 34th Front, and that he had been travelling by boat along the Atrato River, dressed in civilian clothing, without an escort. He was said to be travelling with a civilian lawyer named Gloria Urrego, and an army Corporal – Jorge Rodriguez – thought to be his only form of protection.
There are three different versions of exactly what happened that day:
Version #1: According to the FARC, Alzate and his companions were intercepted as their river boat passed a guerilla checkpoint set up along the Atrato River.
Version #2: According to the Defence Ministry, the trio were taken by surprise after landing in the river town of Las Mercedes, 15km from the Choco capital, Quibdo.
Version #3: According to witnesses in Mercedes, Alzate and his companions met with four men outside a church in the town square and chatted casually for a few minutes. They all then left together, and nothing seemed out of the ordinary, witnesses said.
Right now the only people who know are General Alzate, his companions and their kidnappers.
Moreover, his reasons for travelling with virtually no military escort, where he was going, and why he was dressed in civilian clothing remain unclear.
The FARC have announced that, weather permitting, they will release the General on Sunday, November 30, and when he is free, he will face serious questions from the government, the military and the Colombian public about his actions.
---
By Mark Kennedy