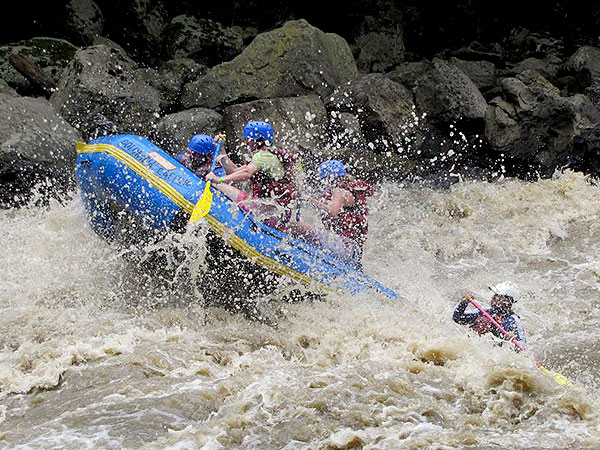 Looking for adventure sports in Colombia? Anny Wooldridge explores some of the country's best destinations to get your blood pumping.
---
Colombia's adventure sports industry is rapidly expanding, with the country providing a perfect location for a wide variety of activites: the numerous mountains are excellent for hiking, abseiling, mountain biking, paragliding, climbing, bungee jumping and ziplining; the rivers flowing around the mountains create the ideal conditions for white water rafting and waterfall rappelling; Colombia's Caribbean oceans boast crystal clear waters for unforgettable diving and snorkelling experiences; and the country's extensive national park system and páramos are home to a number of unique landscapes and diverse sporting opportunities.
With such a variety of options available, the country is rising up the list of worldwide adventure sports destinations. There are more and more tour operators offering all kinds of activities for every of level. So if you want to spend your next holidays doing something a little more adventurous, check out some of the top places to go.
San Gil & Chicamocha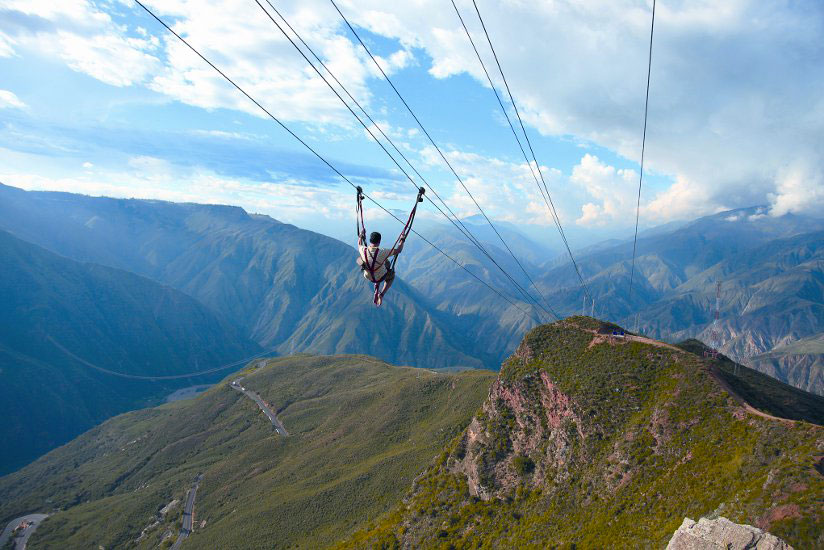 San Gil is undoubtedly Colombia's adventure capital and is easily accessible from Bucaramanga or Bogotá (about a six hour drive). From the small town you can arrange any number of activities in the beautiful landscapes of the surrounding area, including bungee jumping, abseiling, white water rafting, paragliding, ziplining and caving. There is such an abundance of adventure at your fingertips, that some day tours offer several activities in one. San Gil is also located close to the beautiful and tranquil town of Barichara, giving you the chance to experience the best of adventure sports and a colonial Colombian experience.
Perhaps one of the most spectacular destinations within easy reach of San Gil is the Parque Nacional del Chicamocha. The park is located at the top of the stunning Chicamocha Canyon, with visitors able to enjoy a breathtaking 30-45 minute paraglide over the canyon. If you're feeling a little yellow-bellied, there is a 6.3km long cable car journey which goes from the park down to the river at the bottom of the canyon and back up to the top of the opposite mountain. Other activities available at the park include a giant swing over the canyon, a zipline, petting zoo, abseiling down a waterfall as well as a water park. Park entry starts at COP$21,000 for adults and COP$15,000 for children (some activities involve extra costs and the cable car is also extra).
San Gil Extremo
Email: [email protected]
Tel: +57 304 572 5220
Website: www.sangilextremo.com.co
Colombia Rafting Expediciones
Email: [email protected]
Tel: +57 772 45800 or 311 291 2870
Website: www.colombiarafting.com
Parque Nacional del Chicamocha
Email: [email protected]
Tel: +57 7678 5000
Website: www.parquenacionaldelchicamocha.com
San Andrés and Providencia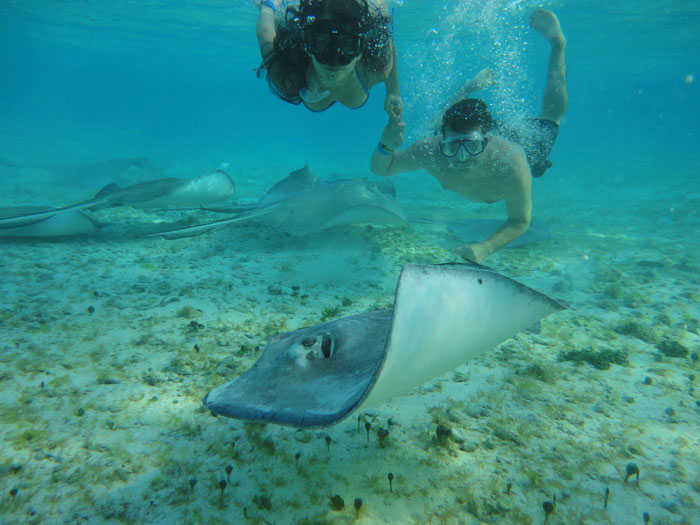 The idyllic Caribbean islands of San Andrés and Providencia are renowned for their fantastic diving and snorkelling opportunities, both boasting spectacular access to stunning sea life. Johnny Cay Bay is a popular diving spot in San Andrés and both islands are home to a large number of diving centres offering shallow dives, deep sea dives and snorkelling. Providencia is home to the world's third largest coral reef, while San Andrés and Providencia make up 10% of the Caribbean's coral reefs. A number of tour operators also offer PADI open water and scuba diving courses.
San Andrés Divers
Email: [email protected]
Tel: +57 312 448 7280
Website: www.sanandresdivers.com
Scuba San Andrés
Email: [email protected]
Tel: +57 311 257 5511
Website: www.scubasanandres.com.co
Dive Cue (Providencia and Islas del Rosario)
Email: [email protected]
Tel: +57 310 326 7432
Website: www.divecue.com
Suesca

Suesca, around 60km north of Bogotá, is an ideal location for day trips or weekend getaways, offering rock climbing, trekking and rafting opportunities. The town is considered the birthplace for rock climbing in Colombia and boasts a large number of natural cliffs and over 400 climbing routes ranging in difficulty from 5.1 (beginner) to 5.14 (advanced). In addition, Suesca is also a perfect mountain biking destination with numerous routes and trails.
El Nomada
Email: [email protected]
Tel: +57 311 836 0542
Website: www.elnomadahostel.com
Eco Global Expeditions
Email: [email protected]
Tel: +57 616 9088
Website: www.ecoglobalexpeditions.com
Tobia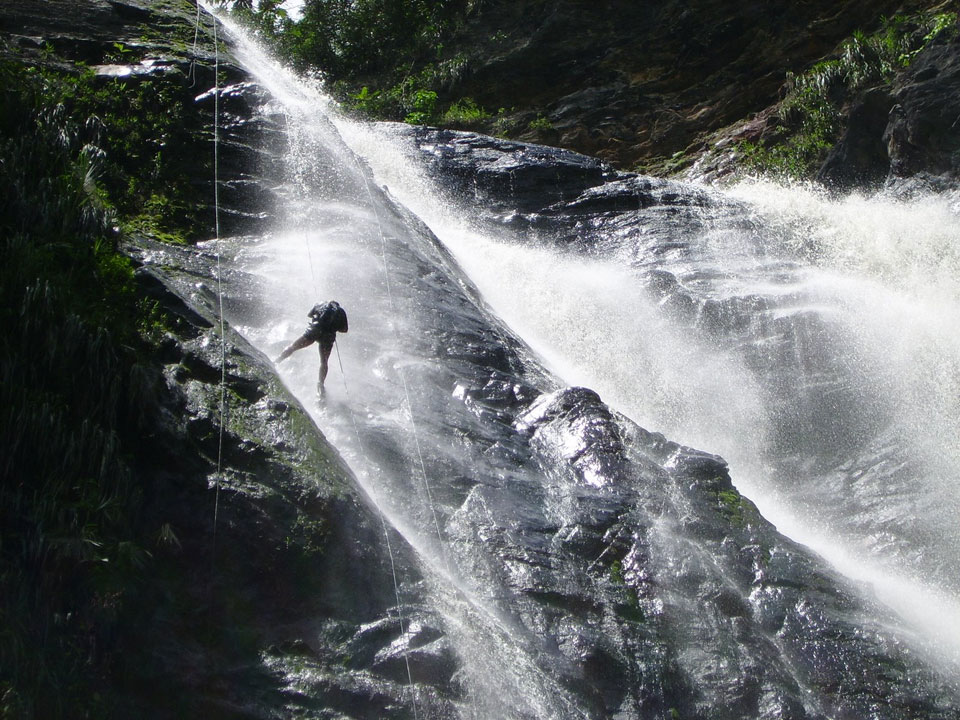 Located only 90 kilometres outside Bogotá close to weekend hideaways Villeta and La Vega, Tobia is the closest option to Bogotá for rafting, canopy and canyoning. The rafting takes place in the stunning Río Negro river, which perhaps doesn't boast the extreme difficulty level you will find in San Gil but it will bring your adrenaline up a few levels. If you don't like the water or find the 200 metre high canopy zipline too daunting, there are numerous hikes and there is even a paintball facility in town to start a battle with your friends.
Tobia Extreme
Email: [email protected]
Tel: +57 (1) 755 9952 / 322 837 9488
Website: www.tobiaextreme.com
La Guajira/Lago Calima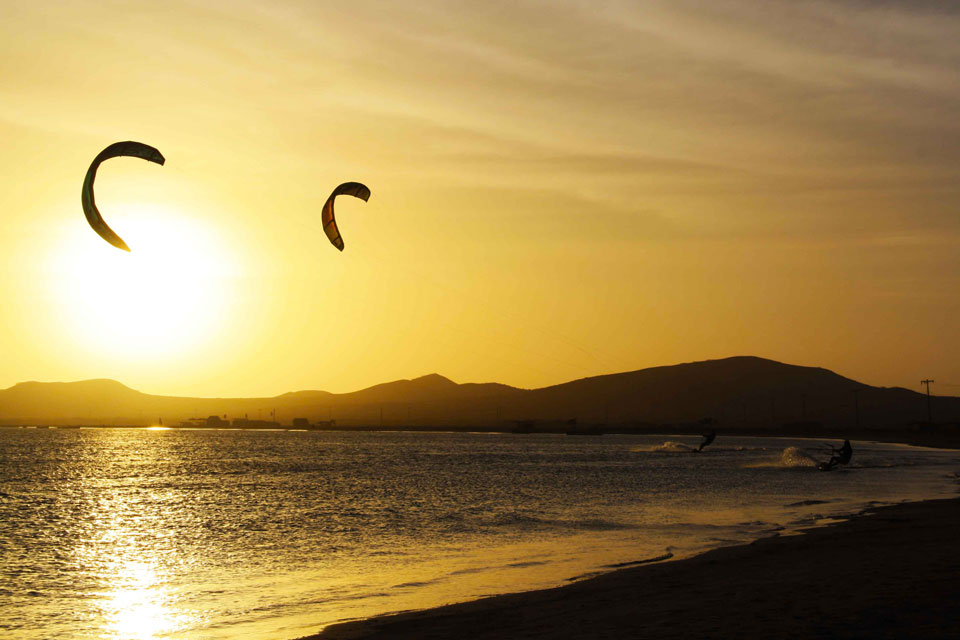 Colombia is fast growing as a destination for kitesurfing, due to the numerous locations that offer ideal conditions – strong winds and a large body of water. La Guajira, in the northernmost tip of the country, is excellent for advanced kitesurfers, with Cabo de La Vela's calm waters and end-of-the-world winds making the small, tranquil coastal town a great place to ride waves and enjoy a fresh and cheap lobster dinner. Calima Lake, near Cali, boasts 30-35 knot winds for most of the year and hosts a number of kitesurfing tournaments. There are plenty of schools for novices as well as places to rent equipment. Elsewhere in the country, Tominé and Chivor are close enough to the capital to make them popular destinations for bogotanos, while San Andrés, Cartagena and Barranquilla also offer warm waters for kitesurfing.
Guajira Kite School
Email: [email protected]
Tel: +57 310 6611621
Website: www.guajirakitesurf.com
Calima Kitesurf School
Email: [email protected]
Tel: +57 300 3711546
Website: www.calimakitesurf.com
Pure Kitesurf (Cartagena)
Email: [email protected]
Tel: +57 321 5215110
Website: www.purekitesurf.com
Medellín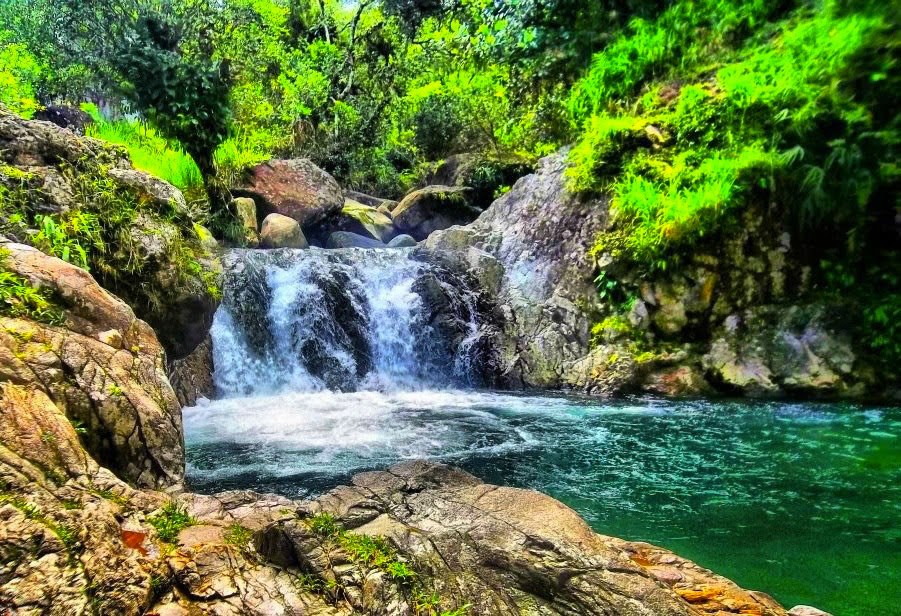 Medellín is quickly catching on to the burgeoning adventure sports culture with paragliding, trekking and cycling becoming popular in locations around the city. Paragliding provides spectacular views of Medellín's landscape which, with mountains surrounding the metropolis, is even more breathtaking from above. The surrounding countryside and villages offer an excellent backdrop for cycling tours. The Natural Reserve San Rafael is located about two and a half hours from the city and is home to a large number of bird species, 20km of hiking and cycling trails and has rivers perfect for swimming and cliff jumping. The reserve also has cocoa and coffee plantations, monkeys and other wildlife.
Psiconautica
Email: [email protected]
Tel: +57 312 795 6321
Website: www.aventurapsiconautica.com
Para World
Email: [email protected]
Tel: +57 767 85000
Website: www.paraworld.co
Bike Junkies
Email:  [email protected]
Tel: +57 318 808 6769
Website: www.colombianbikejunkies.com
Islas del Rosario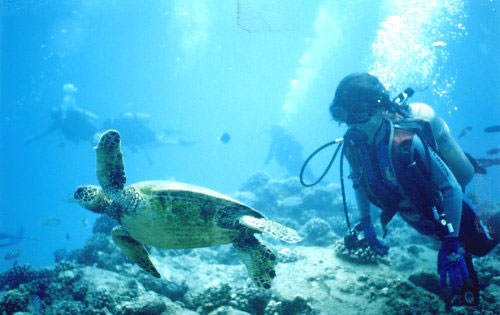 The Islas del Rosario are a collection of mainly uninhabited islands located about 45-60 minutes by boat from the centre of Cartagena. The islands boast clear waters and extensive and colourful coral reefs, making them perfect destinations for diving, snorkelling and kayaking. They also have an open water aquarium. Many tour operators offer diving packages which include sailing around the islands, day trips to different islands and tours of Cartagena.
Tortuga Dive School
Email: [email protected]
Tel: +57 316 877 9759
Website: www.tortugadive.com
The Lost City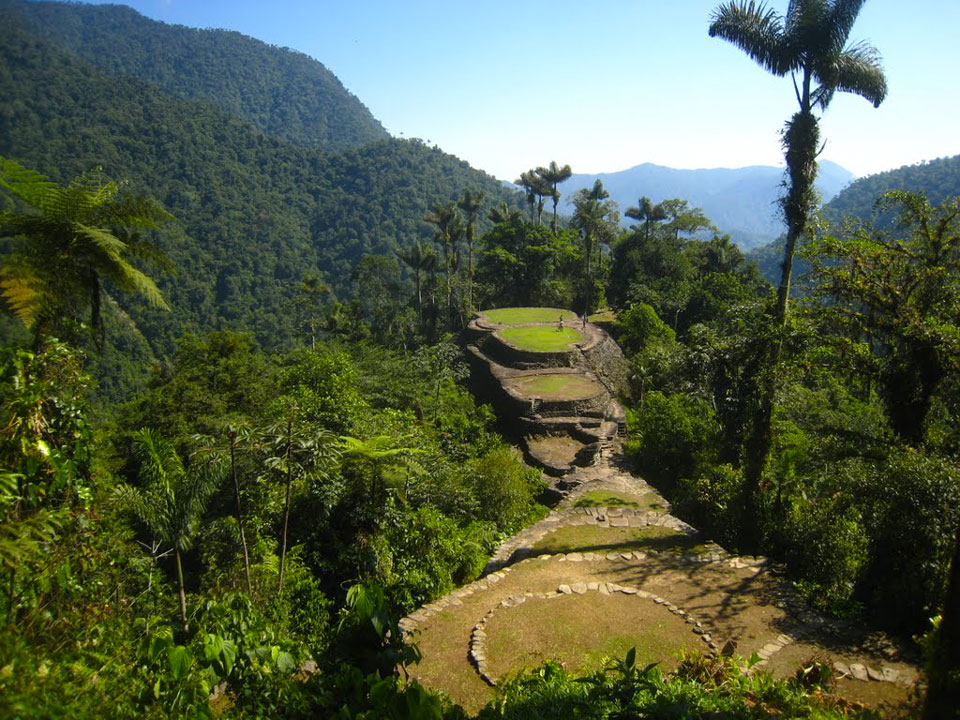 Located close to Tayrona National Park in the Sierra Nevada de Santa Marta is the Lost City (Ciudad Perdida). It is thought to have been built in the ninth century (650 years before Machu Picchu) and was only discovered in 1972, making it one of Colombia's greatest treasures. While many might claim that this is not strictly adventure tourism, the fact that the city can only be reached via a gruelling 44 km hike through rivers and mountains in the stifling heat and humidity of the jungle might suggest otherwise. The circular hikes last between four and six days, depending on how much you want to push yourself, stopping at a variety of locations on the way, including rivers and indigenous settlements. Despite the stunning location and huge historical and cultural significance of the Ciudad Perdida, the trail is still refreshingly bereft of tourists compared with the likes of Machu Picchu.
Magic Tour Colombia
Tel: +57 317 679 2441
Website: magictourcolombia.com
Expotur
Email: [email protected]
Tel: +57 320 511 1458
Website: www.lostcitytrekcolombia.com
---
By Anny Wooldridge