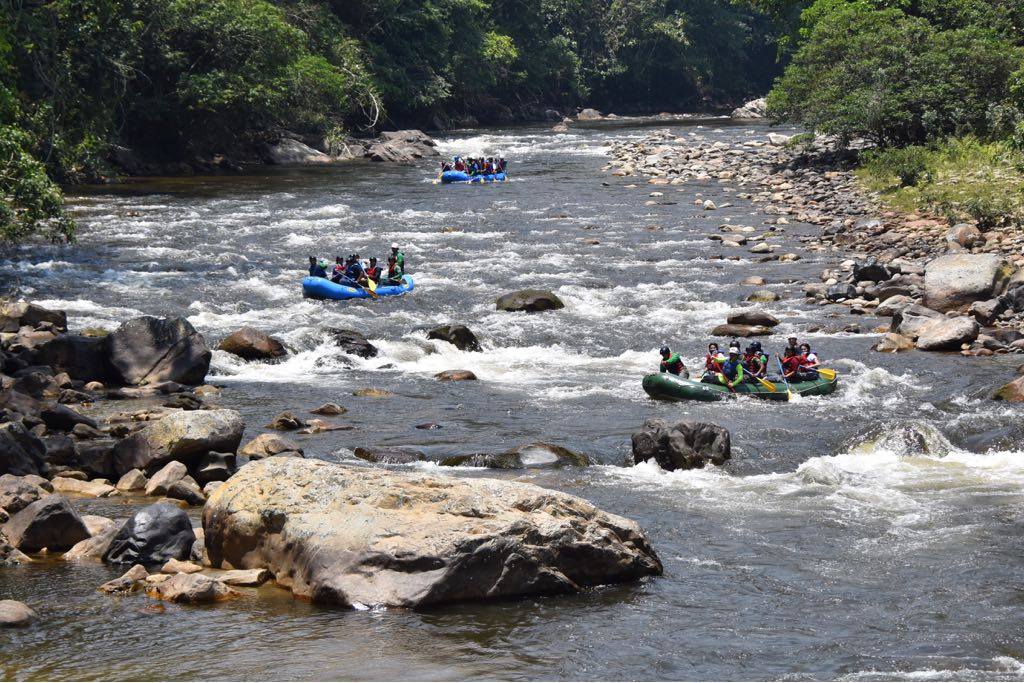 Plus coral farming, rafting with former FARC members and a sexy former nun. The international Buzz November in 2018
---
In our monthly look at Colombian quirks that float the boat of international media, we start with coral farming on the Caribbean island of San Andrés, where 40 commercial fishermen are getting paid to propagate the polyps, as Reuters reports. The farms are formed of slivers of coral which can grow in one year "to the size of a basketball" and reinforce reefs, counter coral bleaching and provide habitats for fish.
Also getting protection, but on dry land, emerald miners are asking the UN for AO (Appellation d'origine contrôlée) status for their green gems. This would be the first ever for a precious stone, writes the Financial Times. More commonly applied to cheese and wine, AO status would "guarantee [the] traceability" of the superior Colombian product, which is highly regarded for its "green fire".
Chips are down
Then came the unlikely news of a chipped potato trade war that erupted between Colombia and Belgium with the European nation (self-proclaimed creator of 'French' frites) accusing the Andean nation (ancestral home of the potato) of unfair tariffs. Punch reports that Colombia had imposed anti-dumping duties on Belgium after it flooded local markets with frozen fries, undercutting local producers.
A less welcome chip off the old block was Fragile X Syndrome, a genetic condition which causes physical and mental abnormalities and has somehow formed a cluster in the Cundinamarca town of Ricaurte – known locally as the home of 'los bobos' ('the fools'). Genetic researchers have found that at least 5% of people in the town are affected by or are carriers of the gene mutation, says Spectrum News, an online site dedicated to autism research, providing a test bed – and potential cures – for Fragile X which is a leading cause of inherited intellectual disability worldwide.
Related: confiscation Caracas cocoa and cocaine again 
Across the Magdalena in Quindío's Cocora Valley, the iconic and beautiful wax palms are actually "living corpses" according to the BBC, quoting scientists who have discovered that the 200-year-old trees are nearing the end of their lifespan with few saplings to replace them. Cattle farming and forest clearance are to blame for the demise of Colombia's national tree.
Caught on the hop
International frog smugglers were foiled [surely: mad as a box of frogs? Ed] at Bogotá Airport when police recovered 216 small poisonous amphibians hidden in film canisters in the airport toilets. The croaking contraband was destined for illegal wildlife markets in Germany where they can fetch USD$2,000 each, reported the New York Times.
Also fresh from the Colombian jungle, Danish photographer Mads Nissen served up some nice pics for Vice magazine documenting the "day-to-day lives of people involved in the production and trade of coke and cannabis".
As a welcome boost to local TV production, streaming giant Netflix is plotting six Colombian-crafted shows including a second series of demob thriller Districto Salvaje and a 'young adult fantasy' titled Always a Witch, according to Variety magazine. Already more than 35,000 locals have been hired as cast, crew and extras in local film productions in recent years, it noted.
Nun the wiser
More strictly in the 'adult fantasy' department, a devout Colombian nun is "saying YES! YES! YES! to her new career" as the country's "top porn star", according to the overheated Toronto Sun newspaper which informed readers about 28-year-old Yudi Pineda who spent eight years at a convent before developing "bad habits" (but still goes to church on Sunday).
And many world media outlets were 'shocked' by Colombia's 'controversial Sex Island vacations', it didn't stop them posting promo videos for this year's 'unlimited drugs and booze orgy'. The New York Post also carried lurid accounts from last year's debauchery 'somewhere off the coast of Colombia' – but was unclear where this year's will be.
Like ducks to water
Nine FARC members, reincorporated as part of the peace process, are now working as rafting guides on the white waters of the Pato River in Miravalle, Caquetá. Euronews reports that nine former fighters were given 200 hours of training and certified by the International Rafting Association, so they can now take thrill-seekers down the Amazon tributary.
Riding rapids is just one part of a burgeoning 'orange economy' in Colombia, writes NBC News, referring to creative, cultural, health and outdoor pursuits such as high-altitude cycling which are drawing tourists in record numbers. Airlines are now planning direct flights from Fort Lauderdale to Cali, and Miami to Santa Marta, bringing in ever more US travellers. Except one. In November, the US president cancelled his Colombia trip for a second time. So that's one fewer 'orange' visitor for now.