Both fans and critics of Petro's programme of far-reaching reforms have organised mass mobilisations this week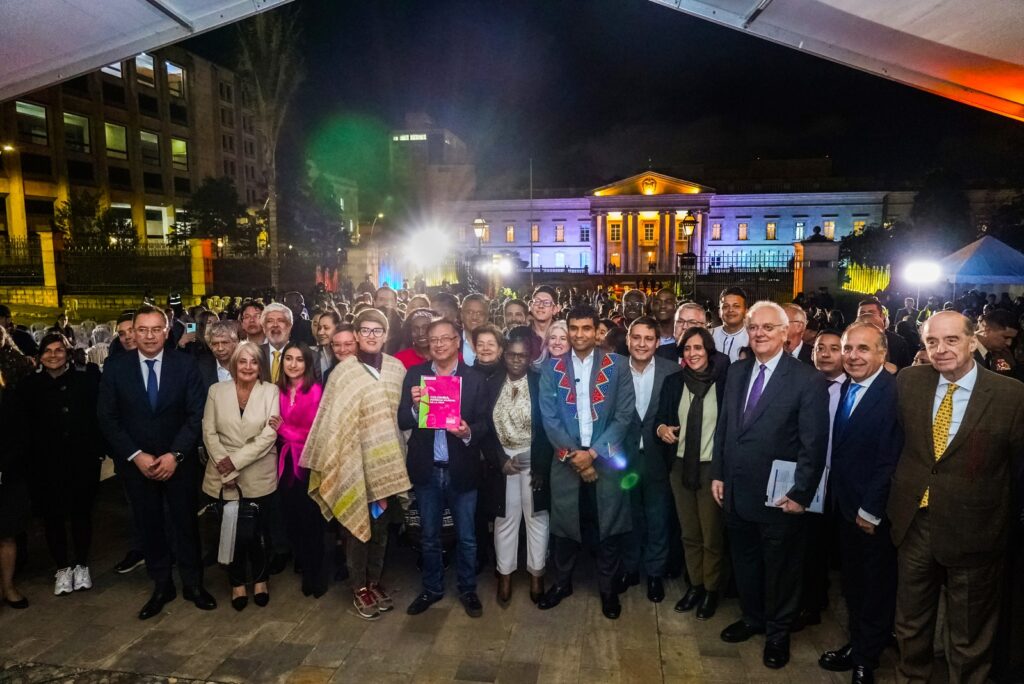 This week Colombia's streets will once again play host to a series of mass protests. Both opponents and supporters of the President's 'national development plan' are planning to come out in force as the controversial policy package starts its fraught progress through the parliamentary system.
Be prepared for two days of disruption. If you're in a major city and need to move about, check social media for updates on where the protests are taking place. Many people are working from home today as there may be road closures and issues with the TransMilenio. Plus, as we've seen in the past, peaceful protests can quickly become not-so peaceful.
What are people protesting about?
On February 6, Petro presented his Plan de Desarrollo Nacional (PDN) to Congress and six days later the first of several days of demonstrations began. The development plan sets out Petro's proposals on health, education, pensions, and more.
The army reserves kicked things off on Sunday (Feb. 12) by calling an "indefinite national strike" in response to the reforms. The day also saw protests in Medellín that took a swing at the local authorities as well as Petro and drew support from right-wing figures like former president Álvaro Uribe.
This was followed by a second day of unrest yesterday, this time organised by the several conservative groups and the truckers union. However, the focal points of the demonstration diary are the national mobilisations scheduled for today and tomorrow.
February 14: A "historic" day for Petro?
Taking to Twitter, the President called for a day of "great social dialogue" and invited supporters of his campaign for "change" to gather in the city centre. The demonstration is set to take place today from 2pm with Petro giving a speech from the balcony of the Casa de Nariño an hour afterwards.
Whilst it may seem a little unusual for a sitting president to encourage mass mobilisations, the move isn't wholly surprising from Petro. His fondness for calling supporters to the street as mayor and large election rallies is one of the reasons critics have labelled him a "populist" leader.
Petro has been backed in his call for support by politicians like Susana Boreal who spoke of the demonstration as a chance to "defend the power of the people" and Martha Peralta Epieyú who described the reforms as a "true change".
February 15: Postponed protests
Opponents of Petro's reforms originally intended to voice their frustrations on February 14. However, the plan was postponed after the president announced a rival demonstration on the same day. The protests are now set to start at 10 am on February 15 in cities across the country.
Centro Democrático politicians Paloma Valencia, Miguel Polo Polo and María Fernanda Cabal have been some of the most vocal supporters of the protest. Valencia has claimed that the PDN will represent "the demolition of Colombian institutions", whilst Cabal has focussed reforms to the health system that she claims put "the lives of Colombians at risk."
And as if two days of mass mobilisation wasn't enough disruption, the national taxi driver's union has also called a strike on February 22 to put pressure on the government to ban rent-a-ride platforms like Uber and Cabify.
What is the Plan Nacional de Desarrollo?
Petro's package of wide-ranging reforms hopes to radically change the country by 2026. The mammoth document starts by laying out his philosophical approach to social, environmental and economic change, before mapping out his proposals for COP$1.154 trillion of public investment over four years.
Education: Free higher education places for traditionally marginalised groups and improved internet and telecommunications access in rural areas.
Welfare support: A "zero hunger" programme providing greater food relief, easier access to social housing, tax reforms to graduate public service contributions, meaning those less well-off will contribute less.
Health: Restructuring of the financing model for health providers with the aim of improving access to quality care.
Total peace: Commitment to further peace negotiations with groups like the National Liberation Army and the Clan del Golfo and implementation of elements of the 2016 peace agreement with the FARC.
Environment: Creation of a national registry for the reduction of green house gas emissions, stimulus packages for carbon-neutral projects.
Agriculture: Support for small-scale farmers and co-operatives to obtain legal right to their lands, improved access to drinking water, measures to increase domestic food production and reduce food prices, creation of road infrastructure to allow rural communities to travel to markets.
The ambitious plan has unsurprisingly received backlash from conservative groups and politicians. Proposed reforms to the tax system and health financing structures have come under particularly heavy fire. The PND was also critiqued earlier this month by Bogotá mayor Claudia López for failing to reference the Bogota Metro amid tense disagreement over changes to the first line. 
Congress now has until May 7 to discuss Petro's master plan. These may be the first major protests of his presidential term, but as Congress analyses the controversial package over the coming months, they seem unlikely to be the last. Some of those planning to turn out this week calling for a "Paro Nacional 2023", hinting at the potential for protests to snowball as they did in 2021 and 2019.
Read more: Keeping tabs on Colombia's deadly protests