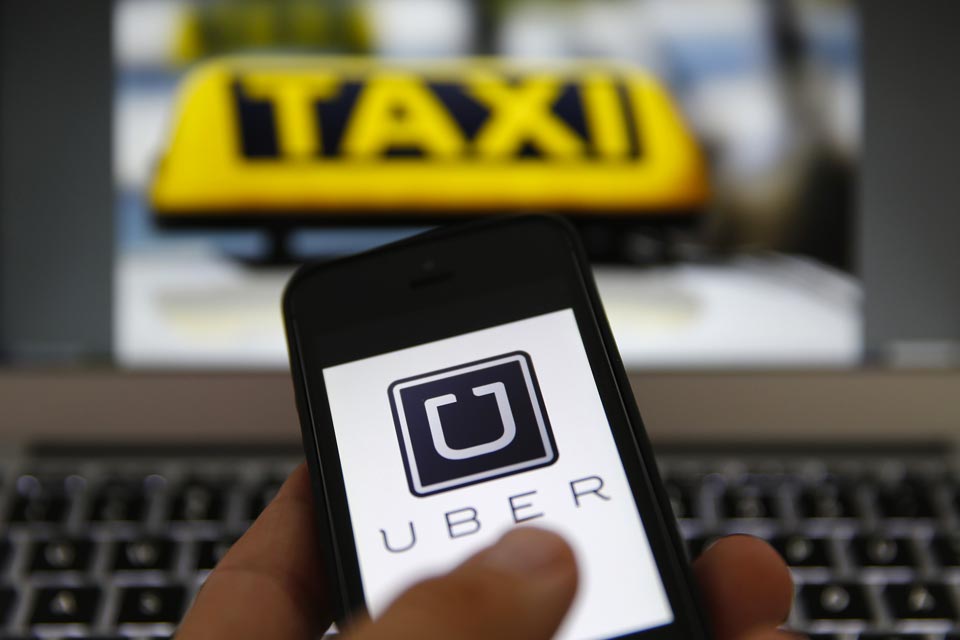 The arrival of Uber has stirred up controversy with some remaining faithful to yellow cabs and others converting to the newcomer, Laura Sharkey looks at both sides of the debate and Emily Hastings runs through the most recent events
---
One key way to rile up any citizen, worker or even driver in Bogotá is to talk about public transport in the city. Buses and Transmilenio aside (the merits and disadvantages of which need their own separate newspaper, let alone separate article), there are two main ways in which bogotanos use cars, apart from their own, to get around – taxi or Uber.
Some people are faithful to taxis, and others swear by Uber, but neither is without its fair share of controversy. Taxi drivers are frequently labelled everything from rude, to thieving and arrogant. Uber is constantly challenged by multiple interest groups as being illegal, and the peak time or 'surge' fares (when cars are in high demand) have been known to be exorbitant. Added to which, drivers on both sides have complained that they struggle to make a decent wage – Uber drivers say they do not receive fair salaries, while taxistas have to pay heavy licensing and car rental fees.
The legalities of Uber are going to take time to untangle in Colombia and the rest of the world. In the meantime, we speak to drivers and customers to find out what they think.
Totally for taxis
Hardly a week goes by without another social media storm about a taxi driver treating a customer despicably, refusing to take someone to a certain destination or charging much more than they should.
But for many, hailing taxis on the street is simply part of everyday living. Not everybody has a credit card that allows access to Uber, nor do they all have mobile phones capable of ordering through an app.
Furthermore, for every story of poor service, there are other, less publicised acts of kindness, humility and citizenship. Diego, a student who religiously takes taxis, told The Bogotá Post, "I have purposefully not downloaded Uber. I find taxis handy and for the most part, the drivers are really friendly. They do this to make a living and I understand that this is not always the same for Uber, whose drivers often do it for some 'extra cash' aside from their full-time job."
We are a service and it should remain like that, not just be incentivised by extra money

Alejandro, taxi driver
In addition, taxi drivers have certainly been around for a lot longer than Uber. Diego acknowledged that there are a few "rogue" drivers, but stressed that he had seen the difference since the emergence of Uber and taxi ordering applications like Tappsi, which encourage users to give feedback on their journeys. He believes that this rooted out the majority of poor drivers, as they are now aware of the need to "step up their game".
Whether it's down to the 'Uber effect' or not, some taxi drivers are simply committed to what they do. One taxista, Alejandro, said: "I make a point of not charging people the tip that they add on to services ordered through applications (normally when they are in high demand). This makes other taxi drivers greedy and they only service when they know they will earn extra. When I get those customers, I tell them not to add tips because it does not help our reputation. We are a service and it should remain like that, not just be incentivised by extra money."
Alejandro is representative of the quality and dedication of a number of the city's drivers. Many know Bogotá inside out, unlike some Uber drivers who rely on satellite navigation which can send cars into dangerous neighbourhoods.
Whenever I want to learn something new about an area, I always try to talk to a taxi driver, and not just when I need directions. They have seen it all and if you are lucky, they will share some of their stories with you and give you some inside knowledge of the city.
Undoubtedly Uber
The company has suffered from countless protests against the service by taxi drivers who state it is illegal and taking their revenue. Last year, President Juan Manuel Santos declared that the business had to formalise if it wanted to continue operating.
Uber told us they are now operating in 17 Colombian cities, with over 450,000 users and 30,000 drivers. Since their launch here in September 2013, they have launched a whole range of services from UberBLACK to UberANGEL and most recently, a ride-pooling service called UberPool.
In spite of the protests, Colombia is currently one of the company's biggest growth countries. There must be a reason for this, and many agree with Uber driver Marco who says: "People just do not trust taxi drivers, they are fed up with bad service and bad attitude." One of passenger's main reasons for using Uber is the pleasantness of the experience; drivers offer you music, or sometimes refreshments and are flexible to your chosen routes.
People just do not trust taxi drivers, they are fed up with bad service and their attitude

Marco, Uber driver
Furthermore, fares are not only generally cheaper (especially with Uber X) but they are much more transparent. This is refreshing for those used to taxis. According to Ben, an Uber user for the past year, "I have lost count of the amount of times I have been overcharged [by taxis]; and it is difficult to challenge the driver, not just because I fear for my own safety, but because sometimes the meter is fixed."
This is a common complaint, taxi fares are notoriously difficult to predict and can vary from taxi driver to taxi driver. Furthermore, Ben highlighted that change is an issue – taxi drivers rarely have change, and when they do, sometimes they give false notes.
According to Marco "we filled a hole and now they are coming out to complain about it. But it is their own fault, they had the monopoly for years and misused it."
Marco may be right; Uber may not be perfect, but people were desperate for an alternative and Uber came along at just the right moment.
In the end, it is clear that customers are deciding which service to use depending on their own experiences or needs. However, the ultimate decision rests in the hands of the authorities. The government has ruled that Uber is illegal, and re-iterated that it will implement sanctions against both the company and its drivers. Uber continues to roll out new services and taxis continue to protest. Uber fans will have to wait to see how the legal machinations pan out, particularly whether users might actually be fined – as they are in Baranquilla – for using the service.
Tips for staying safe in both Uber and taxis

• Try to avoid hailing a taxi from the street. It is easy for drivers to pretend to be bona fide taxistas and there have been cases where customers have taken a "taxi" off the street (particularly in the Zona Rosa) and subsequently been robbed by either the driver or a group of their accomplices.

• If you have to hail a taxi from the street, make sure the number plates correspond with the information given in the driver identification sheet on the back of the front passenger seat. Make a note of the number plate and ensure that the meter is started from the beginning (25). Try and get a rough idea of the fare before setting off.

• If you order the car through an application, always make sure that the identification for the taxi driver corresponds with the driver. This is easy to do given that the applications send photos and the car details when you order. You should not be afraid to challenge anything which you feel is not right; you may have to pay a cancellation fee but it is better to err on the side of caution.

• If you use an application like Tappsi or EasyTaxi, use the feedback forms to report bad service – drivers can be banned for a day for overcharging or other misdemeanours.

• Download the 'Denuncie el taxista' application which has an inbuilt fare calculator to help avoid doctored fares. The handy application also allows you to put the car number plate into the app, and they will return a message to let you know if anyone else has reported them for poor service.

• Always check the change given to you by taxi drivers, and if you are travelling with Uber, make sure the fare charged corresponds to the route you took. You can report overly-expensive Uber fares through the application.

• Try and have the correct change for your journey to hand, or at least notes of smaller denominations. This will help with the ease of your journey and lower the potential for fare or money cheating by the taxi driver.
Getting Uber it
As Bogotá's taxis threaten to bring the city to its knees after the latest Uber battle, Emily Hastings runs through the most recent events
---
The transport ministry has once again promised to get tough on illegal transport services after the row between taxis and Uber escalated even further. In addition, Bogotá's transport department has announced increases in the city's taxi charges.
July 29: Uber announces pilot cash scheme
From August 5, a group of randomly selected Uber customers in Colombia will join 60 cities worldwide in being able to pay for the service by cash. They can also use debit cards as part of a pilot scheme that the company will monitor closely before deciding whether to roll it out further.
"Our goal is to provide transportation as reliable as running water, everywhere for everyone", said Lorena Villalta, Uber's General Manager for Bogotá and Cali.
It's an interesting promotional line in a country where running water is not available to everybody. But since 27% of people do not have access to credit cards, and previously the service could only be used with a credit card or a Bancolombia prepaid card, it is certainly going to mean that the Uber app will be open to more people.
August 2: Taxistas threaten to block the streets
Uber's move into the arena of cash instead of card payments puts them in direct competition with the city's taxis, while pouring fuel on an already volatile situation.
Hugo Ospina, head of the Association of Taxi Owners and Drivers, told Caracol Radio on August 2 that they were outraged by the government's failure to take action. "We won't carry out any more marches or convoys because we are tired of marches that don't bring solutions."
He said that they would take advantage of the fact that all the union leaders were in Bogotá to make the decision to use their cars to block the streets. "We will march with all the taxis or we will block the streets in the whole of the country."
August 3: Government crackdown on illegal services
Following discussions with the taxi union, the Ministry of Transport announced on August 3 that it would implement an emergency plan to combat illegal transport services.
During the meeting with deputy transport minister Alejandro Maya, union leaders committed to improving their services and not to follow through on their threats to strike.
The government will support each city in cracking down on illegal services. Local authorities will have the power to suspend driver's licenses and impound vehicles. Companies that fall foul of the law could face the cancellation of their transport permit.
Cristina Villarreal Lago, a spokesperson for Uber in Latin America, told The Bogotá Post that "Uber is a company legally constituted in Colombia". She adds, "there is no administrative or legal act that has declared our operation illegal, nor are there any rules in the country that prohibit or punish citizens who share their private vehicles".
However, it was only two months ago that the National Director of Transport and Transit, Aida Lucy Ospina, said that they were seeking authorisation from the Ministry of Technology, Information and Communications to block the platform that the Uber application uses to operate. She said that they could not give a specific timescale as it depended on getting a court order.
Villarreal pointed out that "just a few years ago only one place (California) had a regulatory framework for ridesharing. Today more than 90 jurisdictions around the world do, including Australia, Canada, India, the Philippines, Brazil and Mexico."
She continued, "We are optimistic that Colombia will also make a significant step forward towards building ridesharing into its transportation policies."
New taxi fares for Bogotá
Amidst all the furore, it might be easy to miss the news that from September, fares in the city are set to increase.
Movilidad de Bogotá, the city's transport department, announced that the basic charge per unit (100 metres) will rise from COP$78 to COP$82, and the minimum fare will go up COP$200 from COP$3,900 to COP$4,100.
While the city's administration puts the fare hike at about 5%, analysis from El Espectador shows that when all the charges are factored in, the figure could be as much as 13%.
In addition, if accidents involving taxis are reduced by 20% year on year, drivers will be able to charge an additional fee, pushing the fares even higher.
The transport department says that there hasn't been a fare increase in two years, and that with over 20% of road accidents last year involving taxis, the new scheme could save lives.
According to a study done last year by PubliMetro, six out of ten taxis are using adulterated meters. While the taxi union has challenged those figures, one way to avoid being ripped off is to be aware of what the charges should be – see the table below.
Current charge
New charge
Unit fare (every 100m)
COP$78
COP$82
Meter starts at
25 units (COP$1,950)
28 (COP$2,300)
Stopping time
(Traffic, traffic lights, etc)
1 unit for every 30 seconds
Five minutes spent at traffic lights/traffic jams would cost COP$780
1 unit for every 24 seconds
Five minutes spent at traffic lights/traffic jams would cost COP$1,025
Surcharge for holidays and night time (8pm to 5am)
Plus 24 units (COP$1,872)
Plus 24 units (COP$1,968)
Minimum fee
50 units (COP$3,900)
50 units (COP$4,100)
Home pick up (calling or using application)
Plus 9 units (COP$700)
Plus 9 units (COP$730)
Airport drop-off
Plus 50 units (COP$3,900)
Plus 50 units (COP$4,100)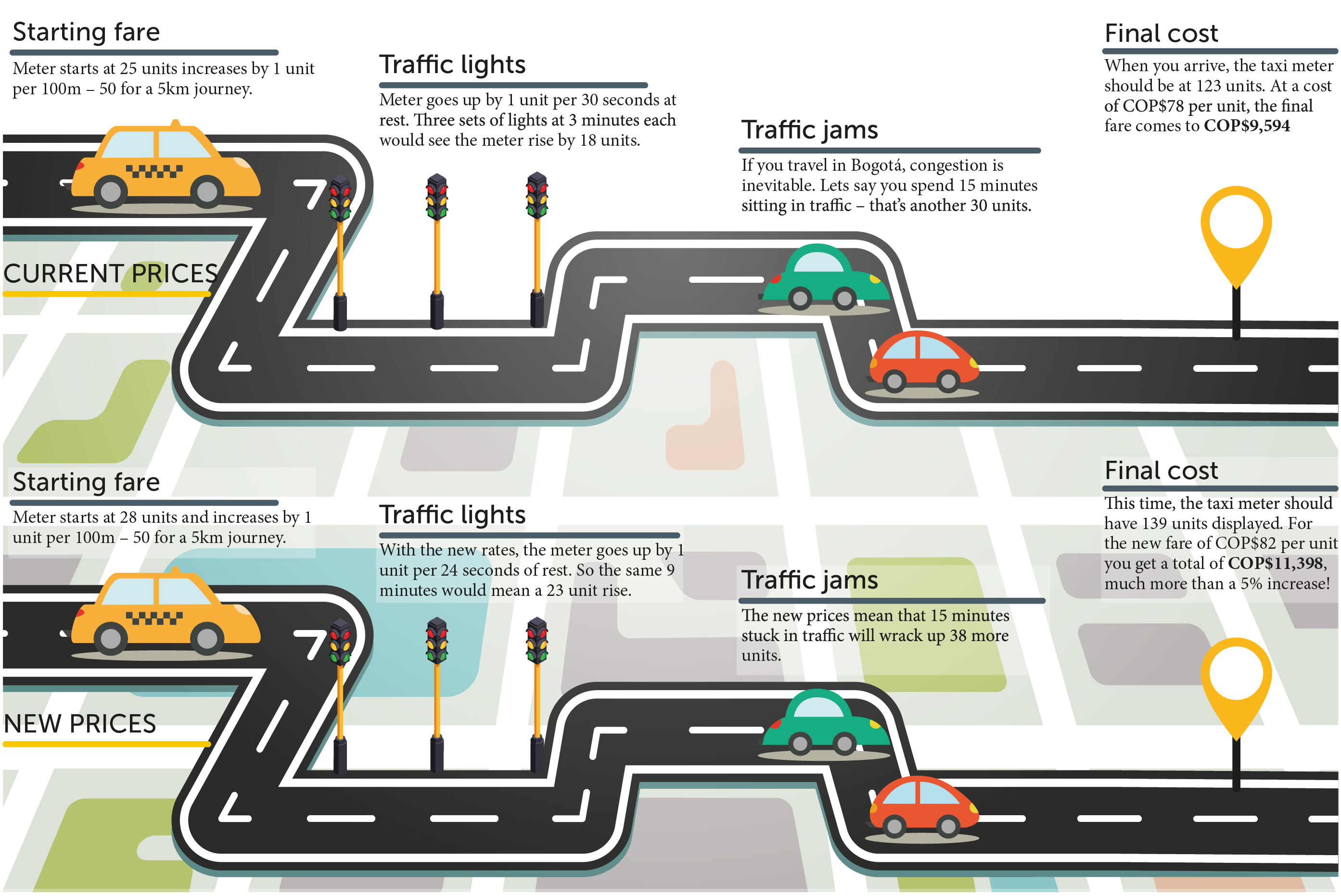 ---
By Laura Sharkey & Emily Hastings