As a child, I was a biter. When I was three, a kid got so close to me that I bit him in the face. Eventually, I stopped biting people and today I enjoy biting into delicious dishes instead.
One of those dishes is Bao – a staple in Taiwanese street food – and I know two places in Bogotá that are guaranteed to satisfy your wildest bao craving.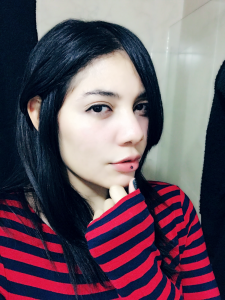 If you find yourself wandering around Calle 90 with Carrera 11, you can't miss the chance to go for a bite at Street Bao, right next to the EK hotel. Don't be fooled by the hip look of the restaurant, this is a street food temple with friendly prices and generous portions that combines traditional Asian recipes with local ingredients.
Although they serve meat baos, veggie baos, dessert baos and mouthwatering rice bowls, what  made me fall in love with Street Bao are the seafood baos and the fries.
Their skinny fries are the right kind of crispy and the perfect amount seasoning; they serve them with furikake sprinkled all over and with a side of wasabi mayonnaise which I'm absolutely obsessed with.
Street Bao has three options of seafood bao to choose from: cuttlefish, prawn and fish. All of them feature a unique combination of flavours and textures wrapped in yummy and fluffy clouds of steamed dough.  Here are some of the highlights from the menu:
Bao Tempura de Calamar (Deep-fried Cuttlefish Bao)
Cuttlefish rings, red cabbage, radish, coriander, sweet potato crunchies and lemon drop pepper.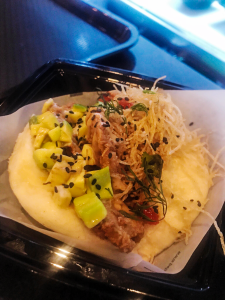 Bao Chicharron de Pescado (Deep-fried fish Bao)
Deep-fried fish, mizuna, avocado, sesame, potato crunchies, Japanese tartar sauce, spicy garlic mayo and acevichado mayo.
Baos have an interesting history, they originated in China and come in different presentations that vary from one region to the other. If you want to dive into the world of bao, Maggie Hiufu Wong wrote a very helpful guide to bao on CNN Travel and the bao-craze has gone so far that even Pixar has its own bao-inspired animated short film.
Thanks to the increasing popularity of this dish, new places that sell bao are opening all over the world. Bogotá is not an exception and another amazing place to eat bao here is Bao Bun. This joint is located inside Patrono Food Hall in Calle 93B with 13 – where you can find lots of tasty things.
Bao Bun pays homage to Taiwanese street food in the form of beautifully presented dishes and well-thought combinations that you cannot miss. The pork bao and the chicken curry burger are amongst my favourites but rest assured that anything you choose from their menu will put a smile on your face.
They have a broad range of baos to choose from and everything is magnificent. They have special deals at lunchtime and insanely good prices. You can also order their flavourful chips on as a side dish and their incredibly refreshing signature soda
If you still don't know what a bao is, go try them, wherever you are, you won't regret it. Bao's fluffy dough has a comforting texture and a very delicate flavour that complement the wildest flavours and the richest textures flawlessly.
And if eating them doesn't convince you, you can just go ahead and bite me.