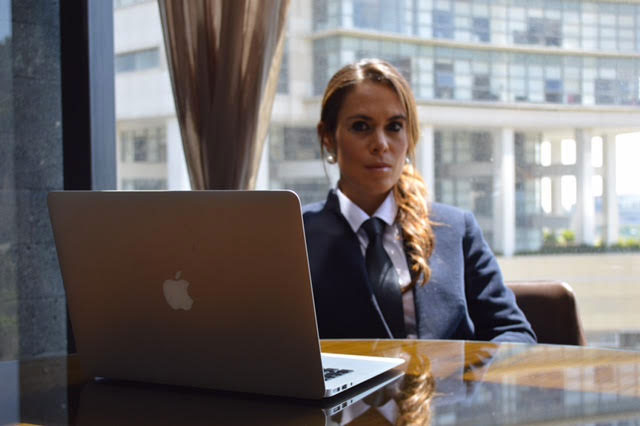 Successful entrepreneur Betty Encinales speaks to Emma Newbery and shares some thoughts about the power of saying no, and playing to your strengths.
---
With an engaging personality and an impressive track record, it's not hard to see why Betty Encinales won the UK 2016 Migrant Woman Entrepreneur Award back in May.
I caught up with the effusive 36-year-old who set up her own boutique recruitment company called Becruit in London last year, and started by asking her about some of the differences between doing business in Colombia and the UK.
"There are lots," she laughs. "One big aspect is the difference between planning and organisation. In Colombia, people tend to improvise more." She thinks for a minute and continues, "It's not necessarily good or bad, because the two aspects are important. But I think that being organised with timetables and plans, that's something that English people do much better."
Another area is efficiency. "In Colombia people work really hard – probably harder ­– than in England, but I think efficiency during the day is different. It's not about who stays the longest, it's about who actually finishes on time and delivers the things they need to do."
Yes, I have an accent and I don't speak English perfectly, but I'm fun to work with, I'm committed, I speak Spanish, I'm knowledgeable and people like that.
We talk a lot about the way that sometimes in Colombia it's hard to say no. "People say yes to everything, and sometimes they don't realise that the yes means you actually have to deliver."
I wondered how she felt the first time she had to say no to a client. "I learned at home to say yes to everything, and I remember that I found myself in some messy situations."
She continues, "But the power of no is something extremely powerful in your personal life, and also in your professional life. It can feel challenging but you have to understand that a no is more important than saying yes, because sometimes you have to set the limits and say that it's not possible."
Wise words from a lady who also competes in Ironman competitions in her spare time, but also fairly common observations. Her next point is less so. "Every time I go to Colombia I meet a lot of top level candidates, from big businesses in industries like banking, and I hear the same story."
"In the UK, people are not scared to say 'I don't think this is fair', or 'I think that we deserve this salary', or 'this boss is not good enough.' But in Colombia, people are very scared. They think, 'I have to keep this job – it's the only thing I have, even if they treat me horribly, even if I hate it.'"
Another factor that Encinales feels affects workers here is the need for contacts. "I listen to a lot of candidates in Colombia, people are very frustrated," she says. "People are very capable, very educated – perhaps more than in England – but most of the people who end up in managerial jobs get there through having contacts, without having the experience."
She believes it causes workers to become demotivated. "People know that even if they work hard, they still might not be able to get where they want to go if they don't have the contacts."
We move on to entrepreneurship. It's clear that Encinales has got to where she is through hard work and determination. She has also seen a lot of businesses succeed and fail in several different countries, especially when working with the Colombian chamber of commerce in the UK.
What advice would she give someone wanting to start their own business in a new country? "First, study the country well. What works in France might not work in Colombia, and what works in Colombia doesn't necessarily work in the UK."
She stresses that you need to adapt. "You can't think like a Colombian and work in England."
And you need to do your homework. "Study the law. Get a strong understanding of how the culture works and then make a plan for how you are going to achieve your business goals."
Finally, she says that you need to have some understanding of the field you want to enter. "Some people decide to start doing something they've never done before. That's very courageous, but it's important to have some knowledge of what you want to do."
The power of no is something extremely powerful in your personal life, and also in your professional life.
She sees a need to know where you are going to find your clients, whether people are going to buy your product. And there's no shame in finding role models. "Try to follow people who have been successful in that sphere," she advises.
Encinales, who first arrived in the UK about 20 years ago, said that there was a time when she felt intimidated because she was Colombian because of people's preconceptions about her country. But now she sees things differently.
"Instead of being ashamed, instead of being bullied for who you are and how you talk, it's about turning those things into strengths and using them."
It's a lesson she had to learn the hard way. "Yes, I have an accent and I don't speak English perfectly, but I'm fun to work with, I'm committed, I speak Spanish, I'm knowledgeable and people like that."
Despite the challenges, Encinales believes that being Colombian gives her advantages, "My country has a lot of wonderful things that I should be proud of, such as the happiness and hard working attitude we bring to places, the fun, the open-mindedness."
I can see that she is a natural in the recruitment industry because she actively enjoys connecting with people and helping them find a position that is right for them.
Her final words are relevant no matter what country or industry you are in. "If you don't excel at something then don't do that job. Do the things that come naturally to you."
---
By Emma Newbery