With the recent legalisation of same sex adoption in Colombia, we thought we'd take a look at what the capital has to offer the LGBT Bogotá community.
While it's true that the area with the highest concentration of potential activities is Chapinero, it is by no means the only place to have fun in the city.
Alejandra Chipatecua takes a look at some of the best that Bogotá has to offer its gay community…
---
A relaxed plan…
If you're looking for a place to chat, grab a coffee and a bite to eat while enjoying some board games with your mates, El Recreo de Adán is a great option – relaxed, fun times to the sound of pop's biggest divas.
Where: Carrera 12a #79–45
How much: From $8,000
When: Tuesdays – Saturdays from 3.30pm to 3am
Pa' cantar a grito herido
Música de plancha is a musical genre from the 70s and 80s, best described as heartfelt, pain-filled ballads. Some of its greatest exponents include Raffaella Carrà, Juan Gabriel, Rocío Dúrcal, Miguel Bose and Yuri, among others. While it's hardly the most popular or current style in the world, oddly enough it is one of the favourite genres amongst the local gay community, don't ask me why. So if you're suffering from a tough break-up, or if you're just curious, don't miss Thursday karaoke at El Perro y La Calandria. If you're in tune you could win prizes, or you can just make people laugh with your off-key songs of regret.
Where: Carrera 9 #59–22
How much: From $5,000
When: Thursdays from 11pm to 3am
And the geeks?
In our strange future-present, pick-ups have been relegated to a simple question of the speed and functionality of your smartphone. If you're one of those people who never puts their phone down, even when you're on the pull, Scruff is an application that could help you on your hunt for bears, athletic types or, well, guys in general. Lesbians might find that Findhrr is the best option for them.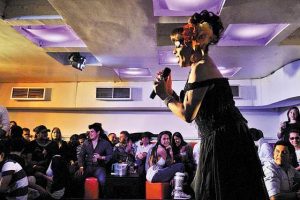 On show at night
Cavu is one of the most fun bars in the city, offering a live drag show with La Lupe and other transvestites, a pop-fuelled party with smatterings of reggaeton and plancha. La Lupe is brimming with personality and humour, and her off-colour comments and impressive outfits will make the audience smile and blush at the same time.
Where: Carrera 15 #88-71
How much: From $8,000
When: Wednesdays from 9pm to 3am
Romance
For me, there's nothing better for a first, or second date, or simply surprising a special person than a quiet setting, with dim lighting and a pleasant atmosphere. For that, there's Estación Café Bar, which has two locations – Chapinero and Zona Rosa. It has gained many devoted followers, thanks to the elaborate design of its dishes and cocktails and its impressive decor.
Where: Chapinero: Calle 62 #7-13 / Zona Rosa, Carrera 14 #83-37
How much: From $8,000
When: Mondays – Saturdays from 1pm to 3am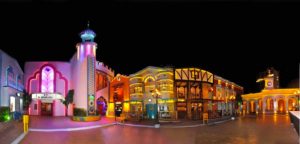 La fiesta
This mega disco that you're all probably aware of can hold more than 5,000 revellers and is rightly considered one of the best rumbas in Bogotá – Theatron includes 13 different rooms with genres ranging from electronic, Latin music, crossover, dance, reggaeton, pop, salsa, rock and plenty more. Oh, and there's an open bar (until 2am). Some of the ambiences are just for men, some are just for women, and there are often top-notch concerts to boot.
Where: Calle 58bis #9-32
How much: From $36,000
When: Fridays – Saturdays from 9pm to 6am
Have we missed anything? Get in touch with your suggestions at [email protected].
---
By Alejandra Chipatecua