In this new series, we look at the links between Colombia and different countries around the world. This first instalment puts Colombo-Japanese relations under the spotlight, as we take a look at what brings the two nations together.
---
At first glance, Colombia and Japan couldn't be further apart. Geographically speaking, there's more than 14,000km between the two, and culturally perhaps so much more. Yet links between the countries have been growing stronger in recent years, and Bogotá has been happy to absorb the influence of that distant land of samurai and geisha.
Food is generally one of the first symbols of Japan that people think of, especially since Bogotá has experienced a boom in sushi restaurants. Depending on your point of view, the majority of these are either a travesty with little respect for traditional sushi-making or a fascinating element of cultural fusion, as eel rubs shoulders with cream cheese and plantain. Still, you do have to wonder when you ask the chef at one of these places whether they serve sashimi and they respond, "Sashimi? What's that?"
One restaurant that definitely doesn't have this problem is Fuji Izakaya, just off el Chorro in La Candelaria (Carrera 1A #12B-65). Owners Victor Valencia and Stephani Roa explain that they wanted to open a place that shows a more authentic side to Japanese cuisine. Armed with their experiences of living in Japan, they've put together a little slice of Tokyo in the heart of Bogotá, complete with decorations brought over from the Far East and an extensive menu of dishes not usually seen in Colombia. This can be something of a revelation for their customers. As Stephani says, "People often aren't used to the tastes or the ingredients, so they're not sure about trying something new." Still, the restaurant's reasonable prices ($10,000 for the daily lunch menu) make this a great place to try something a little exotic.
Sushi Master
If you'd like to sink your teeth into a bit of Japan, then the perfect chance is coming up. Sushi Master is a one-off maki showcase designed to bring sushi within everyone's reach, and decide once and for all who is the sushi top dog. Around 100 restaurants are taking part across Colombia – over fifty in Bogotá alone – and from August 13 to 20, they'll be offering their best rolls for $13,000 each. As well as the likes of Fuji Izakaya, better-established and generally much pricier places like Toshiro Robatayaki (Calle 90 #11-13) are also taking part, so there will be plenty of sushi to sample. Full details on Sushi Master and its participating restaurants are available on its Facebook page.
Related: Sushi places in Bogotá
With 2018 celebrating 110 years of friendship and trade between Colombia and Japan, the Japanese embassy has been busy organising events to commemorate the occasion. La Candelaria's Teatro Colón will play host to the band Wasabi on Tuesday, August 21. The band will play Japanese music using a variety of traditional instruments. The embassy is also in the process of establishing a Japanese cultural, economic and academic centre in Los Andes University. The centre's inauguration is planned for Monday, December 3.
text continues below the box

Channelling the magic of La Hechicera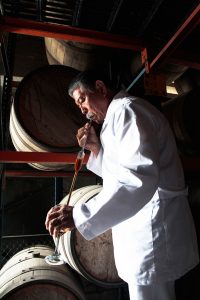 Despite being available in its country of origin only recently, the Barranquilla-made La Hechicera rum has been making waves over the last few years. Since coming in at number 21 in the UK GQ magazine's list of '100 best things in the world right now' in 2014, there's been a sense of curiosity about this mysterious spirit.
At least in Colombia, this mystery was entirely intentional. As co-founder and managing director Miguel Riascos Noguera says, La Hechicera had to earn success abroad in order for it to be taken seriously in Colombia. "This is why we launched in November 2012 in London, to establish the brand among the opinion leaders in the UK before making it available in Colombia."
At the heart of La Hechicera is its maestro ronero, Giraldo Mituoka. Born in Cuba to Japanese parents, and now based in Colombia, he adds a samurai's precision to the rum-making process, combined with his sense of flavour and intuition as he merges tastes together to make a truly distinctive rum.
Miguel muses that La Hechicera is all about "Colombia's feminine power, its fertility, biodiversity and magic." This magic comes from a number of different sources, not least the fusion of Japanese and Colombian techniques that have made this rum such an international hit.
There are also opportunities to delve into one popular side of Japanese culture, with events throughout the year aimed at Colombia's thriving cosplay, manga and anime fanbase. With this year's Comic Con completed, fans are now looking forward to two more events. The first is SOFA, the well-established Bogotá geekfest, which runs from October 11 to 15. The second is a new one-day event called the Purple Sand Fan Fest. As festival organiser Ivon Maritza Ascanio says, "Purple Sand Fan Fest aims to bring together aspects such as technology, music, popular Japanese culture, video game tournaments, cosplay catwalks, anime marathons, and cuisine." Perhaps the festival's most ambitious proposal is that it will include its own recreation of a street from Akihabara, the Tokyo neighbourhood famed for its maid cafes, fashion and anime cultures. Purple Sand Fan Fest will be held at Sans Façon School in the north of Bogotá (Calle 170 #17A-75) on October 20.
Japan will also make an appearance at this month's Rock al Parque festival, as the long-running Ska act Tokyo Ska Paradise Orchestra will appear on the plaza stage on Monday, August 20 at 6.35pm. Well-known for their innovative sounds and mostly instrumental songs, this nine-piece act is worth a listen at this year's festival.
Related: Economic relations between China and Colombia
Let's hope that these 110 years of friendship between Japan and Colombia are only the start between two countries that, as different from each other as they may be, seem to complement each other. As Fuji Izakaya's Stephani Roa says, "It's a case of opposites attract. We can learn so much from them in terms of culture, respect and discipline, while we can help them to open up and show their emotions a little more." As sushi shacks continue to line Bogotá's streets, perhaps there's hope for this most distant of friendships after all.
---