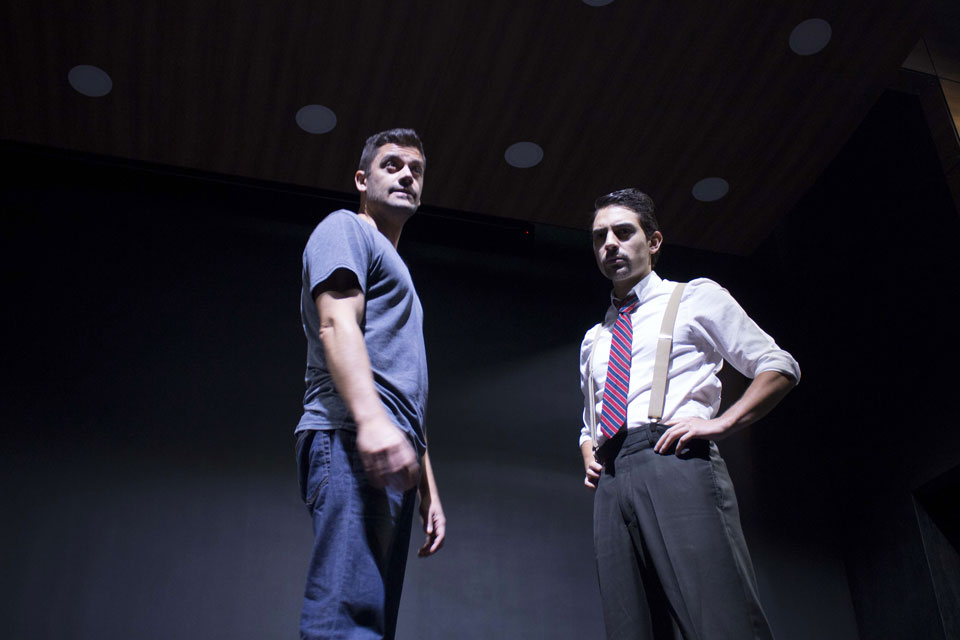 Audiences expecting pantomime or seasonal fun from The Bogotá Anglo Theatre may be surprised by this gripping dark thriller. However, as Phoebe Hopson discovers, they won't be disappointed.
---
In the busy run up to Christmas, The Bogotá Anglo Theatre, Bogotá's only professional English language theatre company, is in the final stages of rehearsing A Steady Rain by Madmen and House of Cards playwright Keith Huff. Normally known for their unusual choice of stages, the company's eighth production will take place in the Auditorio Sonja Forrero Fajardo. Despite the more conventional setting, The BAT's artistic director Tigre Hall assures me "audiences will leave surprised."
The two-man show first premiered on Broadway in 2009, starring Daniel Craig and Hugh Jackman. Since then it has impressed critics and has even been tipped for a Steven Spielberg film adaptation. Set in Chicago in the early 90s, the play explores the relationship between two scrappy police officers, Joey and Denny. The close friendship between these childhood friends is pushed to crisis point after a routine domestic call goes horribly wrong.
A Steady Rain was chosen by the actors themselves, Andres Londono and Sebastian Eslava. "We've wanted to work together for a while, and this play with two strong male characters was the perfect opportunity," Londoño excitedly said when I met him during rehearsals.
Both actors met in Los Angeles and studied at the Stella Adler Academy, so acting in English is nothing new for them. In fact, American citizen Londoño has only played English speaking roles, most recently Oscar in Fear The Walking Dead.
Eslava, who previously starred in the Caracol series La Niña, admits, "Acting in English is still a challenge. I have to work twice as hard because of the accent, but I believe it helps me get into character."
The intense yet minimally staged performance comprises monologues directed at the audience and real-time dialogue between the two characters. Both Londono and Eslava are keen to highlight the complexity of their volatile characters. "Joey is neither good nor bad," points out Eslava, "he holds things together, but then explodes."
Hall told me he found himself identifying with both officers, while Londono emphasised that the play is set to make the audience "question their sense of judgement."
Tickets: $35,000
The play will run from November 24 to December 17, Wednesday to Saturday. Check out their Facebook page for details.
---
By Phoebe Hopson