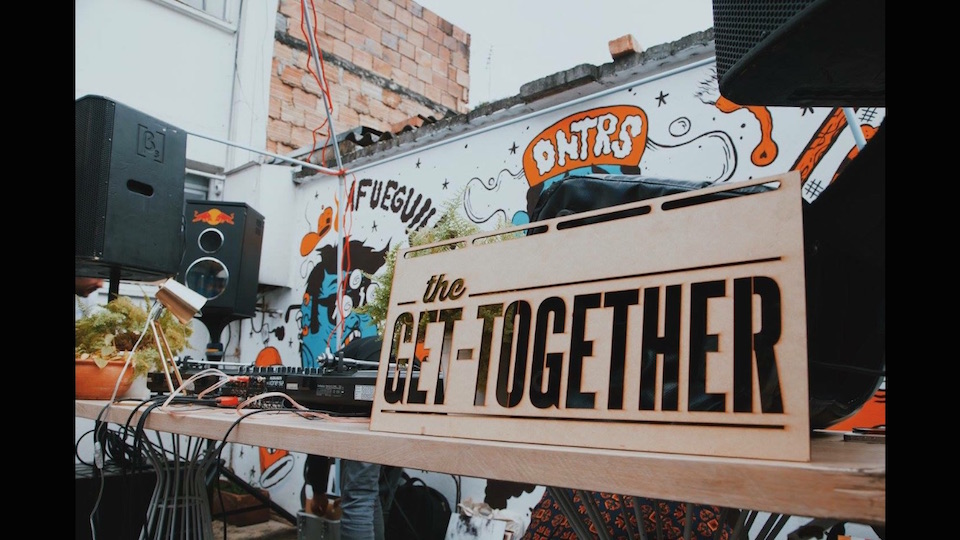 Get-Together is more than a party, it's the celebration of OVERCAST, a label set up by five friends that share the same passion: music.
---
On June 10, boutique record label OVERCAST will throw their fourth The Get-Together party. It will take place in a top Quinta Camacho location, República (Carrera 12 #68-28), the food – which left everybody wishing for more last year – will be done again by Primitivo. And as usual, there will be an invited artist: this time DJ Daniel Weinstein will be hitting the tracks on the booth alongside OVERCAST's resident DJs. In the art gallery Daniel Senior and Gavilan will be exhibiting their masterpieces.
If the last party is anything to go by, it is well worth saving the date. The last Get-Together party took place on a rainy Saturday afternoon two months ago. Loads of groove, dance and good vibes spun in the air until midnight.
The $25,000 cover charge really covered something! Not only the entrance to the party, but there was also a small gallery area, plus snacks during the afternoon and a complete meal later on. It gave us all a boost of energy to keep partying throughout the night with no need to leave to get food.
However, there is more to the Get-Together party. OVERCAST is a label that launched in November last year, aiming to build a community that shares, broadcasts and gathers. As they put it, they are "a meeting point for curious ears."
As the only non-DJ of the five, Dario Coronado is the black sheep of the group – he is an economist who works at VICE Colombia. The four house DJs bring a range of talents: Juan Manuel Cortez, music producer and designer; Ernesto Lafaurie, Flush DJ, architect and creative director at Colette Studio and the Odds N' Ends duo, Jorge Rocha and Pedro Pizarro, economist and journalist.
Coronado tells me a bit more about the thinking behind the share + broadcast + gather maxim.
Share…
OVERCAST publishes content on Medium. Coronado explains that they want to offer deep and profound articles, especially about the electronic music scene in Bogotá. "It's segregated and monopolistic. There is a lack of knowledge towards the alternative music scene in the capital," he says.
In addition to publishing monthly selections, recent articles include on entitled 'Nostalgia for electronic music' and 'Casa Volketa, Bogotá and counterculture.'
Broadcast…
The group plan to start a digital Radio Station very soon. Coronado explains: "Like Red Light Radio, we want to broadcast live shows of national and international artists, creating a hub for new talents where they will be able to play and record their music."
Gather…
Last but not least, OVERCAST wants to unite people through music. The Get-Together events are one part of that mission. However, they are also planning on promoting live listening sessions – spaces where they can comment on tracks, create workshops and learn from others.
Don't miss the next Get-Together party on June 10 at Carrera 12 # 68-28.
$25,000, 2pm-midnight
Facebook: Overcast
---
By Maria Alejandra Jaramillo