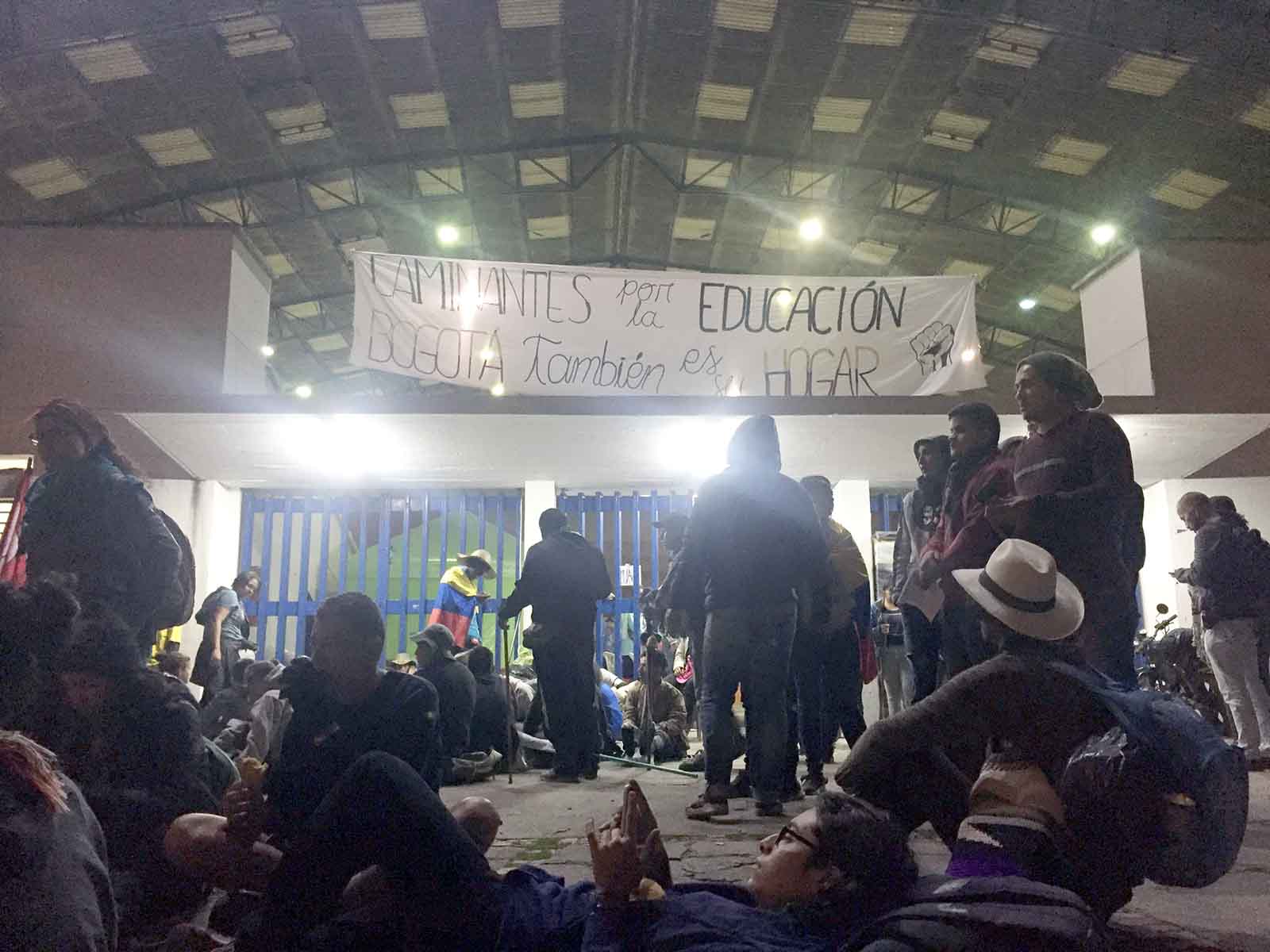 ---
Hundreds of student protesters camp in the Universidad Nacional before the biggest demonstration yet.
Students are trekking to the capital in from all over the country to join today's protests over the lack of resources and quality public higher education. The journey has taken days – even weeks for those on foot – and last night they made camp in the Concha Acústica, a covered arena at Bogotá's Universidad Nacional campus.
They are joining forces with bogotano students, workers, and indigenous groups to fight for change in what promises to be one of the biggest protests of the year.
"It was really hard to walk here. The change of climate was the hardest. We passed through the heat of the valley, long stretches of road, climbed up and down mountains," said one student who had walked from the Universidad Nacional de Colombia in Palmira, near Cali. "And then there was the hunger. Often, there wasn't enough food for everyone."
He had passed out right outside of Bogotá, when a fellow student trekker from Universidad de Cundinamarca found him and helped him arrive at the campus.
Some students had walked from Medellín and Florencia, while others had travelled from Tolima and Barranquilla by bus. Guardia indigenas Nasa, indigenous human rights defenders, were also there supporting the students.
Related: Student strikes continue: The march of the pencils
Outside the Concha Acústica, students lined up, signing their names onto a piece of paper to be let in and set up their accommodations for the next couple days. Chants, whoops, and potato bombs could be heard around the area as more and more students arrived.
"More students will probably arrive [to the Concha Acústica] early in the morning," said 19-year-old Enoc Moreno, a history major from Universidad del Atlántico in Barranquilla who had come by bus.
While the camp is not officially supported by university officials, the vice chancellor has also not kicked the students out. Moreover, teachers, local students, and concerned citizens donated supplies such as food, toilet paper, sleeping mats and tents.
"Inside, there's a feeling of fraternity because we are all strangers but we are here for the cause," Moreno added.
All the students had unique stories, but their words reflected a shared desire for a better public education and better Colombia for all Colombians