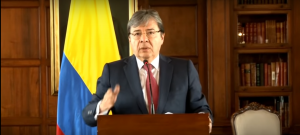 In his first major international decision as head of state, President Duque has withdrawn Colombia from UNASUR, the treaty that allied Latin American nations on multiple issues including security, labour rights, education and protection of the environment.
Withdrawing from UNASUR (Union of South American Nations) had been a promise made by Duque over the alliance's continued failure to denounce the beleaguered and increasingly isolated government of Venezuelan President Nicholas Maduro.
At a press conference for the media, Colombia's new Foreign Minister Carlos Holmes Trujillo made the announcement earlier today on behalf of the President, stating that the withdrawal would be part of a new immigration policy and would allow Colombia to look beyond Latin America towards better relations with international partners in Africa, the South Pacific and the Middle East. Trujillo also confirmed that the process would occur conjointly with Argentina, Chile and Peru.
The early move signals clear intentions on the part of President Duque to gain international support in forming a hardline stance against Maduro.
UNASUR is barely a decade old, having formed in 2008, and the alliance has seen rocky times since, particularly on issues relating to Maduro's continuing misrule of Venezuela. Things also came to a head at the Summit of the Americas when Maduro was disinvited and Morales, a supporter of Maduro, temporarily assumed the presidency of the alliance.
Leadership of the alliance is offered on a rolling basis and infighting among members of the future leadership of the alliance had been one of the main reasons for the split in UNASUR. In particular, nations like Bolivia and Ecuador have argued for greater tolerance of Venezuela whereas this was growing increasingly unacceptable to other nations like Chile, Colombia and Argentina.
In April, disillusioned with the inefficacies of the international treaty, Colombia suspended its membership along with Argentina, Brazil, Chile, Peru and Paraguay. The currently active members of UNASUR are Ecuador, Guyana, Suriname, Uruguay, Venezuela and Bolivia, which is currently heading the alliance.